Since Giuseppe became a member in 2014, he has been active on a lot of different levels in AEGEE. Event and Agora organiser for AEGEE-Catania, SubCom of the Juridical Commission, SubCom of the NetCom and most recently: job shadower of CD is just the tip of the iceberg. Now he is on track to contribute to our organisation even more actively as he is running for Member of Comité Directeur. So let's get to know Giuseppe even better!
The AEGEEan: Hi Giuseppe! Can you tell us a little bit about yourself?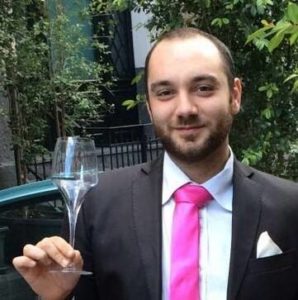 Giuseppe: Hi, I'm Giuseppe Aquilino, I'm 28 and I am from Aegee-Catania. I study law at the University of Catania. Law is what I really love (keep in mind that I started to think about law when I was a child – I always had a very big sense of justice and always wanted to be active part in initiatives related to legality, as visiting prisons in my birthplace and talking to prisoners about the value of legality  and so on, for a project developed in my high school and created by my teachers and me) . My dream is to become a judge one day (and, if lucky, a judge of CGUE). I am specialising in European Criminal law and I should be graduated at the end of June. I joined AEGEE in 2014 and I started to become very active because I started to love the association since the first time. Now I am subcommissioner of the current JC, I was subcommissioner of Network commissioner Lisa, that I admire really much (especially for the task she gave to me: national beurocracy – I know, boring but I liked it – and organisation) and for the love she has for AEGEE. Now I want to be part of the CD as you all know, because, as I wrote in my programme, AEGEE gave me a lot and it's time to give AEGEE something back. Some friends asked me: "Why not the JC?". I love the Juridical Commission; being a SubCom of the JC was the most beautiful experience in my life as AEGEEan BUT I want to be more active to contribute actively to the decisional process of the organisation. I want to be as much active as I can.
We can read in your application that you have been a CD job shadower. What vital experience have you learned from those days?
"I was CD job shadower" is not completely exact. I mean I was "Maarten's nightmare" for two days. I was, I think, annoying him every time, with questions and stuff, but he was (and is) too kind for telling me to go ahead, so he was patient and he explained to me as much as he could. What did I learn from those days? Well, I learnt that two days are not enough, and I learnt how hard is it to work "in da house" but I also learnt that you (me in this case) have to firstly trust yourself: if you want to do it, you can do it. And last but not least, I learnt that if I will be elected, I will go to Bruxelles before the "knowledge transfer period" in order to stress all CD members and to learn as much as I can, also contributing to their work and doing as much as I can.
There are multiple people running for External Director. Do you see yourself fit for any other CD position?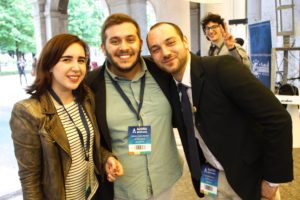 I saw that, after me, other friends started to run for External Relations director so I didn't think about another position. Of course that position is the closest to me, but, of course, if elected, the most important thing, for me, is AEGEE's own good. That means I will cover any position needed. It doesn't matter how hard it is to learn everything needed for the position I could have after the CD task division. And after all, during these days, I was working as local HR for AEGEE (our HR broke his leg) in "university box" in Catania. So, why not starting to stress a bit Lia, our HR director.
You want to promote 'AEGEE identity' through traditional and new media channels. What is your view on what the 'AEGEE identity' is?
The answer to this question is very easy. I studied a lot about AEGEE identity, also because I am an active member of my local and I always start to talk about identity – at European level, to the new members. We have three "levels" in our identity: Vision, mission and means. The vision is related to the kind of Europe that AEGEE dreams of (democratic, diverse and borderless Europe, which is socially, economically and politically integrated, and values the participation of young people in its construction and development); the mission is to have a role in reaching this vision, so AEGEE empowers students and young people in Europe to take an active role in society, creating a space for dialogue and learning opportunities as well as acts as their representative towards decision-makers and also AEGEE strengthens mutual understanding and brings Europe closer to young people. And 3rd we arrive to the means, i.e. tools AEGEE uses in its work to achieve its mission, that are the methods we are using in the activities that our association carries out: we have Intercultural Exchange; Personal Development and Non Formal Education; Thematic Projects; Advocacy and Policy and Forum for Discussion. In my vision, we "just" have to promote all of that and let the people discover how amazing AEGEE is. We can do it, I can't do it, not alone, but all together we will find a way to come back to the period in which AEGEE was very strong, and we will make AEGEE stronger. A vison to the future but learning from the past.
In your programme we can read you want to do more about the knowledge the Network has about the external relations, especially for new members. What is the value of educating the new AEGEE members on what AEGEE does externally? 
There is an immense value to that. I mean, during the Agora there are a lot of people that are delegates, but, many of them have no idea what a Strategic Plan is, or what they are really voting for, or something like that. It's just "internal knowledge" they miss of what AEGEE really does. Can you imagine the same for what AEGEE does externally? I mean, we had a lot of results in our mission to be borderless for example. Who really knows about that? My big experience on that comes from my own local: new members (what a mess!) think AEGEE is just fun, Erasmus world, parties and so on; I tested the ground during our main events where I was delegate, the Agora, and people from other locals thought the same, except for the fact that in our European events there are not Erasmus but only AEGEEans. So, let's try to teach what AEGEE really means, of course in an "easy way", in a "fun way", but let's teach, and that includes also, if not at the top, what AEGEE really does in Europe. Let's give to our new members a bit of our love for AEGEE and give them the tools to develop their own love.
What are your thoughts on the new Focus Areas for AEGEE chosen at Autumn Agora Chisinau? Is there a specific one close to your own heart?
I was in Chisinau and I was there during the discussion of the choice of the new focus areas. It doesn't matter if there is or there is not one close to my own heart. I respect Agora, the decision of delegates that represent all the local, so I will work (if elected) for all of them. Maybe one year is not enough, but, you know, if elected I will do my best from the CD, if not elected I will do my best from my own local, I love AEGEE and I respect all the ideas and the points of the new Strategic Plan. But, I can't deny that I like the aim "Promote civic education by increasing the civic competences of young people and by putting civic education on the political agenda" from the thematic focus area and I like all the organisational improvement of the new Strategic Plan, each part, each point.
What are your strengths and weaknesses as a person?
As for strengths, I am very patient and I never give up: I try and try and try till the time I achieve my goal. Weaknesses? Well I didn't think seriously about that, I think, maybe, I take care of the opinions of other people and often I try to find a common point, but I don't think it is a weakness. I could see a defect as a weakness: I am stubborn.
Finally, since the work of the CD is greatly dependent on the vision of the President. Do you have a preference to work with either Réka or Loes as President?
It is a very bad question you know? I have no preference. I know both of them, I like them and I like their programmes (I really read both their programmes). I am feeling comfortable in any case if elected and I, of course, will do my best in one case or in the other. I just say to them both: you are awesome! Good luck to all of you, and I hope to work with you at the house.
Questions from the Network
What is your experience in writing grants?  
My experience in writing grants? I'm writing all the grants for the next agora Catania as member of the legal team. Every kind of grant. I also prepare grants for rentals in my experience in "Anfitrione project" in Catania with students of the Erasmus project that need help in Catania. I am a legal counselor in three different condos.
We know the final task distribution is done during KT, but what is the position you would like to cover?
I thought my programme was clear, maybe I have to look at it again. I would like to be External Relations and Communications Director but, if needed, I will be flexible for AEGEE's own good.
In your programme you are mentioning communication, external relations and the Academy. What are your relevant experiences in these fields, since you haven't done much on the European level?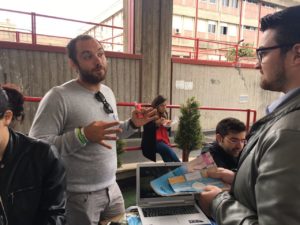 I know I have not much experience in the European level of AEGEE, but, you know, in my opinion for sure it is important but not fundamental. I mean, if I was a commissioner of any other commission, would I have maybe any experience in the CD work? I don't think so. I mentioned the Academy because I believe in the collaboration between all the European Bodies. I mentioned ER because I always worked with other institution, of course at the local level, but after all I studied European institutions, international law, European Union law, I know how they work and I also, let me say that, know how to formulate a request or anything else to a public institution or European body, I can understand rules of civil and common law and, consequently, I can find the proper way to contact them in each country. Of course, to have a positive feedback is another thing. About communication, I wrote in my application I was press responsible for my high school and, in AEGEE, I am in the IT & press working group, of course I am there for the press and not for IT. About the Academy, there is a guy in the Academy that is my mentor, he talks to me about his ideas, his vision of AEGEE and also the Academy. I agree with his vision and I think CD and Academy can collaborate. Isn't the main point the future of the association? May the Academy refuse to help AEGEE to become stronger? I don't have much experience, it's true, that's why I need help from the Academy, they "teach", they are experienced, and I trust them. I also want to learn as much as I can also because I will be not at the top if elected. Conversely I must learn more than before, in order to do everything as better as I can, because, as I learnt during my first experience in Europe (and I was just a SubCom), European bodies in AEGEE – especially the CD – exist to protect and to serve the association. Of course the CD leads, but it can lead only if followed, and to be followed it must serve and protect. I promise: if elected I will do my best to serve and protect.
You can read his full candidature here.
Written by Mireille Voorendt, AEGEE-Utrecht