Being part of the big AEGEE family makes you want to discover more, learn and share as much as you can. The same happened with Dermanşah, from AEGEE-Istanbul, and he is taking his knowledge to the next step by being a candidate for SUCT. We asked him some questions, and below you can find out more about his candidature.
The AEGEEan: Dermanşah, describe yourself in 4 words, using the SUCT initials.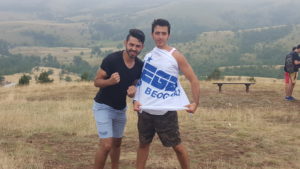 Dermanşah Hazar Ersoy Yalin: Solution oriented, Upstanding, Challenge oriented, Tolerant.
What does the Summer University Project mean to you?
For me the Summer University Project is something – does not matter if you are a participant or an organiser – that makes you leave your comfort zone sometimes by going to a country that you never imagined you could visit, by communicating with a mayor that you never thought yourself talking to or being the only one speaking your language in a group of people who are close to your age. For me the Summer University Project is an opportunity to learn a lot of things that you can never learn in any university, plus there's no other way to learn things by having that much fun.
You've been organiser of the SUs of your local for the past four years. What gives you motivation now to be part of SUCT?
First of all in the past four summers, I always tried to take on different responsibilities in our SU every year and I always worked for organising a better SU. And apart from being an organiser I also wanted to be a participant in order to see this project from a "participant"'s point of view [he smiles, ed.]. And for me it would have been a miss if I didn't see the "helper" point of view, which is between being an organiser and a participant: thanks to AEGEE-Beograd, last summer I also had opportunity to try that experience. At the end I felt like there are few things left that I haven't done for this project and there is a lot of knowledge and experience I have gained so far. So when I connected these two facts I realised that member of SUCT is the position where I should be.
You mentioned in your programme feedback meetings with local organisers of SUs. How do you see
this happening? How much time do you think it will take and what is the actual idea behind these meetings?
Dermanşah: It will happen directly and indirectly. Directly – we will have Skype meetings and also we might contact locals individually according to the evaluation forms. And indirectly – since locals in the same areas have usually similar issues, we might collect feedbacks through Network Commissioners. The reason is of course to help the locals in order to improve their SUs and it will take maximum until the beginning of application period of SUs for the organisers.
Tell us more about the increasing of number of participants on SUs.
Dermanşah: I think if thematic parts are properly implemented on SUs it will bring better fundraising opportunities to the locals and as a result of this we will have SUs with either lower fees or better facilities. As a candidate for member of SUCT I am planning to help the locals in the cases – which I stated above – with the whole team.
You mentioned the visibility of the SU Project and the cooperation with other student organisations. In your opinion, how will that be beneficial for the development of the SU project?
Dermanşah: Different student organisations have different perspectives. In this case with the cooperation by sharing best practices, contacts, different thematic contents etc. And increasing visibility of the SU Project among private companies will create better fundraising opportunities for the locals, because from my experience with local companies, they are quite interested in our work, on cultural integration and also having members from different kinds of disciplines.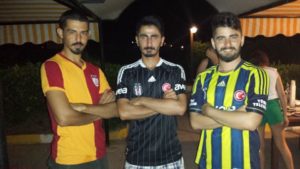 Why should you be a member of SUCT and members should vote for you?
Dermanşah: As I stated on your third question, I have been very active on the local level and now I feel like it's time for a new challenge for me, which is working on the European Level for the SU Project. On the other hand I always try to be a good team member and what I mean is that I never insist on titles, names, positions or anything but I am always focused on tasks, always try to help achieving team's goals. Last but not least in the past three and a half years, after organising and attending many events, especially after being part of eight SUs, having several golden moments, feeling almost every emotion, now I feel like I gained a lot of experience and it's time to pay back for the things I gained and that's why I would like to help the locals and to offer the members the possibility to enjoy this project and experience as I did.
You can read his full candidature here.
Written by Raluca Radu, AEGEE-Cluj-Napoca