Youth Development Working Group Coordinator for 57th Agora AEGEE-Europe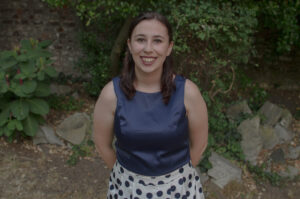 With the Agora right around the corner we at The AEGEEan are interviewing the candidates to give you an small insight into who the person is behind the face. Here we have with us Alejandra Piot Pérez-Abadín, running for the YDWG coordinator position of AEGEE Europe.
Alejandra, you have done a lot in AEGEE so far! What's your most memorable AEGEE experience?
I have a lot indeed! But if we are talking about the most memorable, without a doubt this year as a member of the Comité Directeur! With these great people, that right now I can call friends around me, and the whole experience that is to be part of the board of directors, it's definitely the most memorable AEGEE experience.

You have mentioned several key work directions in your programme like mental and physical health as well as continuing with the job market field. Yet what would be the absolute #1 priority for your term?
It would be to continue the work on mental health without a doubt. I'm really passionate about the topic, and I feel that there is a lot of misinformation and lack of knowledge about it, so I feel really important to continue working on it.
One of the biggest topics for Youth Development Working Group this year was linking the skills gained in AEGEE with better career prospects. How do you think AEGEE experience can look even more appealing in a CV?
AEGEE experience can look excellent on your CV if you know how to formulate it properly. You can sell yourself perfectly by stating that you have been a main organizer of a Summer University while referencing skills such as leadership, communication in teams and team management, among many others! You need to present it attractively on your CV and then be able to explain it when they will call you for an interview because they will!

Would you like to see any topic related to YDWG as the key theme of the whole of AEGEE next year, say, to make it the topic of the EPM or Europe on Track?
Repeating myself again, I think we still need to do a lot about the topic of mental health so, I would love to see this topic in one of our biggest projects indeed.

And would you like to organise thematic conferences during your term?
Yes, definitely! I was already approached by the founder of the Contact in Palma de Mallorca, Jesús Baizán, to organise something there related to the topic of Youth Development as their university is really interested in this topic and they will provide all the needed resources! So, it's indeed on my mind (smile)