Network Commissioner for 57th Agora AEGEE-Europe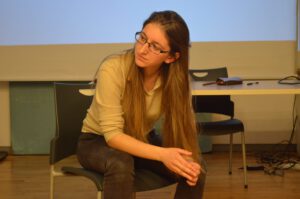 With the Agora right around the corner we at The AEGEEan are interviewing the candidates to give you an small insight into who the person is behind the face. Here we have with us Marija Valentina Žuvić , running for the Network Commission position of AEGEE Europe.
Tell us about yourself. How long have you been in AEGEE and why did you join?

I have been in AEGEE for two years (it was my anniversary in AEGEE recently). I found it how every average newbie finds about AEGEE: through the promotion of the Summer University project. I joined because I needed a change at that moment, and I wanted to try something new which would totally shake up my world. In the beginning, when I became a member, I had just signed the form and paid the fee so I could apply for an SU. During the first local meeting in April which I attended, I ran away from my new AEGEE family after five minutes, and I didn't show up at regular meetings until September when I suddenly applied for a board position. No one expected that. So, I can say that I became an active member after my SU that year.
Network Commission is arguably of the most prestigious positions in the entire organisation; however, the NetCom job is highly challenging. What motivated you to candidate?

I started to think about it last year, but somehow it was at the back of my mind. Suddenly it came to my mind around December 2018, and I started to talk with assigned NetCommie for my local, Novak a little bit more about his work in NetCom, even with my friend who is also in a European body. I collected experiences, advice and everything else so I can weigh options if I want to become the next NetCommie or not. I want to help my future assigned area with the knowledge I gained in these two years. I want them to grow up, not only in the number of members but rather in the quality of leading the local, making thematic workshops, to transfer knowledge to them which I collected and encourage locals to develop themselves.
But the biggest motivation for this position is to make AEGEE more inclusive towards people with disabilities. I did not notice that there are people in AEGEE who have different kinds of disabilities and who will be heard, so I thought that I need to be the voice, especially for those who are afraid to join AEGEE because they believe it is not for them. Also, I wanted to take a new challenge, to get out of my comfort zone and make some new changes.
What current policies or projects in AEGEE-Europe do you disagree with and why?

I think that the biggest problem is that quantity is valued more than quality in AEGEE today. We can see how it became important to have new members, new locals, new contacts, everything at the expense of quality. I know that we need new members, but also, we need to have quality members who are willing to take a role in their locals; otherwise, we will be stuck in a vicious circle where you have a lot of members who aren't motivated, or you have too few highly motivated members. We need to find a perfect balance between quantity and quality.
Do you have a preferred Network Area? What would you do if you are appointed to another?

My preferred Network Area would be Baldria because I know these locals and their members, what their struggles are and especially I know how it is to deal with bureaucracy in this area. I personally collected information, stories, experiences from locals or through another person about the situations in the last two years. Of course, I've always been in contact with assigned NetCommies of my own local so that I could ask them anything at any time.
If I would be appointed to another Network Area, it wouldn't be a big problem for me because I'm a fast learner and I can adapt to every situation. I would sit with the previous NetCommie of that area and have a knowledge transfer with him/her. I would learn about every local, history and everything else which is essential.
You say you do not have any European level experience, which can be essential for the job of a NetCom. How would you compensate for it?

If I survived the famous Croatian bureaucracy, then I can do a lot of things for the NetCom for sure. I'm a hardworking and ambitious person, and I'm deeply aware that the job of a NetCom will be highly challenging for me, especially as a hard of hearing person, as well for others who will cooperate with me. I will compensate it through my hard work and respecting deadlines. I think that I demonstrated what I am capable of to everyone throughout these two years. I organised and attended local and European events, talked with people from other locals about their problems and what they want from AEGEE, made changes to my board and local in strategies, and so on. Meanwhile, I accepted the position to be a SUCT assistant, so I'll already be introduced to European level experience before spring Agora Bucureşti.
How exactly do you plan on making AEGEE more inclusive towards people with disabilities, as you mentioned in your motivation?

My plan is to provide knowledge about people with disabilities to local's boards and providing them with a plan of workshops. I think they aren't aware of people with disabilities. I held a workshop at my SU together with a member of my local about the culture of deaf and hard of hearing, and during that, I noticed that my participants didn't know anything about it. When I told them about my conditions, what I went through and what problems I'm facing every day I could see how their minds changed, how they became more aware of my condition. I know that there are Equal Rights Working Group, but usually, locals don't know how to cooperate with them, and I think that I will make more changes through a more personalised approach as a NetCommie than if I approach locals through events or projects from another WG. I can make it more inclusive by providing my own experiences. I believe in little changes; if I make only one person aware of the situation, then I know that somehow the world will change.