Comité Directeur Member for 57th Agora AEGEE-Europe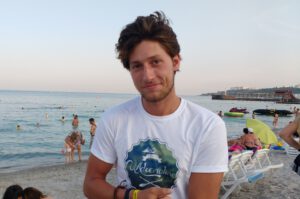 With the Agora right around the corner we at The AEGEEan are interviewing the candidates to give you an small insight into who the person is behind the face. Here we have with us Batuhan Çarikçi, running for the CD member position of AEGEE-Europe.
INTERVIEWER: Hi Batuhan. It's good to see you in this interview. Just to start, who are you and for which position on the CD you are candidating in the Spring Agora of Bucharest?

BATUHAN: Hi, I'm Batu from AEGEE-İzmir! My program is focused on Communications but as you know, the official task distribution will come later, if I will get elected.

I: As we know, you have been in the teams that organized some important events, as the Spring Agora of Istanbul of 2018 and the EPM on Izmir at the beginning of the current year. Could we say that Turkish antennae are doing a remarkable job for the Network by organizing these events?

B: A few years ago, no one could imagine that Turkish speaking locals would organize two statutory events in a row. Even though there were many problems e.g. a financial crisis and the critical voices due to the current actions and image of the Turkish government, Turkish speaking locals overcame them by showing an outstanding performance and organized both these statutory events successfully. It also raised the popularity of AEGEE in Turkey which I think quite beneficial for the future. I can say that what Turkish speaking locals did this year was an absolutely remarkable job and hopefully they will keep continue like this.

I: Let's go now to the program you defend. As you are going for the communications position and, currently, the CD appointed member for the AEGEEan Committee is the Communications Director, would you also like to work with us? (laughing).

b: Maybe! (laughing) Joking aside, The AEGEEan has an informative, promotive and rewarding function which plays a very important role in raising the visibility of the network. And a better visibility of the network means a better visibility for AEGEE-Europe. This is why, I of course would like to support the work of The AEGEEan.

I: This year CD had included in their activity plan to work on Marketing in order to improve the branding of AEGEE. Would it be part of your plans if elected as well?

B: Yes. Two topics that I have put in my program already have marketing purposes: "New videos for easier promotion" and "Highlighting the social work of AEGEE locals". The reason why I'm counting these topics as marketing is that they also have externals among their target groups and both AEGEE-Europe and the network could benefit from the outcomes that they will hopefully bring. But of course, creating and implementing a concrete marketing strategy requires a taskforce and a budget which means that this should be discussed with the other CD members as well.

I: More presence in AEGEE by social media, easier promotion by new videos… These things are part of the program you defend. In that sense, CD could help local antennae to develop these strategies of promoting?

B: If we are talking about how the CD can contribute to the PR work of local antennae, there are several ways: highlighting the work of the locals on social media (which is successfully being handled on Instagram this year), including more PR sessions in RTCs and NWMs in cooperation with the Network Commission and sharing helpful guidelines (there's already one social media guideline which was created by the PRC). On the hand other hand, if we are talking about how the CD can help each local to develop a concrete PR strategy from zero; if you look at it realistically, the CD cannot give more than some advice and the help that I have mentioned above, since every local has its own dynamics and identity (identity of the city or the local). Because of this, a PR strategy can be developed best by the local members while getting assistance and support from the CD or the PRC.

I: For example, is there any possibility that some explanations of topics that are tackled by WBs, EBs and IGs could be done after events by these media for people that could be interested on them? (Let's think that in an AEGEE event its tackled a topic during an event (social inclusion, mental health, how to vote in an Agora…) but some people couldn't go to that event. So, after that event, a video is made to explain the measures and strategies that can be done in these issues. Or there is a document that can be shared by social media.)

B: Actually, social media accounts of AEGEE-Europe, organizing locals & bodies or media channels like "The AEGEEan" are already sharing some graphics, descriptions, interviews etc. about past events but preparing a full explanatory video after an event would be the task of the PR team of that event and depends on whether they have the time and are willing to do it. But if there is a results booklet of an event, sharing it on social media channels is possible and of course some descriptions or details about events are always being shared in newsletters or magazines. So, people who were really interested in an event and couldn't make it there, can always follow those channels and contact the organizing bodies or the CD for a detailed explanation.
I: Here is the last question: if not elected, which other candidates would you prefer to take over your position? Why?

B: Since there is no other CD candidate who included Communications in their program, I don't know who could take over that position.