President Candidate for 57th Agora AEGEE-Europe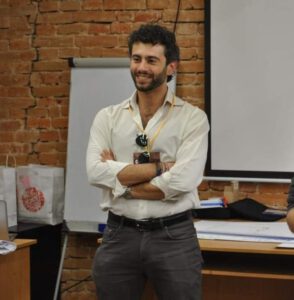 With the Agora right around the corner we at The AEGEEan are interviewing the candidates to give you an small insight into who the person is behind the face. Here we have with us Roberto Rosetto, running for the President of AEGEE-Europe.
Can you say something about yourself? What was the moment you realised AEGEE was for you?

I'm Roberto, European Neapolitan, 26. I'm constantly curious and enthusiastic about what life has to offer. At the same time, I have quite an analytical mind and I've always loved mathematics and physics, to the point that I got a degree in engineering.

I realise AEGEE is for me in every event I join, in the eyes of every person I train, in every "goodbye" and every "thank you". AEGEE is for me because of the value we create everyday.

How does it feel to be a Presidential candidate for AEGEE-Europe? What inspired you to run for this position?

My inspiration began in EPM Zagreb. That's where my vision for AEGEE started to take a concrete shape, by seeing so many active AEGEEans working for something greater. I believe that a President must be the glue of a great CD, inspiring them with a powerful vision, driving everyone's attitude when things go off track and motivation wavers. And if you ask me how do I feel as a Presidential candidate for AEGEE-Europe, there's only one answer I can give you: inspired.

Being president of an organisation with 13.000 members is a big responsibility that requires leadership and mediation skills. What are some of your skills that makes you fit this bill? Could you tell us some of your past experiences?

As a Coordinator of the SUPS project, I had to mediate and combine the many points of view and interests coming from all the involved sides. By managing local board meetings and activities I refined my group facilitation skills, and I published a booklet titled "How to Moderate and Facilitate a Meeting". As a Trainer and Network Consultant I have trained tens of AEGEEans on Negotiation and Conflict Management, transferring the practical knowledge coming both from my professional life and AEGEE experiences – as a Coordinator of international events, as a SubCommissioner of the Network Commission and as a local board member. As a representative of AEGEE on the Local and Regional level I've learnt how to interact with institutional and private stakeholders, building a network of strong connections and partnerships.

What current policies or projects in AEGEE-Europe you disagree with? Would you keep them if elected or would you pull the trigger on them, perhaps on something like "The AEGEEan Magazine"?

Every current policy and project of AEGEE represent the efforts of some of us, and I would never "pull the trigger" on any of them – unless their very existence endangered our organization. At the same time, many things can be improved. In particular, I feel our Statutory Events hold a restrained potential and could be made vastly more interesting and engaging.

What is your vision regarding AEGEE-Europe?

I envision AEGEE as a Network of Empowered Young People, of knowledgeable and aware citizens who are able to shape a better future for themselves and for the next generations.

I envision AEGEE as an Integrated Network of Young Europeans, preserving in unity their individual history, culture and traditions.

I envision AEGEE as the Forge of European Projects for Youth, the leading entity in tackling European issues and challenges from the perspective of young people.

These three statements express my vision. Let me explain a bit more in detail.

The first two statements are about who we are. To make them a reality, I believe one of the key tools is Education. That's why I've become a trainer, that's why I value Academy so much, that's why I've joined the Youth Development Working Group. Fulfilling these two statements is a constantly ongoing process, as mature members leave and new members join. There are many obstacles here: internal to AEGEE, as locals sometimes forget our values and some members never really understand what our NGO is; external to AEGEE, as people hold unequal rights and we're witnessing a rise of political parties promoting hate and division.

The third statement is how I envision AEGEE's positioning in the crowded market of NGO's. AEGEE is heavily suffering its competitors' pressure. What if AEGEE positioned itself as the greatest producer of individually branded, focused, targeted projects for European Youth?
How would you make it a reality and what would be the time frame?

One of the main actions to build this positioning is to make AEGEE projects as open as possible by recruiting both project teams and participants outside of our organization (and making them AEGEE members in the process).

Are there any possible obstacles that you see?

The main obstacle I see is the quick turnover of active members, with knowledge leakages and lack of continuity.

Did you mention certain drawbacks of AEGEE in your programme and proposed solution for each one of them? How do you see it being achieved?

1. AEGEE has a heavy stock of knowledge in some fields, but suffers from a widespread suboptimal Knowledge Management attitude. AEGEEans don't report. Knowledge leakage between board transitions is extremely common. An efficient training body working closely with AEGEE-Europe can effectively make up for this issue.

2. AEGEE is clearly lackluster in some specific areas. There's a generally low level of knowledge on copywriting, advertising, persuasion, marketing at all levels. This situation severely hinders many locals from shining; a focused application of our Strategy for Learning and Training in AEGEE can fix the situation over time.

The aforementioned issues make the cooperation between CD and AEGEE-Academy particularly important. As an experienced Academy trainer I'm willing to take over the task of making sure for this fruitful CD/Academy cooperation to continue blooming in the next year.

How do you plan on working with the CD towards a common goal?

Good teamwork is a product of many factors: gathering expectations, setting goals, bargaining on tasks, guaranteeing communication, building trust, fostering cooperation… every single one of these aspects has its own specific actions and methods. In general, good teamwork is most often a result of proper mediation, and mediation always happens on two different levels, by mediating the interests and mediating the process.

In practical terms, we will decide together how to make sure to build a healthy and efficient working environment. My personal priority will be to facilitate the transition from "random group of 7 people" to "team" by making sure we draft a common set of goals to achieve, combining the points of view, the priorities and the expectations of every team member.