President Candidate for 57th Agora AEGEE-Europe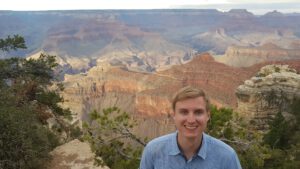 With the Agora right around the corner we at The AEGEEan are interviewing the candidates to give you an small insight into who the person is behind the face. Here we have with us Daniel Amesz, running for the President of AEGEE-Europe.
Can you say something about yourself? What was the moment you realised AEGEE was for you?
My name is Daniël Amesz and I'm a member of AEGEE-Leiden and AEGEE-Tbilisi. I'm 24 years old, have been in AEGEE since 2013, and enjoy getting out to enjoy good weather on my inline skates. After I joined, I was hooked on AEGEE pretty fast, but I think the thing that really cemented my interest for the long term was organising the New Year's Event in Leiden of that first year. It was my first contact with AEGEEans from outside my own country and it opened my eyes to the fun and the possibilities that AEGEE has. It was one of the biggest challenges I had ever faced until that point and that motivated me to do more, which eventually resulted in joining the board the next year. Three hours of sleep per night, hard work, but a lot of gratitude from people that had gone from strangers to friends in just a few days. AEGEE in a nutshell.
How does it feel to be a Presidential candidate for AEGEE-Europe? What inspired you to run for this position?
It's pretty scary to be honest! It's something I have been thinking about for multiple years, but I hadn't told many people how seriously I was considering it. When I published my candidature and word spread, it was a strange, but good, feeling of suddenly sharing something you've been working on for a long time with a lot of people.
I can't pinpoint one thing that inspired me to want to take up the challenge, I think it's a combination of so many things. The biggest factor is that I felt I wasn't done with AEGEE yet and wanted to take the experiences, challenges, and surprises to yet another level.
Being president of an organisation with 13.000 members is a big responsibility that requires leadership and mediation skills. What are some of your skills that makes you fit this bill? Could you tell us some of your past experiences?
I think the two elements you mentioned here, leadership and mediation, very neatly correspond with two types of experiences I have: theory and practice. Through my masters in Public Management I've learnt about the state-of-the-art theories on leadership. The literature, assignments, and lectures have given me a very solid base and a wide variety of tools to use in the position of president. It has also given me the chance to critically reflect on my previous leadership positions in and outside of AEGEE and see where I could have improved.
The second element is practice, through my multiple terms in the Mediation Commission I have a lot of experience with mediation, group dynamics, and conflict management. I've been in countless difficult conversations, tried to find common ground among people that were fighting, and facilitated constructive dialogue in a multi-cultural setting. Together with my many other experiences (I invite everyone to read my candidature *wink*), I feel I have the necessary practical experience to not only lead a team, but also the association as a whole.
What current policies or projects in AEGEE-Europe you disagree with? Would you keep them if elected or would you pull the trigger on them, perhaps on something like "The AEGEEan Magazine"?
I can't think of any project that I disagree with and in general I do not think it's fitting for a president to "pull the trigger" on any project or policy in AEGEE. Our presidential system is not like, for example, the United States, where one person holds a huge amount of power. With regards to the AEGEEan Magazine, I do think it would be good to have a clearer distribution of tasks with Golden Times, to make it easier for members to know who does what and where to find what type of information. One of these if of course not officially a project, but I do think that with some good conversations we can work something out. 😊
What is your vision regarding AEGEE-Europe? How would you make it a reality and what would be the time frame? Are there any possible obstacles that you see?
To me, AEGEE-Europe should be a leading organization in terms of youth empowerment, non-formal education, and cultural exchange. A place where young people can experience real challenges, but also are still allowed to fail as long as they learn. A cradle for the next generation of inspired and motivated workers in whatever field they are passionate about. However, also a place where the youth of Europe meets each other, learn how to befriend people they never thought they would, and become part of a weird type of family. One of the big beauties of AEGEE is the possibility to learn about other cultures and to encounter different points of view, and becoming a better and more wholesome person along the way.

In many regards, I think we are already doing these things very well, however there is always room for improvement. We need to keep organising high profile events and projects for two reasons: attract the attention of important partners and policy makers to get our voice heard, and to allow our members the chance to gain invaluable experience through organising these events. To achieve that, we need funds and HR. The head office should support and encourage any creative ideas from the network to start projects, and keep promoting and showing how easy it is to start something that will eventually grow into a huge project. The CD can use these types of projects in its policy and advocacy campaign in Brussels to show what youth are doing and are capable of.

It's also through projects and events that our members have the chance to get non-formal education and meet new people and cultures. Some of the biggest obstacles for this is a lack of funds. Both on the project side and the people side. People need to be able to spend time volunteering instead of working a full-time side job next to studies to be able to gain the experiences of AEGEE. Besides that, people need money to travel to events. We should make sure we reach as many students as we can and increase our financial support systems such as the AEGEE Social Responsibility Fund.
You have been managing several AEGEE bodies, could you tell us about some of the tangible results that you've seen?
One of the frustrations of being in the Mediation Commission is that virtually everything you do is behind the curtains type of work that you can't say anything about. Showing tangible results of that work is therefore quite difficult. One thing I am quite proud of though, is that we managed to positively close the only "official MedCom case". After years of a stalemate situation, an amicable settlement was reached and presented during Agora Krakow.
Besides MedCom, I'm now involved in SMASH (Structural Measures Against Sexual Harassment), which is training AEGEEans to become a Safe Person during events. It is amazing to be able to provide people with the type of training that we should have had when the initiative started. The result is that by the end of this year we have forty trained and experienced safe persons with the ability to grow the pool even further. This should lead to an association that is much safer and an example to all others.
You mentioned several strategies, networks, projects, and collaborations. How do you plan on making them work? Do you have a plan B in case they do not work as you think?
I once again want to stress that the strategies and ideas that I've mentioned in my programme are merely suggestions that can be taken up by the team. Almost all of the things I have written would depend entirely on how much the CD member whose main area of work it would fall under likes it. For example, I don't want to implement my idea for strengthening the network, if the Network Director doesn't agree with it. The president is an all-rounder that works everywhere and ensures that the team works with a common vision and towards a common goal. Therefore, I think it's a bit too soon to start discussing how I precisely envision particular collaborations. Also, any plan B would depend what exactly goes wrong with plan A.