Never underestimate what you do in AEGEE: what you learn here can help you discover new strengths in your personality, hone your skills and boost your career! Let us inspire you. In cooperation with the Youth Development Working Group, the AEGEEan launches a series of career stories which all started thanks to the invaluable experience gained by being active in AEGEE. This week, Thomas Leszke presents himself.

Thomas Leszke, AEGEE-Köln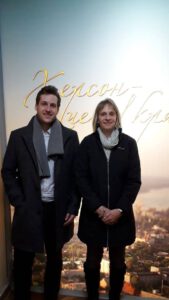 I am writing this text from a rather adventurous location in the region of Kherson, southern Ukraine, close to Crimea. And I should probably mention that no, this is not where I grew up. I was born on a farm in the village of Heeze, the Netherlands, and I spent much of my childhood among trees, chickens and cows. But there is a reason that now, at the age of 33, I work for the OSCE on international missions – and AEGEE has everything to do with it.

Choosing your profession is a difficult thing to do. In particular, there are two questions that are very hard to solve: What do I really want to do in my professional life? And then: How do I get the necessary skills and experience for that?

What makes these questions even more difficult today is the fact that our modern world offers us endless opportunities. Dreams of becoming a pilot, a diplomat, a fashion designer? No problem! Everyone keeps telling us that yes, we can be whatever we want! But at the same time, it is expected of us that we make our choices as soon as possible and that these choices are definitive. Choose now! You have no time to lose! The labour market won't wait!

When I entered university, I could already feel this pressure. But I literally had no idea what I wanted to be in life. The only thing I did know was that I still had a few years until my graduation, and I wanted to make the best of it. Many of my friends applied for internships, took expensive evening courses and studied their butts off. They wanted to be prepared. But when I discovered AEGEE, I quickly realised that there was a better path lying ahead of me.

In my first year, I organised Erasmus parties and had a lot of fun. But soon, AEGEE-Köln needed a new president, and the more experienced members had no time (because they had "more important things" to do). From that moment on, I went on autopilot. Network Meeting, Summer University, Agora (Aachen 2008). President, Network Commission, Project Manager. I took a year off from university to join the Comité Directeur 2010-2011. I organised dozens of events and moderated dozens of workshops. I became completely fluent in English. I lost my fear to speak on stage in front of 1000 people. I had a safe environment to study how politics works in practice. I learned important lessons in intercultural cooperation, strategic planning and conflict resolution. But most of all: I discovered my talent and my passion for non-formal education and cultural diplomacy.

In 2013, one year before completing my Master's degree in Political Science, I landed my (then) dream job as a trainer in a national project for European political education at the German Schwarzkopf Foundation. When I asked my new boss what made them choose me, she said, without hesitation: "Your AEGEE experience is simply priceless. We need people who are authentic, confident and experienced despite their young age. No university in the world can teach that."

But it doesn't stop here. When I joined the AEGEE delegation to an OSCE conference in Warszawa in 2013, we discovered the professional field of international election observation. I and Alin of AEGEE-Wien realised immediately: This is something we can do ourselves. With the few contacts we had, we gathered 19 AEGEE members and requested accreditation for our first mission to the Ukrainian Presidential Election of 2014.

Today, 21 AEGEE Election Observation Missions and five years later, I am again a guest at the Ukrainian Presidential Election – as a Long-Term Observer for the second-largest OSCE/ODIHR Election Observation Mission in history, coordinating a team of 18 international Short-Term Observers including a French diplomat, a Canadian navy commander and a Swiss parliamentarian who all pay close attention as I brief them on the political situation in Kherson, the sunniest city of Ukraine…

So yes, this is where AEGEE got me. I would probably be doing an uninspired PhD by now if I hadn't followed my instinct back in 2007: to take my time to learn and discover, try and fail – and dare to enjoy it. I know that there are those few people who somehow don't need this sort of experience to thrive. But unless your name is Albert Einstein, I promise you that there are few better choices you can make!