Never underestimate what you do in AEGEE: what you learn here can help you discover new strengths in your personality, hone your skills and boost your career! Let us inspire you. In cooperation with the Youth Development Working Group, the AEGEEan launches a series of career stories which all started thanks to the invaluable experience gained by being active in AEGEE. This week, Lyda Michopoulou presents herself.
Lyda Michopoulou, Trainer of The Academy and AEGEE-Athina member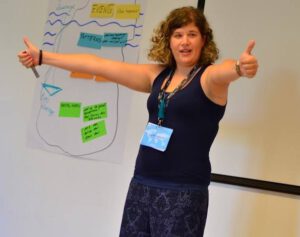 AEGEE was the third student NGO I was member of (first 2 were IAAS & EGEA). When I became a trainer in 2012 I realized quite fast that my original NGO, IAAS, didn't have many opportunities for new trainers. That is why I started searching for a student NGO that would have a developed training system, where I could improve my training skills, to learn and to share. After spending a year in EGEA, I learned about The Academy and decided to join AEGEE in January of 2014.
The first year of my AEGEE journey, was fully committed in training design and delivery inside Academy in RTCs, LTCs and European Schools. All this cultivated in applying and getting elected Speaker of Academy 2014-2015. Even though I was new to ACA, I wanted to give my best to move ACA forward.

I joined AEGEE for Academy, though during Agora Bergamo. I realized there are more things in this association than just training. Therefore, I decided to get more involved with my local, AEGEE-Thessaloniki, starting by going to weekly meetings and share some of the experience I've gathered over the years. It was during a weekly AEGEE meeting when I decided: "Let's take over the organization of Winter University for the part of Thessaloniki and make it happen". Organizing a Winter University and co-coordinating it with the other 4 Greek antennae was a unique experience full of joy, hard work, fun and serious times, stress and happy participants.
Fast forward two years later and two mandates as HR Responsible in AEGEE-Thessaloniki while being a member of Human Resources Committee, makes me realize that throughout the last 5 years I am a member in AEGEE. My life changed a lot, personally and professionally. I joined because of trainings though I stayed because of the open-mindedness, the organizational culture and the sense of belonging I felt.
Being a member of AEGEE was, and still is, one of the best decisions I made in my life. It played a big role in making me the trainer and the person I am today. It also has given me the space, resources and people (some of whom became good friends) I needed to evolve and support others to do the same. It's an amazing and magical experience I will never forget. Thank you!