European Citizenship Working Group (ECWG), one of the four Working Groups of AEGEE, will have a new Coordinator elected at the Autumn Agora that will take place in Salerno (Italy). One of the candidates for that position is Calvin Breakwell, a member of AEGEE-Sheffield. We talked with Calvin about his programme and objectives for this year.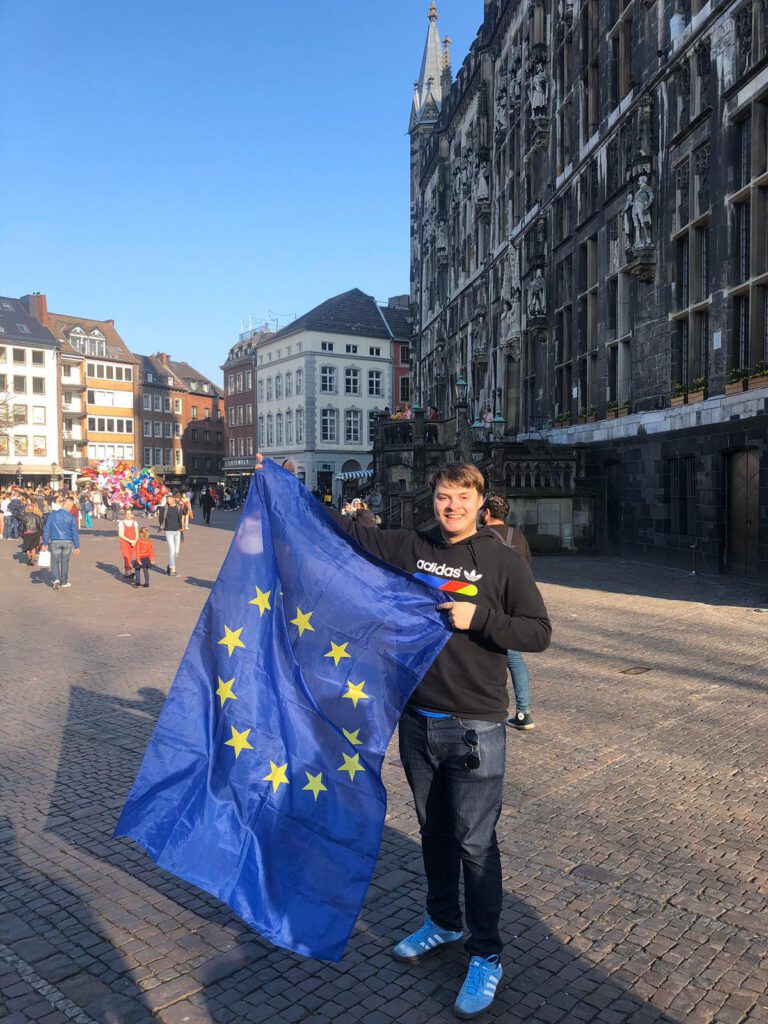 Hello Calvin, and thank you for your time to be interviewed. To start off, could you tell is a bit about yourself and your career in AEGEE?
Hi, I'm Calvin from AEGEE-Sheffield. I'm 21 and I study Mathematics at the University of Nottingham. I first discovered AEGEE about a year ago on my Erasmus in Aachen and I joined formally half a year after that.
For a British citizen, it might be quite a challenge to lead the European Citizenship Working Group given the current developments – but also because the UK has always been a bit separated from continental Europe. Do you think young people in Britain increasingly feel European like you do?
I feel like the more politically involved youth are feeling more European, however at this point in time I think a lot of people, not especially young people, just want to see something concrete happen instead this 3 years of messing around. I get the sense that an increasing number of people are turning against Brexit as they see the true facts come to light through all the media speculation. For me this increases the work I'd like to do against fake news and the spread of populism, something which I'd include in the education section of my program.
How would you organise the work of ECWG if, say, the UK leaves the EU on October 31?
I don't think there will be any issues regarding my situation post brexit as we have Russian and Turkish locals and I can imagine my situation being similar. Furthermore, I believe the fact that I've lived through Brexit and I was able to vote in 2016 means that I have first hand experience with the difficulties facing our European project and I've been able to understand why people are euro-sceptic and I've been able to fact check them and persuade them why they shouldn't believe what they do. This is an experience that I think will be lacking in candidates from Northern/Central Europe as these are very strong bastions of Europeanism, therefore I can use this experience to highlight what issues we face and then how to deal with, even if the issues are very light in the aspect of internally in AEGEE we can use these experiences and knowledge to educate members so that they can educate non members and they have the facts and the stats to back it up. In relation to organisation, in the modern world with Skype and WhatsApp, I can't see this being an issue and if there is an issue we will deal with and find a viable solution and this flexibility is what makes us great as an organisation.
In your programme, you mentioned you'd like to organise education visits to EU institutions and other activities to raise awareness of the EU. Do you think AEGEE's activities can have real impact?
At the end of the day, we can try our best and each and every one of us wishes we can make a difference in whatever field we are interested in and we can try our best to succeed. I will therefore try my best to open a forum whereby we can have discussions with politicians and commissioners in the EU and they can see what the youth of non-EU countries want and their vision for the future of Europe as a whole. I feel like due to current circumstances I focused a lot on the EU as an entity in my application, I think we should definitely work with them or try to as they are the closest organisation to achieving a Borderless Europe. However, I would also to focus a lot on the eastern countries in our network and this is what these visits and forums will focus on as well as helping western locals to understand eastern culture and vice versa.
Do you think the EU-EaP relations are getting better? Would it be a challenge for AEGEE if Autumn Agora 2020 takes place in Russia – or is it a great opportunity?
I think the relations are getting better as we see a lot that top EU officials are going to meetings in Armenia, Ukraine, and Belarus. I think the Autumn Agora in Moscow will be interesting as the visa situation for lots of locals will be difficult and I wish Ekaterina and her team the best of luck if they get the Agora. In terms of European Integration I think an Agora in Magusa would be very powerful for relations on the island and for the network to understand the division on the island and the complex situation. Furthermore to Russia, after the issue with Visas, there's the whole argument for the Equal Rights situation in Russia and for this banning of the internet by Putin, maybe the agora will be an opportunity for many AEGEEans to see the true Russia and the reality.
What are your plans in case you're not elected and what are your plans for the future?
If not elected, I will apply as a member of the ECWG if there's an open call. After being on a call recently with Maaike present, I couldn't think of a better candidate to lose to.However, I will fight this with all I've got and then we'll see what the Agora decides. In the future, I feel like I'd like to run as a coordinator for the new Focus Area for political advocacy if it's chosen or maybe something different like SUCT which is such a great opportunity to be at the forefront of AEGEE's biggest recruiter and biggest project.