She was one of the organisers of the European School on Leadership in Delft, a safe person in the local, and as a pioneer of the project in Delft she is continuing to develop the safe person body in the local. She is one of the initiators of an AEGEE-Delft event that will connect the youth and the elderly later this year. She brings positive energy to the members, enthusing them for events and work the network, while also providing a sharp mind and constructive criticism. And now for some much deserved recognisation, we present the Member of the Month, Marlijn Mulder!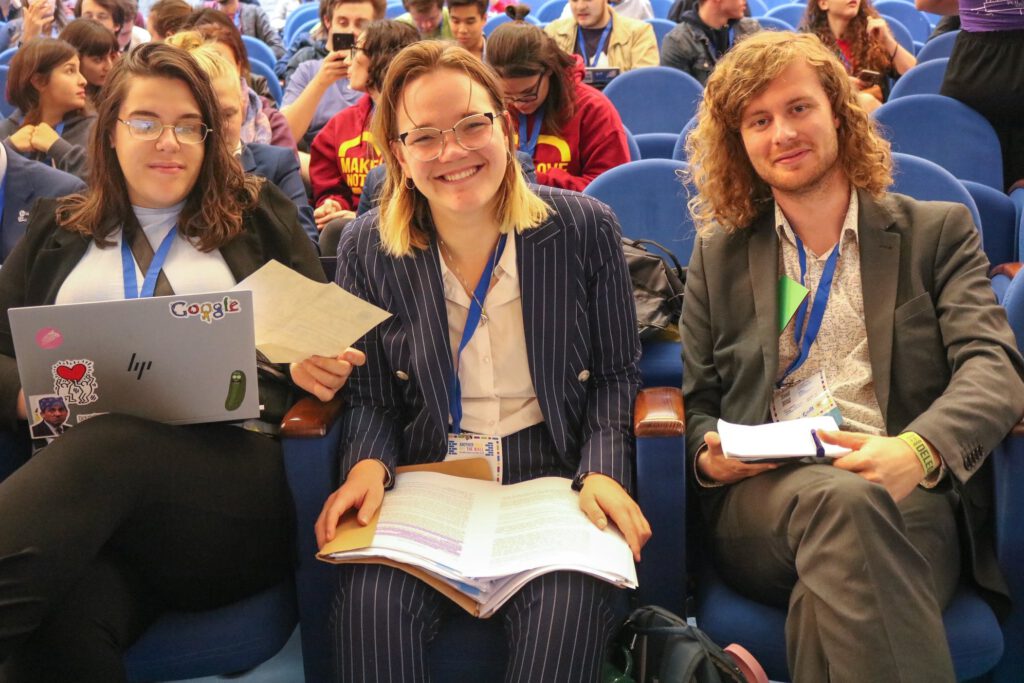 Congratulations on being awarded the Local of the Month! We're all eager to hear your AEGEE story!

First, thank you very much for this award, I didn't expect it, so I am very surprised that one way or another I got this. My AEGEE story starts three years ago when I decided that I wanted to meet new people that were also really engaged in society and wanted to discuss that with me. I was already a third year student that time and just finished my first year of my bachelor in philosophy, so I was eager to meet people to have good conversations with. Then I joined AEGEE. Although I was not very active the first half year, the second half I did two committees, one that is the introduction week committee (I will do this for three years in a row). The year after that I became more active, joined hitchhiking trips and most importantly, which changed my engagement in AEGEE is that Jeroen Roseboom convinced me to go to EPM Yerevan. Then I was sold. I enjoyed a lot to get to know other people from all over Europe, to talk about common issues that were experienced so differently and to find 'solutions' for those problems. I think I got a sense of what we as AEGEE are capable of, and I wanted to contribute. My third year I became president of my local, I had an amazing secretary and treasurer and I think I can say we had a good year. I went to EPM Izmir and to my first agora in Bucuresti, that was intense, but I would do it again anytime. When I came back there was the 'Week van Europa' that my team and I organized to get more young people to vote in the EP elections (side note: we had a plan for a week, but it ended up in 3 months of different activities). I joined the SMASH training in Tblisi, which also had a great impact on who I am as a person and had an impact on local and area-level. And, of course Agora Salerno, where there were a lot of memes made about my questions. I mean, that's great, it really keeps me motivated to continue because apparently, it helps people that I do so, which I think is one of the most important things in AEGEE, that we are there for each other. I organized my first European Event this November, the European School on Leadership, that was also a completely different experience. Well, we can say I guess that I did a lot, I surely forgot to mention a lot of things. Point is, I enjoy my time in AEGEE and I plan to continue to contribute actively, on local and European level.

What has been the highlight of your time in AEGEE?
This was the 'Week van Europa'. Chris, Thorben, Jelle, Maarten and I worked really hard to make this happen. I think we all learned so much! We learned about working together with different parties, organizing events for big groups, how to promote stuff, and mainly, we learned a lot about ourselves and what we can improve to become better in life in general. I am really really proud of all of us and what we did with the little manpower we had.

What are some of the most memorable moments you've in AEGEE?

One moment I will never forget, it is not really a fun moment, but it was an important moment, was the statement about proxy voting at Agora Bucuresti. I think we managed to make a clear statement about why this is important to do: because it is up to us to find ways to do what we do without letting politics between countries dictate how we act towards each other. I think it is one of the main powers of AEGEE that we have the possibility to change things the way we want them to fit to our ideals. One condition: we have to be creative. That's what I felt when I stood there, speaking for a lot of locals in front of the rest of the network about an emotional topic. These kinds of problems we will still be facing in the future, and it is up to us to find solutions for it. And what is AEGEE without a challenge?

What are some ways in which AEGEE helped you in your life?

The main thing I learned is that my vision on things is not always representative for everyone's and it is challenging to bring all those visions together in policy. I learned to listen to other arguments, think about them and respond, but most importantly I learned to try to understand the situation from the other and act upon that.

What are your words of wisdom to your fellow AEGEEans?

'It is always a good time to wear a suit' (winks) and besides that, you can never be overdressed or overeducated. Stay curious of the world and you will find wisdom within.

Any closing remarks?

I think a 'thank you' is a good start. Thanks to all of the people that made my time in AEGEE memorable, I hope to meet and talk with you again. Secondly, a small reminder that even if we don't always feel that way, I doubt it too a lot of the time, we can be the change we want to see; we just have to act upon it.