This time the future of AEGEE takes place in Yerevan, the capital city of Armenia, a small country in the middle of the Caucasus mountain range. As with every spring, AEGEE will choose new people to be in elected positions in Europe and new steps will be taken towards the progress of Europe. Participants following the motto of the event, "You Decide", will make important decisions that will affect AEGEE for the rest of the year. 
What do we in AEGEE know about this former USSR country at the end of Europe? We had to wait until 2010 to see the only antenna in Armenia, established in Yerevan which is known as "The sunniest city in Europe". A pearl to be discovered, their members want to get closer to the rest of Europe despite the historical and geographical barriers preventing it. In this event, AEGEE-Yerevan will show, through the amazing organising team, what they can do and we'll get to know them better through this interview!
Hello, good evening, and thank you so much for this interview. As an introduction, can you please tell us about yourselves?
Բարև(Barev) – Hi! We are Kalipso Bznuni, the President of AEGEE-Yerevan and Armenak Minasyants, the Main Organiser of Spring Agora Yerevan. We are honoured and also very excited to be sharing the wonderful vibes of the upcoming Agora, so let's dive in!
Before talking about the Spring Agora of May 2020 maybe you can tell us about the history of AEGEE-Yerevan. What important events have organised the antenna since its foundation in 2010?
Being established in 2010 by a group of like-minded Erasmus alumni, AEGEE-Yerevan has grown to become one of the leading youth organisations in Armenia and one of the strongest in the AEGEE network. The broader mission of AEGEE-Yerevan on the local level is to promote European integration, active citizenship and youth mobility in education in Armenia and beyond. By encouraging traveling and mobility, stimulating open discussion and organising common projects, AEGEE-Yerevan aims to overcome national, cultural and ethnic divisions often seen in society and to help in creating a society that matches the youth's vision of Europe.
As of right now more than 100 young people a year with various educational backgrounds, interests are coming from all over Armenia to be active members or volunteers of the organisation. In recent years AEGEE-Yerevan has organised more than 60 local youth projects, international conferences, as well as Erasmus Capacity Building trainings, allowing for more than 5000 students and young people from both Yerevan and other regions of Armenia (as well as other European countries) to take part in youth empowerment, civic education and leadership events. Among those projects, we would like to highlight a few.
Every year since 2011, AEGEE-Yerevan has organised an event known as the Armenian Model EU Conference, which typically brings 130 participants from various European countries to Yerevan to participate in a political simulation alongside their local counterparts. The event takes place on an annual basis and serves as a platform for young people to network not only with peers but also with experts in the field. The political simulation is preceded by sessions with representatives of Armenian state bodies and CSOs, journalists and youth workers, who participate in panel discussions and working sessions with the young participants on topics related to current political trends in Armenia, the Caucasus, and the broader region. As an AEGEE local, we are obviously, very proud of being the host of AEGEE's first-ever statutory event in the South Caucasus and the biggest ever European youth event in Armenia – European Planning Meeting Yerevan 2018. The event gathered around 200 AEGEEans and is considered to be one of the highest-level events in the recent history of AEGEE-Europe, receiving the patronage of Ms. Federica Mogherini, Vice President of the European Commission. Another highlight is the Euroclubs in Armenia which with the objective to promote and develop European values among youth were founded in 2016 by AEGEE-Yerevan and funded by the Delegation of the European Union in Armenia. In the period, 2016-2018, 11 Euroclubs were established, one in each region of Armenia, in the course of the 2 years since their establishment, the Euroclubs have involved over 900 youngsters in more than 40 different trainings and events on civic education, gender equality, youth opportunities and more. Afterwards, in late 2018, AEGEE-Yerevan hosted a specially outlined training camp titled "Youth: Trends & Leaders", which was organised in partnership with the Prague Civil Society Centre and brought an experience-sharing and study visit of 60 leading civic and political activists from the former-Soviet Union space (including all Central Asian countries) and Eastern Europe with the aim of training them with the knowledge and experience of developing civic education and active citizenship concepts.
And now we are looking forward to our next milestone – Spring Agora Yerevan 2020.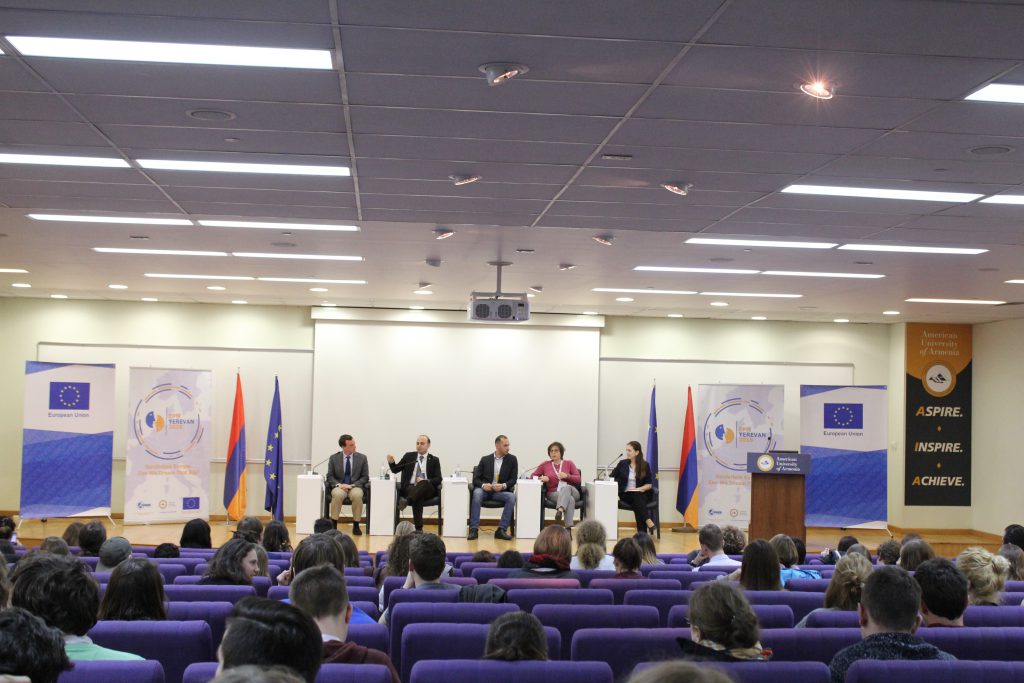 How did the idea of organising an Agora start and why did you want to make this project real?
Agora is a huge project for any local, including us, even though we have had a very successful experience in hosting statutory events, namely EPM Yerevan 2018, which eventually brought together one of the biggest numbers of participants (178) in the most recent editions of the EPM. While applying for Agora, we were also motivated by the rapid democratic changes happening in our country as a result of the Velvet Revolution of 2018, which has completely changed the landscape in our society. AEGEE-Yerevan also has passed through its generational change and we have now much younger and new faces. So we want to capitalise on this, and having now a huge team of volunteers, being led by the experienced and proven AEGEEans – the local is more than ready to host not only Agora but anything else you can ever dream about! So for us hosting the agora is not that much of a motivational thing, rather than a normal process of organisational growth, let's say, the logical next step for our local's development.
Do you expect participants to come from all over Europe? And what kind of activities can they expect during the event?
The short answer is why not? As local organisers, we are working our hardest to ensure the making of the best Agora ever is a reality and we hope that our motivation coupled with a curiosity to explore Armenia will transpire into potential participants. Especially now when there are dozens of affordable connections via RyanAir and WizzAir to regional airports literally from anywhere, no visa requirement to travel to the region to almost all nationalities, amazing logistics and accommodation at agora, a hospitable host nation, rich European culture and tasty food! The momentum continues to build around Agora Yerevan; which is really exciting for us.
The upcoming Spring Agora Yerevan 2020 will be highlighted with the big amount of thematic content and thematic activities. As the general theme of we have selected digitalisation and youth work and as a thematic agora, the upcoming event will focus on developing AEGEE's members' skills and competences through non-formal learning and civic education, enhance their digital and media literacy skills. In addition to the traditional workshops and progress meetings, this agora will also offer a variety of thematic panel discussions and workshops, which will be attended by high level national and European officials, known youth workers and enthusiasts as well as supported by various known IT companies and agencies. We are confident people would respond to the event once they got to know the conditions and terms of it. In recent years, sadly, the numbers of participants for all AEGEE activities are in decline. This is a bit of an institutional and systemic problem, but for us, it's quality over quantity. Honestly, sometimes, we hear this where AEGEEans work on a project to reach a certain number of participants but we don't want to organise an Agora just to chase numbers! Stay tuned, it's going to be a great event with even greater participants, regardless of the numbers!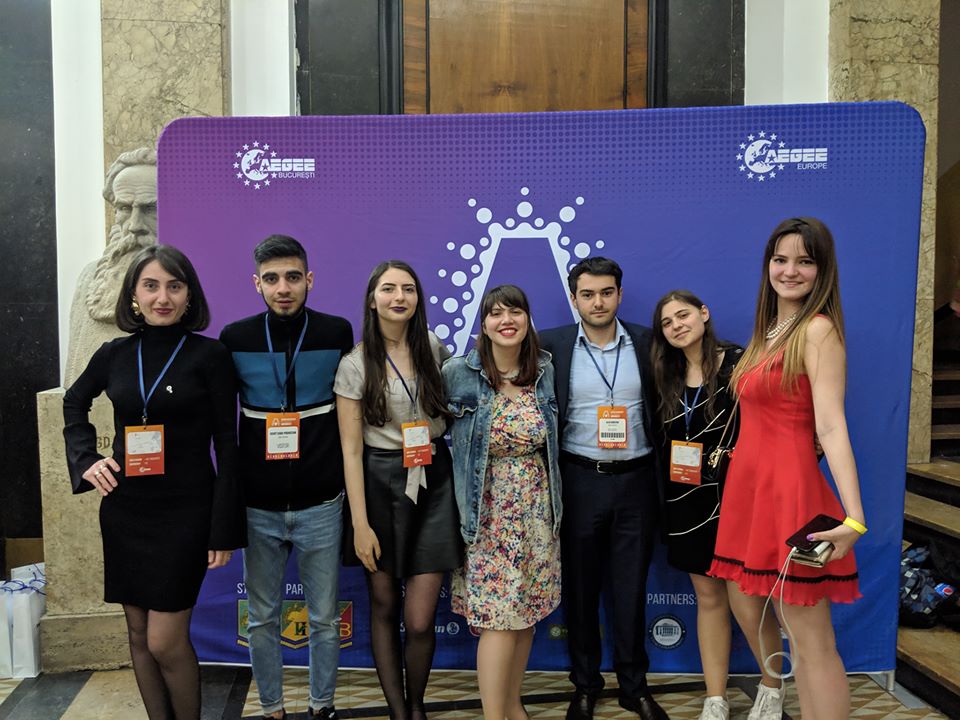 Because this is an important event in the AEGEE calendar and the opinion of different members will count, what is the situation of the organisation nowadays and what is the solution to its problems?
As promised back in May in Bucuresti, we have started working on the Agora since the day we were back and in that time have already managed to secure the fundraising of the event, establish all key local and international partnerships and launch effective communication within the broader AEGEE network. Still, any AEGEEan who has organised any type of event throughout their AEGEE career, or outside of it, be it small or big, can definitely understand the unique challenges the event management can present. We are very lucky to have an amazingly strong and qualified team which makes the whole process with all of its challenges to be an exciting one. The Agora Yerevan 2020 team – both the local and international core teams, is a dream to work with and we are honored to be doing it this year!
Ok, so let's finish with this question: what will AEGEE-Yerevan do in the future after this Spring Agora?
Well, the team will have a well-deserved staff retreat trip to a yet undecided destination and afterwards back into action!