And this member sure stuck to her word. An Aegeean for 6 years, she really has had the time to try everything: from Summer University and Agora organising to being president of her Local, and still with time for a bachelor thesis in the middle! Without further ado, let's meet April's Member of the Month Iulia Simion from AEGEE-Buçaresti!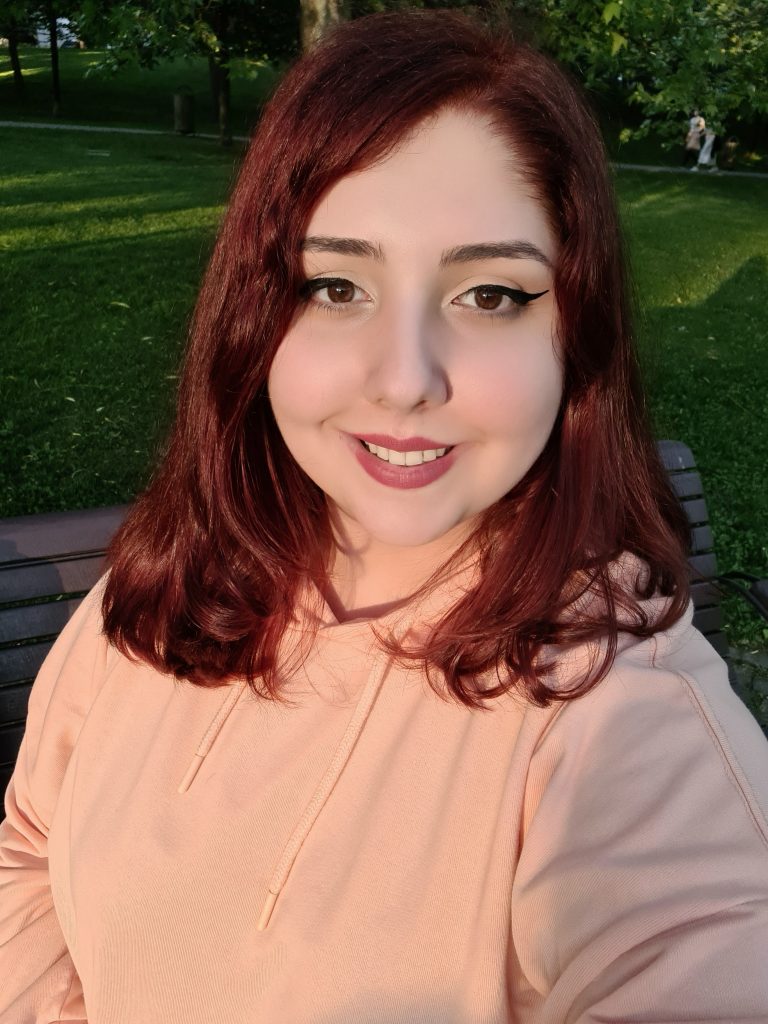 Question: Congratulations on being awarded the Member of the Month! We are all eager to hear your AEGEE story.
Answer: First of all, I really want to thank you for this awesome nomination. It is exciting and encouraging to realise that what you are doing is noticed by others and your work is appreciated.
My journey in AEGEE started in November 2016. My first interaction with the AEGEE-București family took place in my first year of student life when I decided that my life should not be limited to college, and volunteering seemed like a good starting point. After the NGOs' night (a well-known event dedicated for students who want to be involved in the volunteering world) I realized that AEGEE was a perfect fit for me due to the learning and evolution opportunities it offers.
For four and a half years I was very involved at local level, being part of the organising team in most of the AEGEE-București projects – Travel Summer University (2017), New Year event (2017, 2019), Europe on Track (2018), Spring Agora București 2019 and many local ones too. When the pandemic started we were quite disoriented by the sudden change of situation, but with a lot of teamwork and organisation, we succeeded in the fight with Covid19 and managed to organise many online projects, including Christmas Advent Calendar, PR Masters, Urban Jungle, Europolis and, of course, how could we forget about Foreign Voices?
What motivates me? It's simple: our strong team, with whom I can create a path of evolution and growth – and have fun too. A team with whom I strongly believe that we'll achieve all the goals we set for this year.
Q: What has been the highlight of your time in AEGEE?
A: I think that one of the highlights in AEGEE-București was my Treasurer experience during Spring Agora București 2019. It was the biggest challenge of my life and full of responsibilities. Since October 2018, I have been involved on the financial side but also on the HR and Graphic Design sides too. I had to learn to handle all of them, all whilst doing my bachelor thesis.
A second highlight is my experience as President of AEGEE-București that started 6 months ago. As president, I have tried (and hopefully succeeded) to build a strong and well-knit team that is always ready for new challenges and new projects. A team which could organise and stabilise 5 projects – three at the local level (PR Masters, Urban Jungle and Europolis) and two at the international level (AEGEE Advent Calendar and Foreign Voices, of which we reached the third edition this month: German Month, coming after Greek and Spanish).
Q: What are some of the most memorable moments you've had in AEGEE?
A: During my time in AEGEE, I have gathered many memorable moments: live meetings before the pandemic, recruiting sessions, crazy brainstorming meetings, just working, and having fun together. One of the main objectives for the future, after the pandemic is over, is to create more memories with beautiful, energetic and awesome people.
Q: What are some ways in which AEGEE helped you in your life?
A: I think that my AEGEE experience helped me in many ways. Firstly, I practiced public speaking as a day-to-day activity. Before AEGEE I was very shy, emotive and afraid to talk to strangers, but now I don't have any problems talking with people I don't know. Secondly, my experience in the HR department as HR Coordinator helped me get a job in the IT Recruiting Area because I already had some basis in the recruitment process. And last but not least, AEGEE helped me to discover that I love Graphic Design because I was pushed to try this side too and use my creativity as much as possible.
Q: What are your words of wisdom to your fellow AEGEEans?
A: Allow yourself to make mistakes because they are the main engine of evolution and development. During your experience in AEGEE, accept the challenge and be the best version of yourself. Dare to try everything that AEGEE can offer you and discover every corner of this magical and awesome world.
Q: Any closing remarks?
A: Hope to see you somewhere in Europe soon!