In today's  article we want to introduce you Marcelo Meyer from AEGEE-Berlin. In this Autumn Agora 2021, he is running to become a member of the Network Commission. In the following article, you can find out more about Marcelo's experiences with AEGEE and his motivation for becoming part of the NetCom.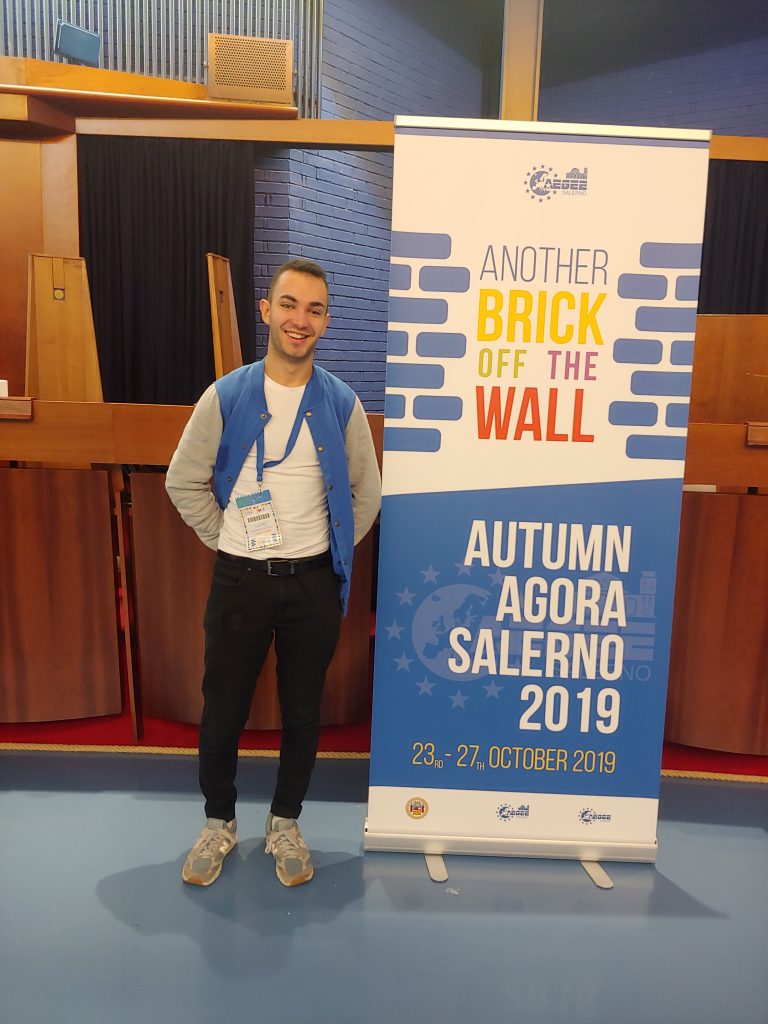 Hey, for starters, could you introduce yourself to your fellow AEGEEans? How long have you been a member of AEGEE, which antenna(s) have you joined and what are your best memories with AEGEE?
Yes, sure. My name is Marcello, I have done my Bachelor in Economics in Dresden and just started my Master in Historical Urban Studies in Berlin. I joined AEGEE-Dresden in 2017 and recently became part of AEGEE-Berlin. I had so many great memories during events. I loved the Live Agorae which I joined since Agora Krakow because of their amazing atmosphere. But I also had the best moments in my NYEs in Leiden and in Moscow/St. Petersburg while spending an amazing time with friends I'm meeting again and again during events. I think one of the best moments probably was when in Agora Salerno my SU of Bilbao got announced as best SU 2019 and I was cheering through the whole hall to my fellow organizers.
Network Commission is arguably one of the most prestigious positions in the entire organization. However, the NetCom job is highly challenging. What motivated you to submit your candidature and why do you think you are suitable for it?
As a member that began working on the European level and especially on the thematic side of AEGEE-Europe early, it was always challenging for me to reach out to Locals. That is something we struggle with. This position, therefore, is something super different compared to anything I have worked on. I have been a Subcommie before, but this time you are really working on the Locals, with the Locals, and you can directly support and inspire them. Why I think I'm suitable is a very easy question for me. I already worked as (Interim) Netcommie, and even worked in the Speaker Team of the NetCom —and all of that while writing my Bachelor's thesis. Thanks to my European level experiences, I know how to work there and how to manage stress and time.
What are some current policies or projects in AEGEE-Europe do you disagree with and why? Do you think some things should be changed in order to respond to the Covid-19 situation more effectively?
In my honest opinion, I have no idea which policy or project I would disagree with or even why. But I do think there is the potential to change/improve a lot of things in AEGEE in order to perform better, especially in times of a pandemic. It's a lot about automating routine processes and knowledge transfer, because we lose a lot of time in repetitive tasks we could prevent or organise better. Moreover, one big thing to improve is the PR. When I would like to convince people to join AEGEE I tell them about my amazing experiences. But having a look on Youtube for example, there is just this one old promo video that is not really a banger. So, we need cool videos that show how awesome and unique AEGEE is. And especially during the pandemic we could have used our time to start new and innovative approaches such as an AEGEE Song Contest or something similar. My goal is to try out new things and hopefully I can establish something really cool that the Network loves!
Do you have a preferred Network Area? What would you do if you're appointed to another?
Of course I love my Network Area but, as a Network Commissioner, I love the whole network and therefore all the Network Areas! As I have been a Subcommie for Wild East and I would not have a problem to be appointed for another area than mine. I mean, we are Europeans, why would we care about that? But yes, it is always helpful to know something about the Locals and for the Netcommie, it is of course helpful if people talk in English and not in a language that they can't speak ;)
Is there something you want to tell us? Now it's your time to do so.
I'm a super approachable person, so whenever anyone needs something or has cool ideas they would like to forward me to try them out, feel welcome to do so. And for those people that are interested in going to the European Level but are afraid they are not experienced enough or have not enough time, just go for it! You will get to learn everything and whenever you feel like you haven't got enough time, well, I even had time while writing my thesis. So it is possible! We need people, and we need you to make the European level and with that AEGEE functioning! Last but not least: never ghost someone of AEGEE, imagine how sad they will become :,(. Always remember to have fun, peace and out, Marcello.