Action Month: From the 14th of March till the 10th of April, Europe on Track 9 will organise an Action Month on the topic of Gender Equality! The Action Month is divided into 4 weeks, each with a specific goal and its actions. You can discover all details about it in this booklet!
Who is this Action Month for?
You can participate in the Action Month as an individual, with a group of friends or with your AEGEE local or another organisation.
Most actions are simple enough to be carried out by yourself, but you can also engage more people and we invite you to do so, if possible! Some of the activities of the week 4 are ideal for larger groups Due to the current situation, a lot of emphasis is placed on organising online activities and boosting the topic of the month via social media. Nonetheless, if you have the possibility to safely organise physical activities, you should definitely go for it! Remember to check the safety rules and regulations in your area and to stay safe!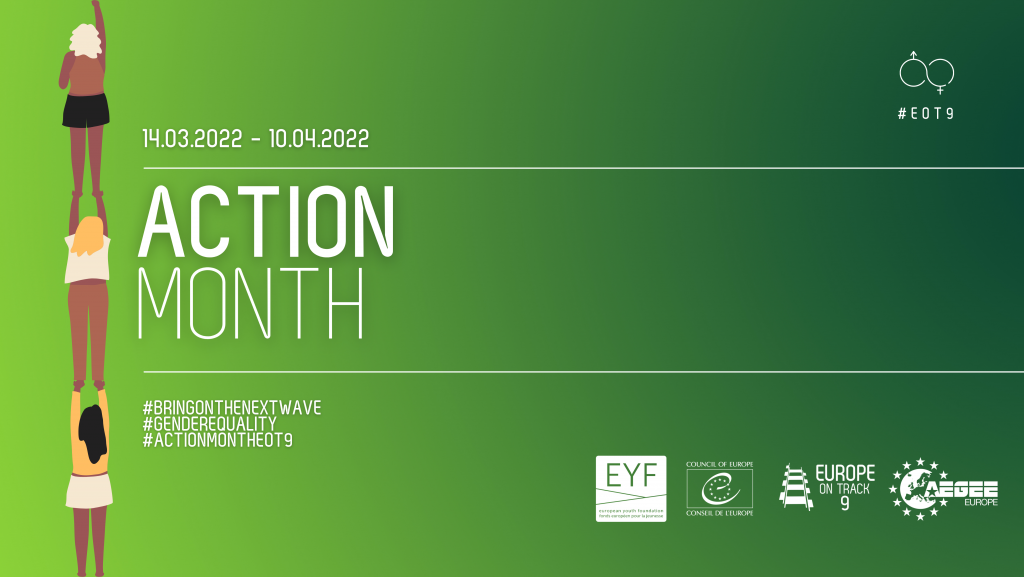 Why should I take part in this Action Month?
Gender Equality is at the very core of our identity as AEGEE members and we want to mainstream and broadcast what each of us can do to have an impact on our communities.
The Action Month aims at not only being a set of isolated actions taking place in a month, but to set up a commitment for you to care about a topic and enact change on it and raise awareness on the importance of creating a dialogue about this topic.
Join us on the way to change the world!
Follow our social media and take part in all the activities, challenges and share the content with your friends – let's spread the word on how to make a positive change in our local communities and fight gender inequality together!