This time we have the pleasure to get to know more about the #Breakingthebias campaign and their goals and their ideas. The event is hosted by the Social Equity Working group and we have the lovely coordinator of the group, Florina-Marieta Neagu, answer some questions: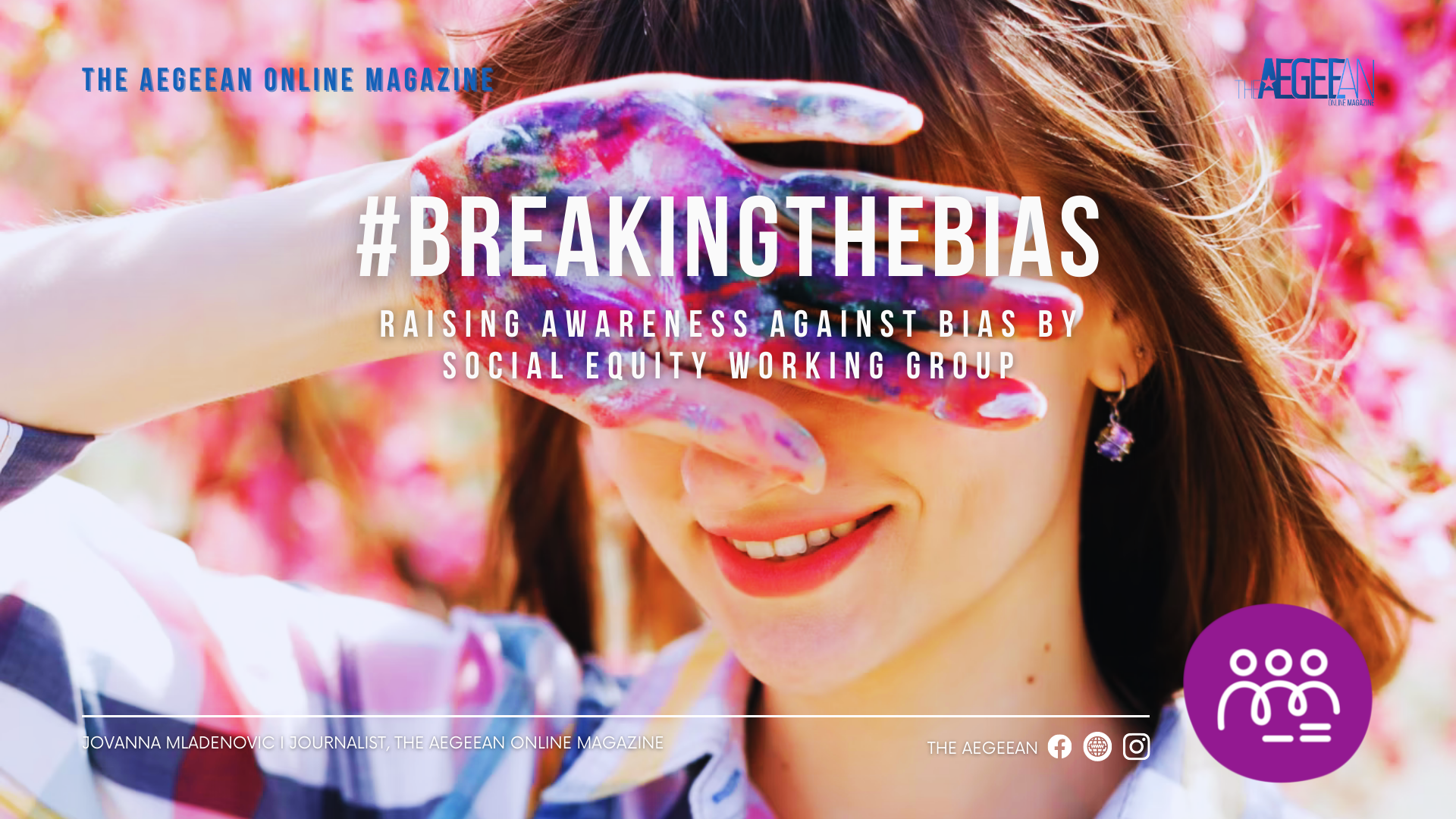 Can you tell us a bit more about #BreakingtheBias campaign? What exactly have you planned and who is involved?
This year's campaign focuses on raising awareness against bias in schools and workplaces, on promoting women's achievements and advocating for equity in opportunity and accessibility in education for women. As part of the campaign, we have planned some events that take place online and offline during March 2021, including sessions, a book club night, Europe Café, a pub quiz or Instagram Live interviews. These events are also accompanied by a Social Media campaign and collaborations with other external stakeholders, European Bodies and Locals of AEGEE. The campaign is organised under Action 3 of this year's Action Agenda and is also part of the International Women's Day global initiative. #Breakthebias is the global slogan used by many organisations this year and the Social Equity Working Group decided to join the movement that promotes action against various biases women carry.
Here is a sneak peak of our future activities:

How did you come up with the idea?
As our work addresses topics such as the promotion of equity and human rights, but also tackling discrimination based on multiple grounds, we decided to dedicate a whole month to one of the International days with long history and achievements since then – International Women's Day. This is also a follow-up to the campaign on the same topic from the last term. But this year we decided to focus on breaking the bias in schools and at the workplace, in line with the global campaign with the same name and because the third action of the Action Agenda focuses on AEGEEans advocating for equity in opportunity and accessibility in education. We thought there is still a lot of work to be done in achieving our definitions of success in this thematic area and fulfilling our objectives for this year, and this campaign became one of the means to do it.
What are your goals with this project?
Every campaign is special itself and deserves attention, so this one aims at pointing out achievements so far, to remind society of the unlimited potential women have as well as to speak up about existing problems women are experiencing on a daily basis. Through events, we reach out to activists, professionals and young women around Europe who are eager to share their views on the topic of equity and their experience as women in different professional fields or simply advocate for equal opportunities. We are also trying to reach more AEGEEans and collaborate with Locals in organising their own campaign and events. 
Some of the main goals are raising awareness about existing bias in schools and workplaces which limit women's access to opportunities and education, providing youth with relevant information and resources necessary to act against discrimination in these environments and promoting women's achievement and experiences through external collaborations.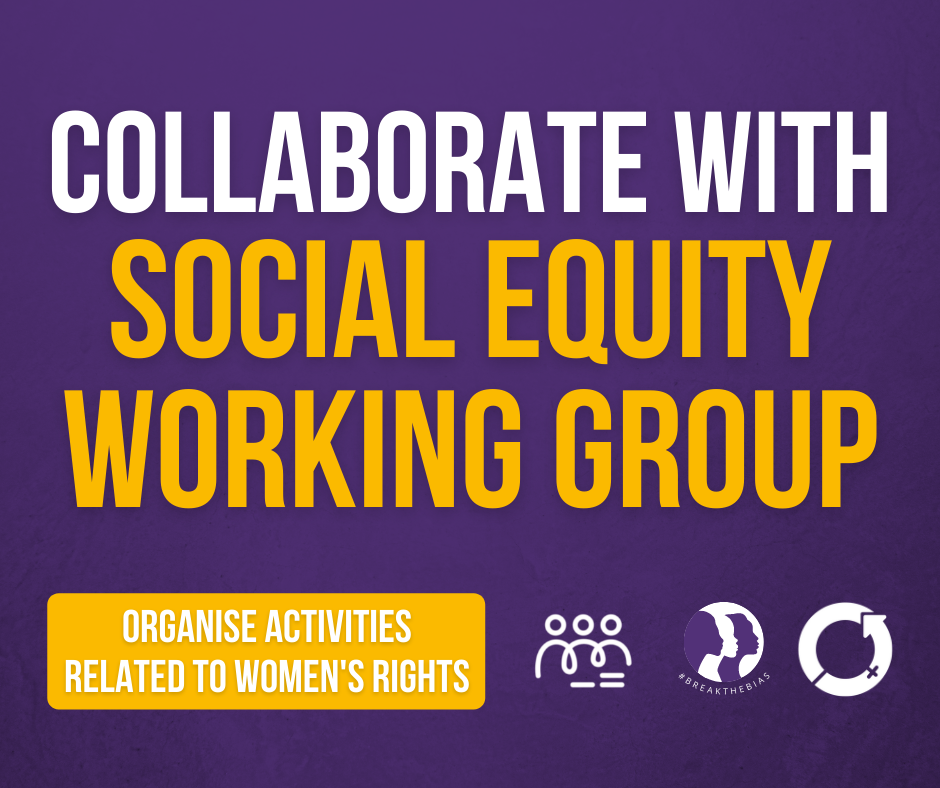 What are you expecting from these collaborations and what is the value you want to bring to the network?
We love collaborating with external stakeholders, due to the valuable experience they can bring to the conversation. From having an Instagram Live with someone from Plan International or HerTime Romania, to listening to the stories of activists during a human library, we get the chance to share different perspectives on a common topic. And then we have Instagram Lives with projects such as Europe on Track or with the Safe Person Committee which gives us the opportunity to learn also about the work done by AEGEE in breaking the bias and achieving gender equity. We are also open to collaborating with other bodies and Locals, to spread the word about the topic but also to encourage them to get involved more in fulfilling the Action Agenda.
Gender Equality is one of the most important issues of our time. What do you think are important measures that need to be taken in order to create a better environment in which men and women are treated equally?
Although gender equality is an important issue nowadays, in order to have an environment in which men and women are treated equally, we first need to make sure that women have enough opportunities to reach this position. For this reason, our thematic area deals with gender equity and its achievement in a society requires a lot of individual and collective action.
Speaking from the point of view of our work, raising awareness by campaigns like this one is one step ahead to breaking stereotypes and reaching our goals under this year's Action Agenda. Along with education about gender equality and equity, which should be incorporated in every day's actions, we are also aiming at creating a safe space for everyone, no matter their gender. There is also openness for new experiences and knowledge about equity if we speak about individuals who can make a difference in their life as well as the lives of those close to them. However, we also call upon decision-makers, governments and organisations to advocate for equal opportunities and create policies that might ease the positive change in society. By advocating for equity in the opportunity, we are building a more powerful society and a safer place to live in. Also, gender inequality is an issue that exists 365 days a year and International
Women's Day is only a reminder of existing barriers women still experience. The fight for equity is timeless but filled with hope and it depends on each one of us to join the movement and #breakthebias.
If you are interested in collaborating with them you can fill out this form:
https://forms.gle/GghUpEmzoaE9fJK76 and if you want to find out more or keep up with their work you can follow them on social media!