In September 2012 AEGEE-Tilburg consisted of just two guys. Two experienced members: Tjeerd Kosse and Yunhai Su decided to make a re-start with AEGEE-Tilburg.  After a search two new board members joined. First Matei Zamfirescu and right after Sintija Saurina. In October the board was formed with Tjeerd as president, Sintjia as secretary, Yunhai as treasurer and Matei as visuals & marketing; four different characters who  formed a great team together. Now AEGEE-Tilburg has over 30 members. This is their story…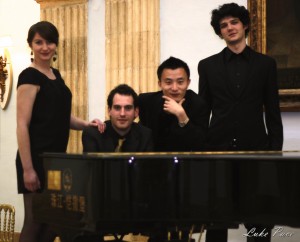 The enthusiasm only grew bigger. Soon after the forming of the board the board plan was presented. Our idea was simple: get AEGEE-Tilburg back on track in one year and set the basis for the next board to make AEGEE-Tilburg a stable student organization in Tilburg. Because we made a fresh new start we were able to make big changes and improvements that otherwise would be unthinkable. We were the first board that consisted of completely different nationalities and we changed the working language to English. We are proud of the fact that we are one of the boards in AEGEE who made this change to be inclusive towards international students.
Another big change that we could make is to create a very European culture in AEGEE-Tilburg. Because we just started we were able to imprint in our AEGEE-Tilburg a culture that we, as an antenna, are just one part of a bigger organization called AEGEE, and that our focus lies on Europe. Our local is aware of the fact that AEGEE is 'one big family', not just 200 lonely antennae. Therefore we encourage our own board and members to engage actively in European activities. In the remaining months of this academic year we're planning to visit Budapest,  organize a TSU with AEGEE-Eindhoven and -Maastricht and much more. And we are always looking forward to work together with locals all over Europe.
We were also successful in achieving our goals. After starting with just two enthusiastic guys, we already have had one outgoing exchange with Valletta and two incoming exchanges with both Budapest and Valletta. Tilburg took a group of 30 exchange participants to Valletta, being the largest antenna during the EBM week. A majority of the group consists of new members, who experienced their first European event. The activities that Valletta organized for us were so fun and interesting that we now have several active members; people really fell in love with AEGEE. Now the number of members has tripled. Proud as we are of this achievement, we still strive to quintuple the amount of members by the end summer to have a sturdy basis for next year.
Dear boards of all the AEGEE-locals, AEGEE-committees and –commissions, Working Groups and Project Groups; Keep your eyes on AEGEE-Tilburg! We are a very enthusiastic local looking to collaborate to achieve great things within AEGEE. Come and talk to us during the Agora and if we do not already happen to bump in to each other! Hope to see you soon, somewhere in Europe!
Written for The NetCom Times by Tjeerd Kosse, AEGEE-Tilburg.