It has not been such a long time since The AEGEEan introduced Madalena Souza who works in the CD house. Now it is time to let the Network get to know Marcos Dosantos the new intern at the house, who came a little bit better.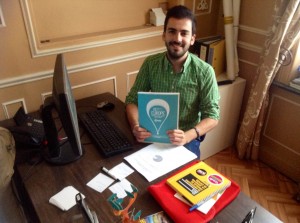 What is your background? What made you interested in volunteering?
I am originally from the Canary Islands (Spain), but living in Madrid currently. I have just finished my degree in Political Sciences at the Universidad Complutense de Madrid and am now about to start a Master in 'Political and Social Leadership'. In terms of participation, I started taking part in the LGBT (Lesbian Gay Bisexuals Transgender) movement in September 2009, which really changed my life and my perspective, I got to know more organizations in which I began to get involved in things like students movement, Spanish Youth Council, etc.
In the past you worked in a LGBT organisation right? What did you do there?
I took things step by step, from very basic volunteering to further responsibilities like representing LGBT Spanish Youth Area in upper level positions (Spanish Youth spaces and even international form like UNESCO's World Youth Forum)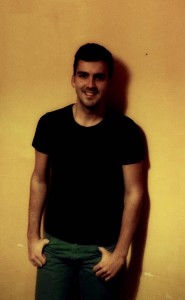 How did you hear about AEGEE?
I met some members (including Luis Alvarado Martinez, the current President) at the University on Youth and Development in Mollina, September 2011. Since then, I have met some other members in other spaces (Spanish Youth Council meetings, EU Youth Conferences, etc).
How did you end up working in the AEGEE office as an intern?
As I had already done that approach, I felt quite interested in AEGEE's way of working and I asked myself about the possibility of doing a short internship with you guys during this Summer. I applied and, fortunately here I am.
What are your tasks in the house in Brussels?
I have diverse aims here, but most of them are mainly related to social media and communication stuff -as I am coordinating with the office the development of  a strategy to get members involved in Structured Dialogue process- and advising on LGBT issues, by contributing to AEGEE's draft document on LGBT rights, searching for EU funding calls for potential programs, etc.
You were recently part of the Structured Dialogue (SD) event in Zaragoza. What was the event about and how was the experience for you?
No, I wasn't, the last time I participated in a SD event was a month ago in Valencia, but not in Zaragoza. But it was a nice experience, as usual, where young people from many different parts and different kinds or organisations gathered to express our needs in terms of social inclusion.
The National Youth Council in Spain has been closed as far as I know. You were working there before, so I would like to ask what consequences do you believe that this has for AEGEE and youth work in general?
The Spanish Youth Council hasn't been closed yet, but it is certainly in danger because our Government is not interested in listening to young people's voice. Regarding the consequences for AEGEE, I must say that any space of participation is necessary, and of course for an NGO as AEGEE, which is doing a quite good job advocating for youth rights all over Europe, and so that work must be shown and shared in Spain, in order to let others know what AEGEES does and to strengthen cooperation with all youth movements.
Written by Patricia Anthony, AEGEE-Koebenhavn