Two weeks before the official opening of the Autumn Agora 2013 I had already started counting the days and looking forward to the moment of flying to Spain; waiting for the moment to see Barcelona again; waiting for something unique without knowing at the same time what to expect. Approximately one week after the official closing ceremony of Zaragoza, I am still trying to find the proper words to describe one of -in my opinion- the best events I have attended. I am taking and changing a quote I read somewhere, possibly in an article by our member of the Comité Directeur, Kathrin Renner (sorry, but you inspired me!) : "I was not there to visit places, but to meet unique people; to get unique experiences".
On November 3rd I was in the airport waiting for my flight to get back to Greece; fully tired and far from sleepless, but with a wide smile. In that moment I realized that every AEGEE event finishes the same way: leading you to check the intranet for the next ones; motivating you more and more as an AEGEEan; getting you even more addicted!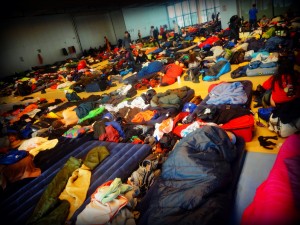 ZarAgora! I can so easily recall my first thoughts when I entered the Palacio de Congresos. I had convinced myself I would focus on the registration and inmediately afterwards, before anything else, I would search for a good spot I could fit my sleeping bag. Some seconds after, a turnover come!! I was overwhelmed by many tight hugs, "champing at the bit" laughs and "up-to-the- ears" smiles! My luggage was abandoned and I was surrounded by people I count as friends for good! People I had meet at Summer Universities, Youth in Action programmes, previous Agorae or other AEGEE events. People who show strongly the spirit of any AEGEE relationship: "time passes so fast but it is like nothing has changed at all".
ZarAgora! An Agora which was dressed up with the perspectives of "one of the best Agorae" and after these five days I have to admit it by myself… ZarAgora was rocking! An Agora with the privilege of our sleeping area to be a few breaths away from the auditorium; an Agora with red-hoodied organizers and helpers, with surprisingly interesting plenaries and interactive workshops, with crazy non-stop parties; an Agora with an -all the time full- info desk, with comfortable seats for sleeping AEGEEan, with a fancy and flashy photographer (Jorge Sánchez Hernández); an Agora with these five T-shirts "unique in the whole world" as the advertisement was (BRAVO Lucía Molina for the photoshooting!)… An Agora with A STORM OF DELIGHTFULLY-TASTING CHOCOLATES!
Counting this one as my third Agora, I can recognize that every time the cubit is getting higher and higher. This time, though, I am more than thankful to this Agora. I am speaking on behalf of my local, because my antenna is officially upgraded! But I am also speaking personally, for the moments I experienced a couple of days before, during and after ZarAgora! I end up that being an AEGEEan means to make life better than movies are and are not afraid to think out of the box! The last thing I just can do is to thank this strong team with these endless positive energetic people who give breath to ZarAgora!
See you around Europe
P.S.: don't forget… Spring is coming! Be prepared for Spring Agora Patra 2014!
Written by Evi Topali, AEGEE-Ioannina