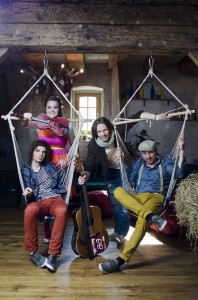 AEGEE and Eurovision have quite a lot in common, the main thing being a vision about united Europe. This year the connection is stronger than ever as in May during the Eurovision Song Contest in Copenhagen one of the participants will be well known for some AEGEEans!
In 2014 Latvia is represented by a special participant – Jöran Steinhauer and his group "Aarzemnieki" (in Latvian – "Foreigners"). Firstly, he is not a professional musician, just somebody who has a passion, voice and good composition ideas. Secondly, he is not Latvian, but a German who fell in love with the country. And thirdly, since 2007 he has participated in several AEGEE events and even wrote a hymn for the "European Day of Languages" organised by AEGEE-Riga (with this song "More than 27" he already participated once in the Latvian semi-final for Eurovision).
This year he has taken everybody by surprise and together with 3 other singers – Latvians – participated in Latvian contest for Eurovision with a catchy song "Cake to bake". Believe it or not, they won and will present Latvia in the Eurovision! For sure several AEGEE members will be there to support him, but what about you?
Written by Anita Kalmane, Foundation AEGEE Trust Fund (FATF)