Member of the Month March is… Fotis Pastrakis, the new IT of the Chair Team, member of AEGEE-Kastoria for more than one year and he is so far exremely active!
 Can you tell us about yourself and your experience in AEGEE? How did you join AEGEE?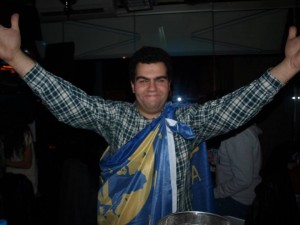 I was born and raised in Thessaloniki, my beloved hometown, until my footsteps brought me to Kastoria and university. As a realist and a person quite concerned about the world (politically, socially, etc.), AEGEE seemed to be ideal for me. It took me almost one year of thinking it through and discussing with people who were already in AEGEE, to decide if I really want to join and be active in the association. So when I finally joined AEGEE Kastoria, I was almost directly placed as IT responsible of the local board and started to build a network of connections with other people after sometime. If AEGEE was a program (like the ones in object-oriented programming), the objects for me would be people to meet, places to travel, cultural exchange and ideas which are worth further development.
What is motivating  for you? Is there a person who inspires you?
Motivating? What is more motivating than life itself? Nothing motivates me better than myself and nothing can motivate anyone better than themselves. I really don't know by whom I am inspired, but I believe in the analysis of human psychology. Philosophy and poetry are some things which I am keen on. Nietzsche and Kariotakis have inspired me a lot, in general, but they are not the only ones.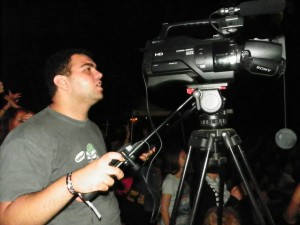 What motivated you to apply for the Chair Team?
A strong appetite for knowledge. I am still a newbie(or I feel like this) in AEGEE, but as most of the stuff I am involved in, I  face it as a challenge. When I saw the qualifications for this place, I thought I had most of them and the ones I didn't have, would be a great way (maybe a tough one, too) to obtain them. After all, the whole process of organizing an Agora is a great experience which I have to gain.
What else are you doing in AEGEE?
I am the IT of my local board, member of Culture Working Group, designer in the Public Relations Committee, member of Information Technology Committee and member of myAEGEE Team.
What are you doing at myAEGEE Team?
We administrate the system of all intranet accounts, answer to e-mails and mostly helping members in case they have some problem with their accounts.
What do you do apart from AEGEE? Studies? Work?
I am in the fourth year of my studies at the Technological Institute of Western Macedonia in the field of IT. Apart from my field and the time I dedicate on it, I am involved with beatmaking, lyrics, photography and volunteering. I am not working right now, but I have done several part-time jobs before, not only associated with computers. I think AEGEE is a great gateway to get ready for the labor market from a strange point of view. AEGEE has so many aspects that anyone can take advantage of.  For his own good, but for others, as well.
Recently, you and the rest of the Chair Team had a meeting at Brussels. How was it? Are you ready to work together for Patra?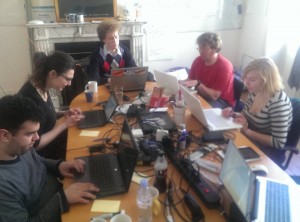 The meeting was awesome, if someone could describe a preparation meeting for an Agora as awesome. The meeting took a long time  but it was quite interesting. Maybe I was not that talkative, but it was the best knowledge transfer for me, in order to get ready for my position in Agora Patra.
I already had met Miljana in Belgrade so we were a bit connected and, since we are both from the Balkans, we have a special way of communicating. Alberto and Paul were very friendly and have helped us a lot.
Written by Lia Tuska, AEGEE-Sofia/AEGEE-Kastoria