Léa Charlet, 24 years old from AEGEE-Paris, is one of the three candidates for the position of President of AEGEE-Europe. She studies Law and European institutions and has been member of AEGEE-Paris since september 2011. She was HR, Secretary and President in her local and involved in the European Level as Fair Manager EBM Valletta 2013, Trainer of the Academy, Public Relations responsible of Speak Up! (2011-2012), CD assistant and, last but not least, Project manager of Y Vote 2014.
The AEGEEan: What do you think the main task as a president will be?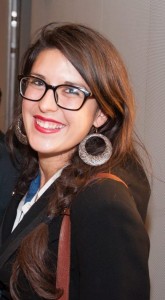 Léa: For me, being President means representing all the members. Once you are elected, it's not like you can do whatever you want, you have to listen and take into consideration the needs of your members. The main challenge is to balance all of these opinions and to do what's best, in the end, for the organisation. As President of the Comité Directeur, you need to keep the team together. You need to facilitate the creation of the vision of this Comité Directeur. You need to make everyone listen too, and make them achieve their goals and their own vision.
The AEGEEan: If you are going to be elected as president of AEGEE-Europe, what will be the first thing you will do?
Léa: First things first, I will find a week before the start of the knowledge transfer to organize a team building. I think this is a fundamental start. Working and living with six people for a year is difficult (even if I know  most of the people applying quite well). We need to find a common vision, and we need to be ready to accept each other, adapt, and to help each other learn and grow. Second would be the creation of an activity plan. Our programs need to be merged. We need to prioritize and work to actually achieve everything in one year time. I do not always believe in compromises, but more in creating our own plan, our own vision, where nobody feels left out of the process.
The AEGEEan: What is leadership for you?
Léa: I am playing the trumpet for quite some time now and I have also been conducting for a couple of years now. I have always been amazed by this feeling you have when being in the middle of the orchestra, playing your individual part following the conductor, but at the same time knowing every single other part from other instruments. This is how I see leadership. It's not always about being the best in something, but much more having the overview, helping other people reaching what they want to achieve with others,  looking in the same direction, making them feel part of something bigger.
The AEGEEan: How would you describe in one sentence the current situation of AEGEE, regarding internal structures and activities?
Léa: Not reaching its potential.
The AEGEEan: Luis Alvarado Martinez was President for two years and he has a lot of charisma. What would you do differently than him?
Léa: I actually met Luis on my first event, my first month in AEGEE, and I was always driven by his vision and his motivation to make our association truly meaningful. I always admired his work as president. That being said, this past two years, the Comite Directeur turned itself towards externals a lot. I think it's great that we are now really known and appreciated in the different institutions and among other NGOs. I am not saying that the actual Comite Directeur forgot the network, but the pace is hard to follow. Even being an active member and quite aware of what was happening, it's difficult to have a clear overview of what AEGEE is doing in every sector.
So I would maybe have focused more on bringing the externals to the locals, trying more to consult with the members, in order to bring the Comite Directeur closer to the members. I realized during my internship in the Comite Directeur that it will be a lot of work, and we will have to be really committed to do this the right way, but it also requires will and awareness from the network.
The AEGEEan: In your opininion, is AEGEE really working well enough at all levels?
Léa: You can see in my previous answers that I don't believe that AEGEE is working as well as it could be. We have a lot of potential, but face a lot of obstacles coming from the organisation itself. I already mentioned and explained most of the problems I saw there and tried to propose solutions: the lack of coordination, of human resources and the difficulty of conserving memories; the flow of great initiatives from the Comite Directeur that are hard to follow by the network, and the fact that we don't have enough discussion and consultation in the network. We also have to be aware that right now, AEGEE is driven by Summer Universities. Most of our members are joining for this project and aren't active after. We should work on activating and empowering those members, which could significantly increase the human resources of the organisation.
The AEGEEan: We speak a lot about the gap between the European level and locals. What do you think we need to do to fill it?
Léa: I don't believe in this separation. The so called 'European Level' are regular members, organizing projects of AEGEE-Europe. Most of the time, organizing projects in locals can be just as challenging. The main problem in my opinion is that sometimes locals don't have the knowledge to organize an event on a topic tackled by a thematic part of AEGEE and thematic bodies are not responsive enough, because they don't have the human resources nor the capacity to be everywhere. We should work on two things: knowledge in the locals about European bodies, and an increase of human resources in those european bodies. These are the two homework assignments we have to do.
The AEGEEan: On your application you said that "we lack of coordination sometimes". How would you improve it?
Léa: I meant two things with this sentence: one on a timeframe level and one on a thematic level. Timeframe: most of the events are happening at the same time. We have to cancel a lot, because we are not aware of what is happening in the different parts of the network. Thematically speaking: we have projects, working groups, an action agenda with concrete activities and plenty of space for the locals to do something within these fields, but still we are not always looking in the same direction. We don't always act like a network. I think here the work of the Action Agenda Coordination team, Netcom and the new Quality Assurance committee are fundamental. They are the link, they are the ones that can help the locals to plan and cooperate.
The AEGEEan: You said "We tend to forget our past". How will you create a common memory?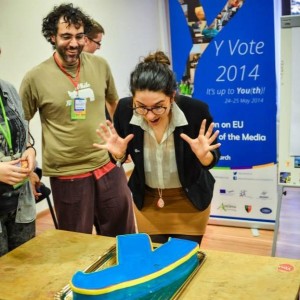 Léa: '"Those who do not remember the past are condemned to repeat it." George Santayana.
Sometimes we might repeat the good things from the past, but for this, we have to know it. The current Comité Directeur is doing some work on the archive, but as always with archives, there is always something to be done. We have to take it out of the basement, and really give the possibility for our members to read it, digitalize it for example. But, more importantly, we have to start thinking also of the next generation. We need to keep track of the present for the future and we have to realize this in our current activities. Keep track of what we do and how we do it. We can for example take the work The Academy is doing right now, creating a database of trainings, accessible easily; or the ongoing work on the AEGEE Wiki.
The AEGEEan: What do you think is the current status of the relationship with The Academy? If there is a problem, how will you solve it?
Léa: Trainings are here to empower and develop our members, to facilitate the learning process. Right now, in my opinion we have two main actors: Network Commission, who is aware of the flow of their locals and what trainings they would need right now, and The Academy, who has the resources and the will to create trainings. What I would really like to see in the future is more cooperation between those two actors: having trainings the organisation needs, in the part of the Network which needs it the most. I think a really important point here is to rethink the point and the concept of regional training courses. This should be done in cooperation with the Academy
The AEGEEan: Let's speak about thematic conferences, can you give an example?
Léa: A thematic conference for me is firstly meant to inform and inspire our members. The EBM is a big example, but we can do much more. In the past six months, we organized nine thematics conventions with a part of the Y Vote team, always about different topics. We realized, talking to enthusiastic participants, that it was something really missing in our Network. I'm not talking here about another 300 people conference, but medium ones, with 50 to 100 people, on the four differents focus area of our strategic plan for example.
The AEGEEan: Can you please explain a bit more about the creation of a Secretariat?
Léa: Our headoffice is in Brussels, and we have to realize that to get big grants, big projects take years. We need to have a certain continuity. We can see it in our locals, this is taking time. And especially in this Eurobubble in Brussels, personal connections and personal network are key. A Secretariat can be the bridge between Comité Directeurs changing every year. It would also let the CD focus on the association more than the administrative tasks.
The AEGEEan: Do you think the Network needs to stop enlarging and enforce or should it keep on "watching outside"?
Léa: I don't think it's that black and white. We have some of our newest locals that are already extremely active, with a great understanding of what AEGEE is. And some old locals that are just surviving. AEGEE is constantly changing. New locals are joining and some are deleted, it is a natural process. In the past five years, our number of locals decreased quite a lot (around 50), and if we stop getting new locals, we will endanger AEGEE in the next years.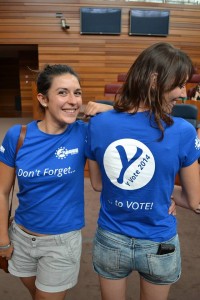 The AEGEEan: 30 years will be a huge achievement, what are you plans?
Léa: 30 years is the achievement of the whole organisation, a celebration for all of us. I don't have everything perfectly clear already, but I can say that the Comité Directeur should not be alone organizing this event, and I hope that many members (new, current and a bit less new) will be willing to join this initiative. I would love to have the celebration in one of the funding locals, a mix of success stories with oldies and a local willing to contribute.
The AEGEEan: Lately you attended a lot of network meetings, was it because you were interested in the topics or because of CD campaign?
Léa: Since I've been a member of AEGEE, I attended all the network meetings of my area (except 1 for exam reasons), so last year in autumn I was also interested to know how it works in another part of the network. I am studying in Brussels, that's why I went to NWM Utrecht in december. I also went to Salerno this month, being a member of AEGEE-Bologna it was also a logical area to go. I know Italy as I lived there for more than a year, but I didn't know this part of the network, and this was also my main goal going there. I can say that now I have a better overview of different regions of our network, nothing in depth of course, but it helped me understand the reality of our locals quite a lot.
The AEGEEan: What are you strengths? And your weaknesses?
Léa: People usually describe me as an energetic, hard working, convinced,  and convincing person. But I would say that I think my biggest strength is that I am always willing to learn. On the weakness part I will have to say that I reaaally need a lot of sleep. I realized it when doing the internship and traveling a lot for Y Vote. I am also a really empathic person, I sometimes tend to be oversensitive to other people problems.
The AEGEEan: Réka Salamon (AEGEE-Aachen) is doing the internship with you in the CD house and Paul Smits (AEGEE-Enschede) came out a little bit as a surprise as a candidate. What do you think about your fellow candidates?
Léa: I attended Leadership Summer School in Sofia with Paul and I appreciate and respect him and his work within our association. I know Réka a bit less in general, but I would say that she has been an asset for the communication in the Y Vote 2014 team and she is a really hardworking person.
The AEGEEan: Why do you think that people must vote for you? What are your plans if you are elected as president?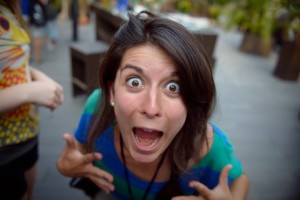 Léa: Since I entered AEGEE I was kind of interested in becoming part of the Comité Directeur. This might seem like a bit too much, but I have always been a super active member, at local level and european level since the first month I entered. My field of study and the fact that I was spending ¾ on my time on AEGEE work always motivated me to do more.
Why president then? Because I believe I am good at making the link: between people, between projects. I think I can see how to put ideas into practices. My team members are easily becoming friends and motivating people is something that I really enjoy. I would not say that people must vote for me, but that they should if they do believe in my ideas, in my capacity as a president and as a leader.
I wrote my programme already and I would like to highlight that it is a fact that I believe that the members are the most important part of our organisation. Right now most of our members are not active, we have to face it. My main focus would be to help activating those members, in order for AEGEE to become a strong organisation. The external impact of AEGEE cannot happen if we don't have an impact on our own members first.
Written by Erika Bettin, AEGEE-Venezia