After the announcement of the new contact in Tyumen not too long ago, on the 25th of November it was announced that AEGEE-Europe has yet another Russian contact, this time in Yekaterinburg, which is the fourth-largest city in Russia, located on the border of Europe and Asia. The AEGEEan spoke to Alina Kozlineeva to find out more about this new contact!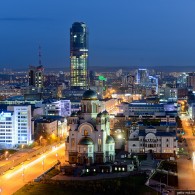 Working for one of the universities located in Yekaterinburg, Alina found out about AEGEE through one of her students and decided to start her own contact of AEGEE out of "interest and curiosity". For now she is the only one involved in the contact, but she has confidence in finding more members to join her soon. She has weekly meetings with students where she can talk to them and promote AEGEE.
Besides promotion and gaining new members, Alina also wants to learn as much as possible about AEGEE, get in contact with the Russian locals and get involved with the "AEGEE life and events". Right now she is already in contact with one of the Russian locals, namely AEGEE-Voronezh, who are supporting the new contact in Yekaterinburg. Hopefully, soon AEGEE-Europe will have another local in Russia, together with Tyumen of course!
Written by Svenja van der Tol, AEGEE-Nijmegen