From the category of Candidates for Agora Asturias 2015, we bring you another candidate who has big plans for the Network Commission. Özgün Kaplama, AEGEE-Istanbul, is a very motivated AEGEEan who will not give up easily and has an addiction for the organisation he has been working for since 2011, both on the local and European level.
The AEGEEan: The clock is ticking. Are you all set for the Agora?
Ozgun: Yes! Everything is ready and I'm waiting now for Agora time.

I am a well experienced member of AEGEE and I know this organisation very well. I can be very useful in improving the local's activity, therefore I have prepared a strong plan for that. If I must say something about my region, I must say that I know its major problems and I also know how the system works in universities, municipalities, the private sector etc.  Regarding my experience with AEGEE, I have worked both on the local and European level. I also keep my motivation alive and all the things I believe in. One of my major qualities is that I never give up. If selected, and in case I will encounter a failure, I will push myself for always trying again, because it is a social leadership position and a leader must keep his/her motivation alive all the time especially during though times.
One of our readers asked: Can you, please, point out the most relevant aspects of your candidature?
I want to work on the Turkish speaking region, therefore I've prepared my programme for this area. One of the most important aspects, why which I chose it, is that I know the area very well, I am familiar with the key institutions and their thinking style. I am aware of some problems such as cultural differences and visa regulations, a reason why most members can't feel as part of a huge family, even the active ones. This must be normal, but I don't want people to accept this. I want to make a bridge for this integration and realise a big impact. I don't see this responsibility just from the  AEGEE perspective, it is also important for the member's future life. AEGEE members must be important actors in the business area with their experiences, leadership skills, team work and personalities. Members must be active in politics with their visions, points of view, brilliant ideas… Members must be active citizens in society with their hearts, cares and social responsibilities. I want to be a part of that change.
How would winning the elections affect your activity in your local?
It will affect it, of course, but not in the negative sense. If I would be elected, I will be working with locals very closely, therefore I will also be working with my local too. Working with the European bodies of AEGEE will affect, in a positive way, my local and this positive impact will continue if I will win the elections. I want it to continue.

How would the loss of the elections affect your activity in your local?
I will be very sad, of course, but as I've mentioned in the second answer, self-motivation is really important for this type of situations. I saw a lot of people who, when they didn't get elected for a mission, they chose to not be active in AEGEE anymore. I consider that a bad decision, because with this attitude they are showing how they can handle their emotions. So, if I lose the elections, I will continue my journey in AEGEE because I love AEGEE as a whole organisation, and not just for a title.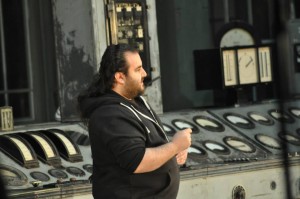 Which are your nearest plans for AEGEE?
I'm planning a two days round-table discussion event about education in Istanbul with the Education Working Group and the EurStory Project. We must talk about the education system in Europe. It will not be just about education, it will be about life as well, as you know that one of the focus areas of AEGEE is youth unemployment, so I think this is one important subject at the moment. You can visit our table at the Agora Fair for detailed info.
I also want to organise debates about world politics in AEGEE.
What do you do when work becomes too stressful?
I face stressful times all the time. I live in Istanbul, the major stressful factors come from traffic jam to population and it gets very hard sometimes. If I get into this position of stress, I wait a moment and try to focus my brain to work. After I do that, I remember my motivation and my aims for work and this helps me to keep my strenght in order to return to work. Business life teaches me great skills for tackling stress.
How would your best friend describe you?
I don't like the "best friend" term, but my close friends describe me as creative, emphatic, friendly, funny and charming. Charming is an interesting characteristic, but last month one of my friends told me that and so I want to add it to the list. [he laughs]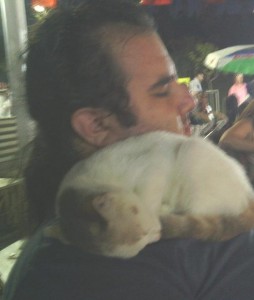 Who is Özgün Kaplama?
I was born in Istanbul, and graduated Public Relations & Advertisement. Currently I'm continuing my studies in Fine Arts. I attended many national and international events. On the other side, I am really interested in business life and international politics. Also, I am trainer of youth politics and career managements. I'm working on the youth marketing sector for about five years now. Before that I also worked for some national TV channels.
I joined AEGEE in 2011 and I consider myself addicted to this organisation. I think it is not only about students, it is also about creating big perosnalities for society, because as volunteers we have responsibility  to society for a better life. I believe this and I'm working on this motto. As a person, I am motivated, understanding, flexible and of course (for my job) a creative person. I like working with people and in teams, because I believe in team power. Nobody can win alone. I also know the importance of listening to people. When you talk you repeat what you know already but if you listen to people you can learn interesting things. I like helping people in order to help the improve themselves. I think this is a responsibility of every person to society.
Written by Gabriela Cioată, AEGEE-București