At Autumn Agora Kyiv we are going to vote for the European Planning Meeting (EPM) topic and we can choose from five. Joanna Pankowska from AEGEE-Warszawa had a bold idea and proposed the topic "No topic, strong focus (on Focus Areas/Action Agenda)". If this topic will be chosen, at the EPM Leiden 2016 we will discuss our focus area, instead of a very new topic. We send her some questions to understand her proposal better.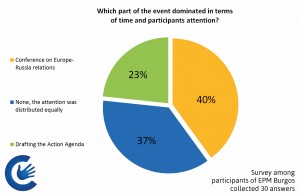 The AEGEEan: "No topic, strong focus (on Focus Areas/Action Agenda)", this is a very unusual topic. Tell us more about that.
Joanna: As much as we agree on the importance of discussing current European affairs in AEGEE, we believe that the European Planning Meeting is not the proper place to do so. We would like to avoid adding an extra thematic part to the EPM, and instead we propose to concentrate on our Focus Areas. What is important, is that it will not stop us from discussing important issues during the EPM. Quite the opposite! We just want to make sure that, when we discuss, we give it a specific angle thought our four topics, so in the future we can truly say we are focusing on our focus areas in AEGEE.
Why did you come up with this idea?
It wasn't me who came up with the idea, but I was the one to collect signals. What are the signals? First of all the result of Progress Meeting which took please in Asturias.  We concluded the session with an idea to propose such a topic, in opposition to making a proposal, so we might first try the new format. I also went through archives of EBM-REFORM-L mailing list and the ideas that are there (from the years 2011-12) are very much in line with "No topic, strong focus". Also the survey, the results of which you can see in the pictures, indicates that there is something wrong with the current format. Last but not least, the direction AEGEE-Europe is heading in the last months, namely the new Working Groups format and bigger thematic focus are also a signal that it might be a way to go.
Why do you think we should discuss it during EPM?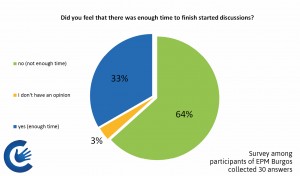 The focus areas, namely Civic Education, Mobility, Employment and Europtimism, have been here already for some time, but can we really say we had a structured discussion on them during those year? Can we say we, as a European Students' Forum, have an opinion on then? It is high time to focus and be consistent for once.
Would you take on the role of Content Manager?
Civic Education Working Group would like to take this responsibility and  possibly share it with other Working Groups.
Written by Erika Bettin, AEGEE-Verona