The month of the European Planning Meeting has finally arrived, and in a little less than three weeks we will gather in Leiden, Netherlands, to discuss one of the biggest issues that Europe is facing right now. Many locals have been taking action already, organising a number of activities related to the migration situation througout the Network. We spoke to three of them to find out more about their activities.
In Ploiești, Romania, AEGEEans organised a conference in collaboration with the European Parliament Information Office carrying the name "European democracy promoters". A report of the conference was sent to the Romanian European Parliament Information Office, and a while after, AEGEE-Ploiești was represented in Brussels at a meeting with three of the Romanian Members of the European Parliament. We spoke to main organiser Alin Georgescu to find out more.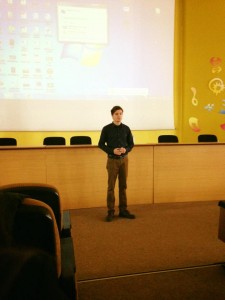 ACT: What inspired you to organise this conference?
Alin: Well, the idea came up when we realised that we know nothing about refugees. What we read and see in mass media is 80% misinformation and most of the young people in our community do not really understand what is happening.
Can you tell us a bit more about your event?
We decided to organise a conference divided in two parts. For the first part of the conference, we invited a specialist, Prof. Dr. Dumitru Codita, to talk about the International Migration Convention and to make us understand what it is like to be an asylum seeker, and what rules and legal instruments would apply to you. For the second part of the conference, we invited Mr. Matei Barbulescu, a young freelance journalist from Romania, one of the few independent journalists in Romania. He shared his experiences travelling in two weeks from Greece to Germany with a group of refugees from Syria.
What was the highlight of the event?
The story told by Matei was very interesting. He told us how he met the refugees, how his journey went untill they reached Germany and which problems they faced. He was actually living like a refugee for two weeks. Even though he could pass the borders legally, he decided not to do so and to run and hide with his companions instead. His story made us understand the topic a lot better. It's really different when you talk about a subject without having personal experiences, than when someone that actually was involved and lived like a refugee for two weeks is telling you about it.
What are the next plans for your antenna?
Due to the changes that Europe is facing, we want to work more on the topics of human rights and security issues. So, in our future activities we will include those two topics and try to have a bigger impact, both locally and Europeanly.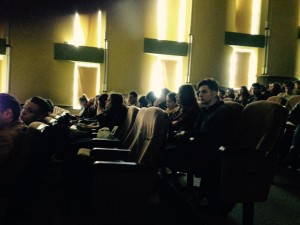 What would you like to tell EPM participants?
We are waiting for the results of this EPM, and we hope that we will work together for a better Europe!
AEGEE-Aachen members have been discussing the situation already since August and so far, two events were organised: a meeting where members got to "hang out" with the refugees and a Christmas party for refugees. We spoke with Malte Berrenberg, the main organiser of the events and board member of AEGEE-Aachen.
ACT: How did you come up with the idea to organise something related to the current situation with refugees?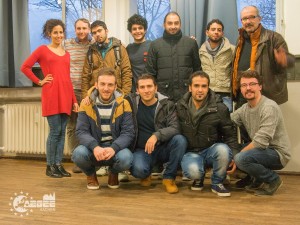 Malte: We have monthly discussions about European politics. Last summer for example, we talked about the refugee crisis and the possibilities to help out refugees in Aachen. We concluded that there are many many things we could do, but we did not exactly how to start. The idea to organise a first meeting with refugees who are currently staying in Aachen came up, with the aim to let them tell us themselves how we can help them. For another meeting about the topic, many of our members showed up, so we were sure that we have support for the activities in our antenna.
Can you tell us a bit more about the meeting with refugees you organised?
For the meeting, taking place in November, we invited about 40 refugees and there were about 25 people from Aachen. The aim of the event was to get to know each other better, which is why we decided to play boardgames together. We also provided some nice snacks and drinks.
You also organised a Christmas Event. Can you tell us more about that?
A christmas tree, fairy lights, gifts and a lot of food – these traditions and cultural practices seem strange for many refugees spending their first Christmas in Germany. Therefore, we came up with the idea to introduce refugees to the ways we celebrate Christmas. Our aim was to focus on the similiarities between Christmas and festivals that the refugees knew, as cultural exchange is the key to a succesful coexistence. Our event was attended by 14 syrian refugees, for which we prepared typical German Christmas pastries.
What were the most memorable moments of the events?
Even though I was busy organising the meeting, I still have a  quite memorable moment. An older guy showed me some pictures of his family (he has seven kids) who are still in Homs, Syria. The situation of many of these people got pretty real for me at that moment and I did not quite know what to say. Also very memorable was that we found out that a lot of the guys did definitely drink alcohol (something we did not expect in this extent).
At a certain point during the event we were all sitting together and exchanging stories of childhood and everyone was laughing: it was an overwhelming moment reminding us how similar humans are.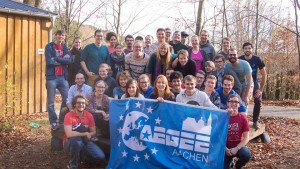 What are the next plans for your antenna?
The next event we are planning is an Arabian night, for which we will invite some Syrian refugees to cook, sing and dance for and with members of AEGEE-Aachen. Also we will soon talk to another asociation in Aachen, which is also working on the social integration of refugees in Aachen. Our hope is that together we will be able to have a bit more impact and work a bit more efficient. Other than that, it might also be interesting to tell that the university is working on the cooperation on refugee aid between their asociations. They have employed Imen El Amouri, member of AEGEE-Aachen, to coordinate the different student organisations.
What is the message you would like to send to EPM participants?
This so-called refugee crisis seems a huge and unmanageable task to many people, but if we all do something small, we will see that we can handle it! Try to become friends with a refugee, organise a meeting between locals and refugees, spend one day a month with people who fled to your country or do anything else  concerning this crisis! Doing so, we will see that it is not only possible to integrate a lot of people, but that they can even enrich our society. People who fear other cultures will lose that fear as soon as they start getting in contact with people from those cultures.
The third local, AEGEE-Peireias, organised an event on this topic last month only. They were so inspired that they decided to go a step further and organise a Summer University on this topic too! We reached out to Mara Poniros, the main organiser of the event to get to know more.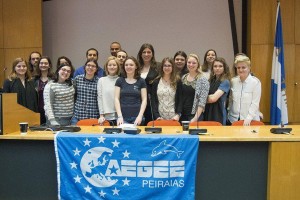 ACT: What inspired you to organise this event?
Mara: The idea dawned on me when I realised that I would have to spend almost a month back home (I'm studying abroad). I thought to myself that instead of sitting around, I should do something more productive, like organising an event for my local. That's how it began. My board embraced my idea, so we organised the event together. Both themes that we picked, the debt and refugee crisis, are pressing issues in our country (Greece), and the need to further explore and discuss them is urgent. I would personally say that what inspired me the most was the human factor. We tend to talk in numbers about the refugees and in economic terms about the crisis, but it's important not to forget that these numbers have faces. We are talking about real human lives.
Can you tell us a bit more about the event?
The event lasted four days, with two full days of workshops, lectures and interactive discussions dedicated to one of the two topics. Regarding the refugee crisis, we first focused on the facts and then touched upon various correlated issues, while making critical judgements. We then gave the floor to one AEGEE-Athina member, Aristea Bismpiki, who has volunteered on the island of Lesvos and shared her experiences with the rest of us. Last but not least, Romy Cartiere from AEGEE-Amsterdam, one of the Content Managers of the upcoming EPM, introduced us to what will be done during the EPM.
What was the highlight of the event?
I think it was during and right after Aristea's speech, when most of us, both organisers and participants, expressed our interest to actively volunteer for non-governmental organisation welcoming and assisting refugees, which is where the idea for our Summer University was born.
What are the next plans for your antenna?
We are really looking forward to our Summer University where we will volunteer on the island of Lesvos that has been experiencing a lot of incoming refugees. We hope we will be able to assist the incoming refugees and make them feel welcome.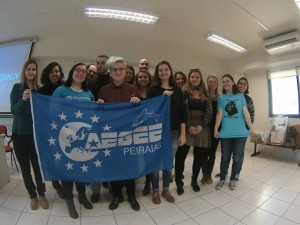 What is the message you would like to send to EPM participants?
We hope EPM participants will implement all the amazing ideas they are going to get during the EPM in their local communities and our AEGEE network.
We as ACT also hope these three stories will inspire more members and that we see great initiatives as these spread through the Network in the future!
Written by Miljana Vulevic, Action Agenda Coordination Committee