With the event of the month of September, we leave behind an era full of Summer Universities and we start to deal with serious matters. AEGEE-Lviv's event "Let's Talk" is a clear example of hard work. This local is filled with motivated and hard-working young people, striving for the future of their country. ACT spoke with Nastya Hirnyak, President of AEGEE-Lviv.
​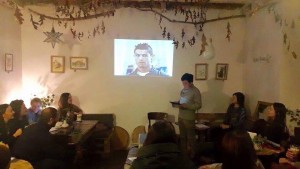 ACT: Congratulations! ​As we would like to get to know this month's winner, could you tell us a few words about your local?
Nastya: AEGEE-Lviv was the first antenna which was born in the former USSR. We are an active antenna with around 100 members, and 40-50 of them are really active on both local and European level. We organise five or six international events per year and as many as we can on a local level. For example, during last year, we organised an exchange with AEGEE-Budapest, a Travelling Summer University, we hosted an Election Observation Project in Lviv, a pre-Agora event; on a local level, we took part in a volunteering clean-up programme and a marathon advertising antenna. We have also started a new project called "Let's Talk" for the local students and members of AEGEE-Lviv.
​You have organised the "Let's Talk" workshop. Can you tell us more about this project?
We started this project in February 2015. The main goal of this project is to involve students, to encourage active youth to join AEGEE, and to give young people an opportunity to express themselves. "Let's Talk" project is a monthly event covering different topics, ranging from self- development to the European integration process in Ukraine. Each event hosted around 15 young people with common interests.
​ Why did you decide to organise this event ?
The theme of September's "Let's Talk" event was the European integration process in Ukraine. We decided to choose that topic as we think everyone, especially youth, should have some basic knowledge regarding what is going on in our country. During the event, we discussed about the relevant reforms that are already happening nowadays (pension, health, education and tax), from a practical point of view, but also about how each Ukrainian can help his or her country to become closer to Europe.
What was the result? 
This meeting was attended by about 13 people. During the meeting we had an interesting discussion on the implementation of certain reforms. It was interesting to observe that young people are interested in this issue and have their own opinion about it.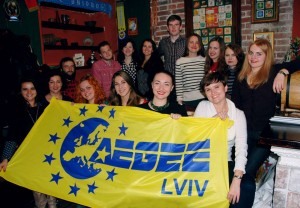 Why do you think the Action Agenda is important for the Network, and what would you say to another local that is thinking about organising something related to the Action Agenda?
First of all, AEGEE is all about the Action Agenda. It is important to organise events on a local level, to help members grow, and encourage newbies to join AEGEE. For the Network, it is great to know about different kinds of projects done by the antennae. Through that we can share our experience and borrow ideas from each other, as the famous AEGEE slogan says 'Sharing is caring'.

Do you have any other big plans for the upcoming months?
As I already mentioned, the "Let's Talk" project is conducted every month. This month, we are planning to organise a workshop on developing interview skills. We also hosted an unofficial New Year celebration in Lviv for those who did not have any plans.
AEGEE-Lviv has certainly shown to the Network that it can be an example to other locals. What would you say to other locals that want to be as awesome as you?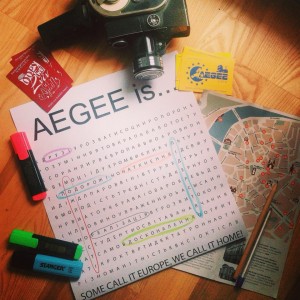 This is one of my favourite quotes: 'World changes, be part of this change'.
​Which sentence would describe your local and your event?
Our local has always been famous for being crazy but serious at the same time. So, our events reflect this belief, too!
Written by Tugce Carpaz, AEGEE-Eskisehir