You might have recognised Réka Salamon from AEGEE's website where she is already in the team page as Vice-President and Project Director. She decided to take it one step further, using all her previously acquired knowledge in several teams and projects to take the next step and run for President of AEGEE-Europe. Her journey started in 2011 in AEGEE-Debrecen, where she was Vice-President & Public Relations Responsible. She then became CD assistant on three occasions and Speaker of the Public Relations Committee. Meanwhile she moved to Germany, becoming member of AEGEE-Aachen, she was the Project Manager of the award-winning project Europe on Track and last year she finally succeeded to fulfil her dream: working in the Comité Directeur.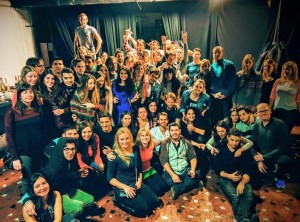 The AEGEEan: Please introduce yourself.
Réka: I am that person who called AEGEE her boyfriend. Slowly turning 26-years-old, originally from Debrecen, Hungary, having lived in different parts of Europe from Finland to Germany, and I still always joke about being from Eastern Europe. I studied English and American Studies & Communications before AEGEE started teaching me more than any of my professors. I am driven and question the way things work, I love challenges including myself and others, I fight for things I believe in. I hate Twitter because it symbolises everything that is wrong with society nowadays. And my favourite job so far was being a kindergarten teacher.
What is your vision for AEGEE?
I got this question during question time in the beginning of my term in July as well. See, the thing is: no one can have a vision for AEGEE that is universally applicable because this organisation means something different to each and every one of us. I could say I want AEGEE to be the strongest actor on the political field or have the best projects all over Europe. The path I chose in AEGEE has made me realise the power that lies in the diverse thematic work of the organisation, and how it can be placed into the societal context, the so-called external world.
But AEGEE is essentially a place for learning, a playground where you get to choose how you want to develop, who are the people who inspire you and essentially, AEGEE becomes the time of your life. My vision for AEGEE is a network where members understand and choose their path in the organisation that suits them the most – and lots of individual contributions will become collective action and the identity of the association.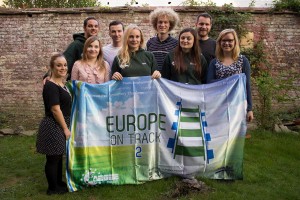 After a year spent in Brussels in the CD working for AEGEE, what do you think is the strongest asset and what do you think is the weakest, therefore the one you need to take care of as soon as possible?
We need to reestablish AEGEE's strong learning opportunities. Non-formal education is becoming a concept not widely understood, while teaching your members from the basic things on "how to manage a local" to developing entrepreneurial skills during a European School could be the reality of the organisation. Members who understand and want to learn more will build us together as a stronger network. Check  NFE's impact in society, or how AEGEE faced Bologna process and its challenges, and check the era of European School courses to know what I refer to.
AEGEE's strongest point is being a playground for pragmatic idealists. The organisation has worked and is working on all possible fields that the society around us could find as an important cause or problematic case. From refugees to visa regulations, from employment to peace building, from political anticipation to human rights education, we offer the space for everything our members find interesting and would like to learn more about. We are just not very good at communicating these opportunities in a simple way, but instead in a maze of an overcomplicated internal structure and intimidating levels in our work. Let's clear up this mess so we can focus on the things that really matter to us!
What are, according to you, the fundamental features of a President?
Understanding people. It takes time to get to know someone what the artificial environment of the AEGEE headoffice does not allow. You work and live together from day 1. It takes empathy and understanding to see what drives every person in the team, what triggers their reactions and what is the way to truly respect and trust each other with them. Lead by example. The president is ultimately the person the other people rely on for direction and support, let it be moral or work-related support. This weight of responsibility can only fall on a person who proves to be the pillar of the team by deed and not only by words.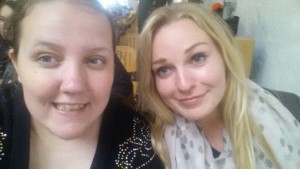 A president is able to take one step back to look at the bigger picture. The President of AEGEE-Europe is president of two very different entities: the group of seven people in Brussels and an entire organisation. Both have different needs and expectations, and finding the balance between is probably the most challenging task each year. The President of AEGEE-Europe however, can influence the sense of direction of the rest of the board and take an approach that does not allow the CD to forget about its most important task: supporting the network (and be less caught-up in the everyday reality of Brussels).
What was your biggest achievement in you first term as CD?
AEGEE Day was the main thing we have scheduled for ourselves as an objective for the whole team, and while we took different roles in the implementation in the network and in the external world, it is turning out to be a huge success. A tradition we should establish to be a yearly celebration, bringing our network together.
What is the status of the recognition of Non Formal Education (NFE) and Volunteering? Do you think it is possible to create a standardised procedure that can have AEGEEans' skills recognised (i.e. Credits for University or trainership granted)?
The Council of Europe has drafted a recommendation to all member states of the EU to implement the first practices of volunteer recognition by 2018. Since CoE is a strong actor in the institutional sector, this recommendation is going to urge other institutions for actions as well, which means youth organisations are also likely to gain more support in the improvement of quality, accuracy and credibility of non-formal and informal learning.
With less Brussels-jargon, basically: the recognition of volunteering is a decade-long debate that has been on several tables. With so many different levels of knowledge, unclear map of competences, different youth organisations delivering different trainings, it is hard to find a universal solution. AEGEE has been, however working on the Quality Assurance for Trainings project and the GR-EAT (Guidelines for Recognition: European Advanced Tool) project that drafted guidelines for youth organisations to develop their own internal recognition tools. We have worked on researching the needs of companies and universities when it comes to volunteering and we have come up with a system that could really work.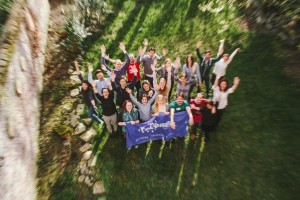 The work on these projects is probably the most invisible one of my portfolio, yet the educational sessions taking place this spring NWM are trying to highlight the importance of non-formal education and the global struggle for the recognition of NFE. I work closely together with the Lifelong Learning Platform, the strongest umbrella organisation on the field of education, and the strategy we have drafted for volunteer recognition could move social and political recognition forward in the next two years. For further info, please ask and I can go on…
What is your idea of a bottom-up approach to the Strategic plan?
A planning meeting / idea factory with 100-150 people with at least one representative from at least 80% of our locals coming to attend a four full days event of learning about AEGEE and defining their locals' interest and involvement in our work in the next three years. The bottom-up approach is when you bring people together and give them the space to define what AEGEE means for them and where they can and want to contribute to the organisation.
Our current structure of learning and training, the strategic plan and action agenda resembles more the structure where a small part of the network is telling the rest of the network what they should do and the official procedures impose certain topics to be worked on, but do not give them the support (financial and human resources) to properly implement their obligations. The current structure is a result of 5-6 years of paying more attention to planning than our locals' capacity and the actions we can actually realise. We can reverse this trend and get back to the roots when idea + action was dominating AEGEE's work and not the official documents, reporting and paperwork.
You want to bring some pioneering actions back to AEGEE, such as study trips or more thematic conferences. How would you do that?
Case study trips brought theoretical work and online discussions to their action, by actually visiting the country and exploring its reality (not from a tourist perspective). Case study trips break down stereotypes and create educational materials for the future. Thematic conferences were supported by working groups and projects but essentially they were bringing benefit for the AEGEE locals as well. Thematic conferences were all over to discuss important issues in a more meaningful way than passive-aggressive Facebook comments.
I have one more! Mini Universities. Another thing from the past, Mini Unis offered a five day long crash-course with one topic explained from all perspectives. Combined with European School trainings on Project Management, projects have emerged with strong teams who knew a lot about the topic and also knew how to manage the project. How would I do it? Explaining the benefits of the thematic events on the local level and applying for funding from AEGEE-Europe for all of these in order to support the quality events of our locals and strengthen the brand of AEGEE also on the local level.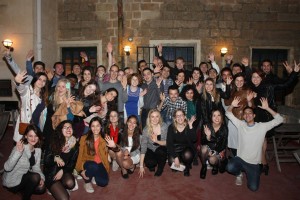 You want to help locals to organise more thematic activities with the help of projects and working groups. How would you envision this passage? Do you think the European level is connected enough with the local level?
The talks about bringing the European level closer to local level are endless. In my view it is all about the presentation and the crucially important simplification of the information towards our members. By naming all the internal bodies differently and creating different procedures around all of them, we have given them the false image of being something "better" than the local level. I would discuss our internal knowledge management with the rest of my team and start simplifying the structure of AEGEE to make knowledge as accessible and easy to understand as possible, both for locals and for members.  
You can find the questions from the readers here, her portfolio article here and read her full candidature here. 
Written by Erika Bettin, AEGEE-Verona