Matteo Lai has been a journalist in the AEGEEan magazine since October 2015, but he is also active locally by serving his antenna, AEGEE-Cagliary, as its IT Responsible. His experience and passion for Law, though, motivated him to run as a member of the Juridical Commission for the upcoming term. Here are all the questions, that the AEGEEan and the Network had regarding his candidature.
The AEGEEan: Can you tell us a few things about yourself?
Matteo: I have been an AEGEE member since April 2015, when I decided to spend a vacation outside of Sardinia, because I wanted to try new experiences. Then I saw a Facebook the advertisement about Summer Universities, so after getting information from different websites, I went to the Faculty of Economy in Cagliari and joined AEGEE-Cagliari. Becoming an AEGEE member has been one of the choices, which have revolutionised my life. I am a 27-year-old Sardinian guy, who obtained a Master's Degree in Law from the University of Cagliari back in October 2012. I love speaking foreign languages because I think they represent a way to open your mind and to meet new people. I also like football very much. In Italy, like in many European countries, it is the most followed sport and also a good conversation subject among young people.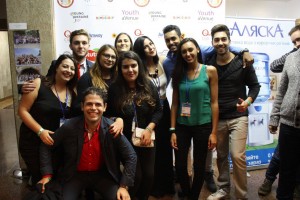 When I was 14 years old, I played in a local football team as a midfielder, and after two years the President of that team proposed me to sign a contract. Unfortunately for the President, I chose to stay focused exclusively on the school studies and left the team. During the following years I practiced many other sports, such as volleyball, basketball and karate. At the age of 22, I discovered my passion for dance and, in particular, for Salsa. Then I met a Brazilian girl, Alessandra, who helped me to learn that dance. I like to hang out with my friends during every weekend and have a lot of fun, as most of the guys at my age. Another hobby I cultivate is informatics, even if I am not an hacker, but not for case I am the IT Responsible in my Antenna.
What is your relevant experience to this position? 
I don't have any relevant AEGEE experience to the position as a member of the JC, but I have studied Law since I was 19, I have done a traineeship in a Law firm and, currently, I am preparing for a competition to become a judge, so you could say that I have quite an experience in the field, especially considering that you need a very deep juridical knowledge to be successful in that completion. The written rules quite often can not regulate every actual case, making it hard for the jurist to understand which rule is better to be applied in each specific case. Previously, I have been a scrutineer in the European Parliament elections in 2014. Lastly, in collaboration with the law firm where I made the traineeship, I have been the first legal advisor in Cagliari to have managed to sign a divorce contract without the homologation of a civil judge.
Why did you choose to become a candidate for the Juridical Commission?
I chose to become a candidate for the Juridical Commission, because I love my association and I would like to contribute by putting together my passions for Law and AEGEE. A friend of mine, who was a helper for the last Summer University in Cagliari, suggested that I should present my candidature for the JC, because I have a doctorate in Law so I, probably, wouldn't find any difficulties in solving some juridical problems. I think an eventual experience as a member of the JC (maybe also a President) would increase my knowledge of legal English and it would also allow me to do the job I normally do every day, but this time, for thousands of people from a lot of different European countries. Don't you think it's amazing?
In your opinion, what is the most crucial thing in the work of the Juridical Commission and why?
In my opinion, it is not very easy to transmit the importance of a set of rules for a very big students association like AEGEE, mostly because within the association
you can find not only Law students, but also young people from various academic backgrounds. Law is often considered as a very boring subject, but as you can imagine, an association, other than people, also needs a set of rules. An example of rules is represented by our Corpus Iuridicum Aegeense. These rules are not unrelated to us, because they deal with our volunteering activity inside the association. Without a set of rules, we could not do anything because the CIA tells us, in the articles 2 and 3, the purposes of the same association.
Have you actually read the whole CIA? If so, what does it mean to you?
I have read the whole CIA and I think that it sets a good example of democracy, simply because it is voted upon by the antennae representatives. The CIA has got the same value as the rules of a town, a city, a region or a country. The association cannot work without rules. Without rules, we would be in a state of nature and in that state, each person would have the freedom to do anything in the world, which would lead to a "war of all against all".
How would you make it more friendly to the members?
To make the CIA more friendly to the members I have thought about a collaboration between the JC, antennae, Working and Interest Groups (such as the Language Interest Group), mostly for the translation of the CIA into other European languages. I think it would be a great way to involve the entire network in the work of the JC. To begin with, we could try with French, Spanish and Italian.
Is there something that you would like to improve in the current version (v.26.1)?
Yes, as always things can be improved. Once I will start my term, I will discuss it with my team and, of course, with inputs from the Network.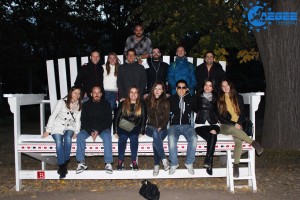 Do you think that there's somehow room for collaboration between other European Bodies and the Juridical Commission?
I think the JC should not work by itself, but it can enjoy the knowledge and experience of all European Bodies. I think, that one of our aims is to promote the collaboration with every European Body, which wants to make a contribution into our awesome association. We are open to all collaborations which can support the growth of AEGEE.
If you were elected tomorrow, what would be the first thing that you would do?
I would start with the preliminary activities in order to bring my program to life.
Questions from our readers:
In your program you're saying that you want to translate the CIA into 3 other languages, one of them being French, which is already used since 1992. According to which criteria you want to translate it into the other two, Spanish and Italian? What about the other languages?
We will begin the translation of the CIA into Italian, French and Spanish. If the plan goes well, we can think about the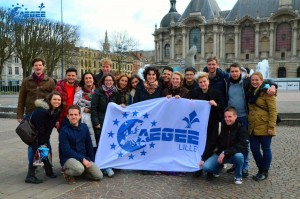 translation into other languages, such as German or Russian. To make the procedure clear, I came up with an example: if I have to translate the CIA into Spanish, the JC sends a different number of articles to all the spanish antennae. To verify the authenticity, after each antenna (or the Spanish Subcommissioners) has sent its translation to the JC, the commission will be sending the already translated parts to different antennae, in order to make the comparison. In every case, we are ready to receive any suggestions from the Network.
In your opinion, what makes you the best candidate for this position?
Up until now, I have spent eight years studying Law, so I think I can execute the tasks of the JC, because I know the Law in theory and in practice. In addition to that, I am also used to a huge amount of work.
What is the thing that makes you the most excited as a candidate?
Becoming a member of the JC would allow me to be in contact with many people from different European countries, whom I would not have a chance to meet otherwise.
You can read his full candidature here
Written by Theodora Giakoumelou, AEGEE-Athina