Exactly one month ago, I was enjoying the last days of my first amazing Summer University here in Brescia. Even if I'm just writing about this, it still feels strange… I joined AEGEE-Brescia only shortly before; in May after a pre-Agora event. It felt great to host foreign people from various countries in my hometown; I liked overcoming the initial shyness and having fun during the parties that we had.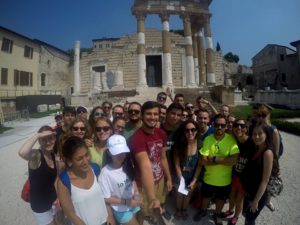 Even with these premises, I wasn't prepared for what was coming! We started planning the SU in every detail (activities, compulsory sessions, booklets and more), and, after a couple of months we were ready to again host twenty-five BEAUTIFUL people for two weeks, that would be rich of events and fun. Here's my personal review of the best moments in our "Be Green Go Extreme, Just Survive Vol II" Summer University. Enjoy!
In fourteen days, we definitely had many activities, but some of them really impressed me. As the theme was linked to extreme open air activities, we pushed the adventurous spirit of our participants and, luckily, they didn't disappoint us! In the beautiful location of Lake Iseo, we went kayaking and paddle boarding for a whole day… it was amazing! You might be thinking about a boring group just floating around but, hey, we're talking about AEGEE people, right? Everyone had fun with some small competitions, games and demonstrations. The best, anyway, was paddle boarding. If you have ever tried that sort of board, you know how unstable it is. Somehow this gave us a nice idea: GLADIATORS FIGHT!!! Someone came out as a winner and others were left without regrets! We may have looked like mad people, but who cares?!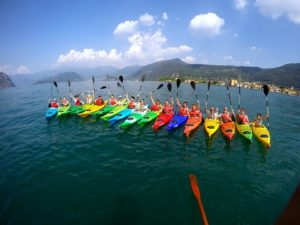 Another activity I really enjoyed, was climbing. We brought the participants to Riva, at the northern tip of Lake Garda, for two days, in order to enjoy some hiking, climbing and, of course, sunbathing. The beautiful mountains surrounding the lake hide amazing vertical rock walls where you can climb safely, which attracted climbers from everywhere… and we couldn't help but join them! Even though someone had already tried it indoor before, it was a tough challenge! However, everyone enjoyed the activity and reached the top. We also had some super funny moments when a participant got stuck in the only bush growing on that wall (still wondering how…) and another one did a kind of somersault while climbing down. The most surprising thing? Seeing people from the Netherlands, who had never been to the mountains before, climbing up like professional climbers. Go Extreme!
But how can we not mention the most famous event: the European Night! We all know how important it is to show that we respect other countries by tasting what they've brought, sometimes it's food, sometimes it's something to drink. From now on, we all know how it goes…. By the way, it was an amazing night, our participants cooked many incredible dishes and told us amazing stories about them. The most remarkable thing was not the European Night per se, but what was going to come the following day!
We decided to use the beautiful mountain location where we were, to go for a six-hour-hike (20 km). After realising that maybe (maybe!) it wasn't a good idea to propose it after the European Night in August in Italy, we offered an easier option for those who didn't feel like it: a shorter trail in the shady woods. As we felt like their "worried parents", we tried to do our best to discourage them from choosing the first option and, well, the next day, all the participants amazed us once more: they all got up at 8 a.m. and chose the longest path! But this is not all, they were all very excited and this time it was the Estonian moment: Estonian girls ran (we say: ran!) to the top of the mountain, arriving there well before many organisers and helpers. If you're wondering: in Estonia, there are no mountains…
It happened again the following day when we went for a via ferrata. What is a via ferrata? Being secured with a rope to an iron cable that goes along otherwise inaccessible mountain trails, walking on rungs of metal secured over a stream or holding on to iron chains through canyons… This is what a via ferrata is, and you know what? All our participants chose the difficult way… No doubt they would make it!
We could go on like this for long, telling you how cool our participants were and how much fun it was to spend time all together hiking, playing some games or, simply, chilling out somewhere. We couldn't wish for a better group; we couldn't wish for a better Summer University!
Manuel Volpi, AEGEE-Brescia (Special thanks to Giulia Guerini, AEGEE-Brescia)