Theatre, to some a hobby and to others a lifestyle choice, is becoming more integrated in AEGEE. For years, AEGEE-Nijmegen was the only local with an active theatre committee, but, recently, there was an idea for more locals are following suit. The Culture Interest Group decided to go one step further, and have announced plans for a pan-European theatre project; Europe Goes On Stage. A couple of weeks ago, we were notified that this project was to be postponed for now. Nevertheless, the idea sounded inspiring. Therefore, we would like to  show you our initially withdrawn interview with Domitille Simon, coordinator of this project.
Note: this article was supposed to be published several weeks ago and the information presented might therefore be outdated.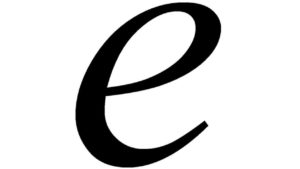 The AEGEEan: What, in a nutshell, is your latest project "Europe Goes On Stage"?
Domitille: Europe Goes On Stage (EGOS) is the latest project from the Culture Interest Group (CIG). The aim of the project is to gather all the theatre-lovers in AEGEE and create a theatre troupe within the association. The idea was to produce something purely European, from the theme discussed in the play (we chose Peace from the Greek playwright Aristophanes) to the place where we will perform it: EGOS is not attached to any AEGEE local, the project should make sense anywhere in Europe.
Therefore, we are currently contacting different antennae to find a place for our rehearsals and for the first performance. We want to organise a six-day event in November/December which will include the rehearsals and a performance in front of the local audience. If it is possible, we also thought that we could perform it during bigger AEGEE event such as EPMs or Agoras.
We are also still looking for comedians. We already received some applications from really motivated people but we are still waiting for more! Anyone from AEGEE can apply: the more diverse the group, the better it will be. We all hope that it won't be a short-lived project and that this is just going to be our first play!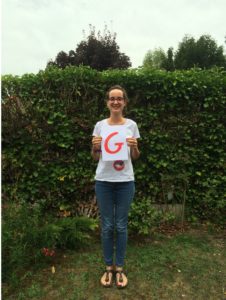 What's the experience of the core team in terms of artistic know-how?
For now, the core team is composed of three members. Stefania de Martino is from AEGEE-Bergamo. She has a great experience in acting since she attended four acting courses: three during high school and one during her first year at university. Besides this practical knowledge she also enjoys going to theatres to watch plays or musicals.
Oliver Andreevski is from AEGEE-Skopje. He performed arts since high school: he studied traditional dances in the ballet department, which included adapting old traditional dances and rituals on stage. He still does it as his hobby. He also has some knowledge in making costumes, music and singing.
I am from AEGEE-Manchester. I followed three years of acting courses when I was at school and one year during university, but I soon realised that I had more fun directing comedians than acting. I've been part of the directing team of the annual play produced by the Francophone society of my university for the last two years.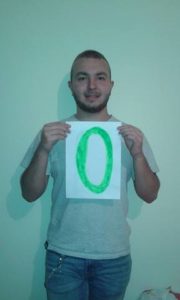 Will you guys provide the costumes and decor and will you direct yourselves, or will that duty fall on the hosting local or external people?
We will provide everything, from the costumes to the props and the decor. As mentioned above, someone of us have experience in directing so we will adapt and direct the play ourselves. The role of the hosting local will be to find us the location for the accommodation as well as for the rehearsals and the representation. But obviously we will help!
Where and how will you hold the auditions?
We do not aim to gather only theatre professionals. Of course, if you are an experienced comedian you're more than welcome! But I think what really matters in this kind of project is people's motivation so we decided not to do auditions. Comedians can apply through a google form and we will evaluate their candidacy on their enthusiasm.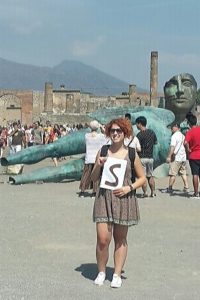 Until which date can people apply to join "Europe Goes On Stage"?
We extended the deadline to the 15th of October. We already had some really good applications but we are looking for even more motivated and passionate people!
Why did you choose to perform Peace by Aristophanes (of all possible plays)?
I first hesitated between writing a play on our own or adapting a play but I soon realised that writing something original will take ages so we looked for a relevant text on the topic of Europe. We orientated our search on the Ancient Greek theatre because in a way, Ancient Greece is the mother of all European nations and cultures.
For those who never read Peace from Aristophanes and have no idea who Aristophanes is, they will be quite surprised to see that it is far from the idea one could have about Ancient Greek theatre! Peace is a pure comedy. To sum up, the main character, Trygaeus, a producer of wine from Athens, reaches the Mount Olympus, where the gods live, on the back of a dung beetle and realises that most of them already left because War has imprisoned Peace.
During a moment of unattention from War, Trygaeus, helped by people from all around Greece, liberates Peace and her companions Harvest and Festival. The war is over and peace comes back among the Greeks. The play ends by the celebration of Trygeaus and Harvest's wedding. We thought that the story was quite relevant to the Europe situation in Europe: the only solution to stop the wars that kept destroying Europe was to gather people from the whole continent to bring back Peace.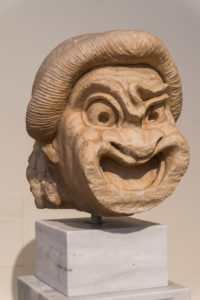 How will you stage the production; in its original, classical style or will you use more modern styles of theatre?
It will be a modern adaptation of Peace: we are currently re-writing the play in order to give it a European sense. For example, instead of talking about people from different Greek cities we will change it to European cities (and obviously cities where there's an AEGEE antenna!).
Greek plays are also known to have a Chorus. It used to be a group of people standing in front of the stage and singing. In our adaptation the Chorus will be given to one person and played as a normal character.
Is there anything that we didn't ask, but that you like to be included into the interview?
As mentioned, EGOS will provide all the props and decor, therefore we need someone motivated to become our fundraiser.
If you want to contact us you can do it through the Facebook page of the CIG: https://www.facebook.com/CIG.AEGEE/?fref=ts
You can also send us an email: europegoesonstage@gmail.com
And if you want to apply (Comedians/Hosting local/ Fundraiser) you just need to fill up this google form: https://docs.google.com/forms/d/1fcrtxfhw4fY5bv9Xc-2Tb9kTYk9yQLJb7B3m90rfb8Y/edit
Written by Willem Laurentzen