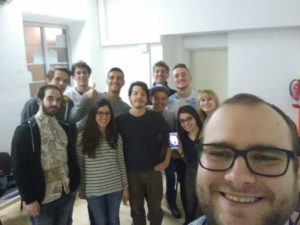 Day 3 and 4 – Torino (16th-17th February)
In order to get in time to Torino, all of us had a long journey to take: Zvonimir from León, Réka from Toulouse, and me from Lille. Thus our programme first started in late afternoon with an interview with Giulia Melis, President of AEGEE-Torino, then a meeting with the Board and the members of AEGEE-Torino. The three of us all spoke about our experiences in AEGEE (what we did before CD and why did we decide to run for a position in the Comité Directeur), what motivates us to contribute more to the organisation, and we also gave an overview on the structure of AEGEE and what our European Bodies are doing. We also asked AEGEE-Torino members why did they join and why did they stay in the organisation.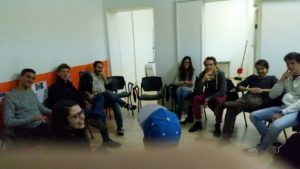 We all agreed that the keywords are people and the community: most of us joined because their friends or acquaintances recommended AEGEE, and everyone said that they stayed because of the people they met and the friends they made inside the organisation. The same applies for motivation: most of us want to help in order to support others – being them Erasmus students, newly acquired members or students in our city, etc. We also saw a remarkable interest towards some of the thematic topics AEGEE is having now (such as the new Focus Areas of the Interest Groups).
In the evening we closed the day with the Aperitivo of AEGEE-Torino, where we could meet the rest of AEGEE-Torino members, and also the Erasmus students and other students and people from Torino who are regular participants of these events.
The next day before our departure, we got a nice (and fast) city tour of Torino – it is amazing how rich the cultural heritage is in the city – and a lunch together with some of the active members of AEGEE-Torino where we also had time to discuss some other topics concerning AEGEE. We again parted for three different routes: Zvonimir to Firenze, Réka to Bergamo and me to Milano.
Here the interview with AEGEE-Torino President Giulia Melis:
Written by Tekla Hajdu, Network Director