"The European Union is a political and economical union of 28 countries. EU policies aim to ensure the free movement of people, goods, services, and capital within the internal market, enact legislation in justice and home affairs, and maintain common policies on trade, agriculture, fisheries, and regional development. Within the Schengen Area, passport controls have been abolished." (Wikipedia)
Member states are located primarily in Europe, however not every country from Europe as a continent is in there. Some countries with the strong economy like Switzerland do not want to belong to the EU and those small groups of developing countries bordered by the EU members like Ukraine, Georgia or Montenegro would like to be a part of the EU, but cannot because of their unstable economical situations.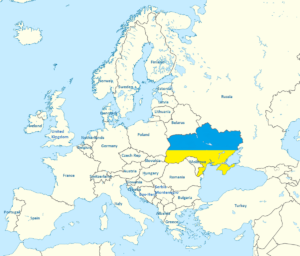 Let me tell you about most common ways to go to the EU, if you do not possess a European pass, using Ukrainian citizenship as an example. Average monthly salary in Ukraine is 6000 UAH [Ukrainian Hryvnia, ed.] according to Trading Economics and some students get a government scholarship which is not more than 30 Euros. In Ukraine, it is possible to survive for 100 Euros per month, but in the EU prices are different.
1) If you are a student
AEGEE-Kyiv members want to go to AEGEE-Budapest for a Civic Education conference for three days. They are allowed to get a visa when the invitation from AEGEE-Budapest (with all stamps and so on) is provided but only for this period of time. So they pay like 140 Euros for a round trip without an opportunity to stay longer to have a look around, plus they pay a visa fee. The same applies to study trips or any short term trips to the EU for which you can provide an invitation.
2) If you want to study in the EU
Many Ukrainians choose Germany for the universities to have quality education and pay no tuition fees. To get a student visa, you have to bring an account statement of 8500 Euros to the German embassy as a prove that you are not going to beg and have enough money for living. You have to show this bank statement each year to extend your student visa, whereas it does not matter whether you are a good student or not. Not to mention how many years Ukrainians have to spend to gather this amount of money, and once you are enrolled, you are not allowed to withdraw more than 650 Euros from this account since it is blocked while you are studying.
3) If you want to travel around Europe
To get a tourist visa for the EU to travel or to visit your relatives and friends, you as Ukrainian are going to go through fire and water. I am not kidding! To get a tourist visa officially from the embassy you have to provide a bank statement (from 1000 Euros on, depending on the trip duration), plus a сertificate on real estate, plus a certificate of marriage and having children, plus a certificate of employment, plus either booked hotels or an invitation by those who are going to host you, and to top off all of that, booked round tickets with dates. Why? Because the EU government is afraid that all Ukrainians are obsessed with the idea to work illegally somewhere in Europe.
Because of current unemployment and iniquity, many Ukrainians are informally employed, so they cannot provide a certificate of employment to the embassy. To get a tourist visa they go to any tour operator, who writes a fake certificate of employment and also a fake bank statement since it is impossible to prove 2000 Euros on an account while earning 200 Euros monthly. Furthermore, it is actually dangerous to have a bank account in Ukraine, since at any time the bank can go broke and vanish with all your money. The tour operator asks three times the price for a tourist visa compared to the embassy, but for many Ukrainians, it is the only chance to go to the EU.
In addition, you have to travel to Kyiv for fingerprinting (which are actually already in Ukrainian biometric passports), so you need to consider the time and money you will spend for this trip (Ukraine is the Europe's biggest country if you did not know).
The process for getting the EU visa is super expensive and demanding. Most of Ukrainians are happy to be Ukrainians and do not want to leave their country. Yet, why are they not allowed to travel right after buying a ticket like their neighbour countries and have to spend years for saving money for a bank statement or find illegal ways to visit their friends?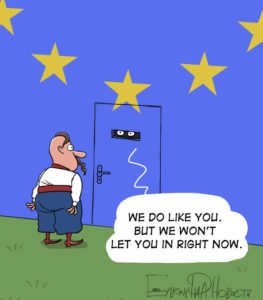 The EU and Kyiv began visa liberalisation negotiations in 2008. At the end of 2015, the European Commission concluded that Ukraine had made the necessary progress and had met all the benchmarks, despite the exceptional internal and external challenges it faced in recent years and presented a proposal to grant its citizens visa-free access to the EU in April 2016. The legislation was signed by the Parliament's President Antonio Tajani and representatives of the Maltese Presidency of the Council on Wednesday 1st of March and will enter into force 20 days after it is published in the EU Official Journal. Once the change enters into force and provided they have biometric passports, Ukrainians will be able to enter the EU for up to 90 days in any 180-day-period for business, tourist or family purposes.
Of course, Ukrainians will not have the right to work or study in the EU, but at least it will be so much easier for them to visit AEGEE or Erasmus friends and to travel this big world without such strong limitations.
P.S Great MMA Fighter Genki Sudo did not come down to the ring with a flag of his native country. Instead, he had a flag unifying us as equals. What if we all do the same?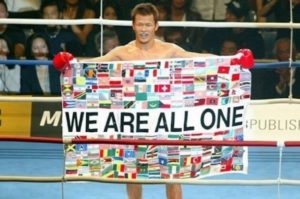 Written by Aliona Sytnyk, AEGEE-Berlin