Less than a month ago, a new AEGEE Contact was born. This time in Sheffield, the UK. Four girls are behind this, they dream big and have already done some things with the brand new contact. We asked them a few questions so we can find out more about them and their plans.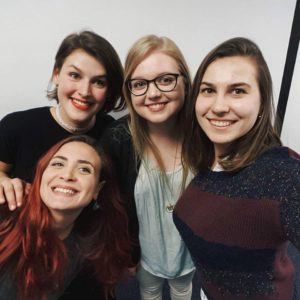 The AEGEEan: Tell us a little bit about yourself.
AEGEE Contact in Sheffield: We are four girls from different corners of Europe – Hanna from Finland, Anne-Sophie from the Netherlands, Chiara from Italy and Oksana from Ukraine. We are all students at the University of Sheffield, which is offering us a lot of support. We are all here only for either a semester or a year, which is not ideal but we will hand over our antenna to the future generation with pleasure!
What other people are behind this new local?
Hanna, Anne-Sophie and Oksana have already been active in AEGEE – in Helsinki, Maastricht and Kyiv respectively. So we met through common friends – AEGEE networking does work in reality! Chiara is new to AEGEE and is inspired to experience Summer Universities. Although we all met less than two months ago, it already feels like a great team. We have also found enthusiastic new members who are eager to help us out, which is fantastic!
Why a contact for AEGEE in Sheffield even if it had struggles in the past?

Well, we felt like this city fits AEGEE perfectly! The students' community is great here with lots of people from all around the world. We knew about struggles in the past of course, but we have gotten many positive reactions so far, so we feel like we can definitely make it. The good thing is that three of us were already quite experienced in AEGEE, so a lot of things were easier for us like presentations and promotion.
How many members do you have now and how did people in the city react to the association?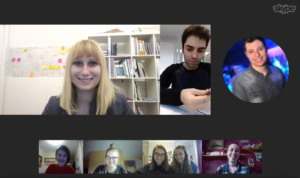 Last week, we had a meeting promoting Summer Universities and recruiting new members. It went even better than we expected, so by now, we have 14 members! There is a lot of activity besides AEGEE in Sheffield, as the Students' Union here is exceptionally active so people never get bored. However, we do have something special to offer, so our aim is to expand and to prove that we can be a successful local!
What is your strategy to get the contact known in your city and get more people involved in it?
For now, we are focusing on the promotion of Summer Universities as we were lucky enough to jump onto the AEGEE boat when our fresh members can still apply for this great project. Therefore, our aim is to make new members that apply for Summer University and also are enthusiastic about becoming active locally. The strategy which worked best so far is to share stories about AEGEE among our friends in Sheffield, which motivates them to join and experience it all themselves!
What are your plans for the near future?
During the last weekend of March, we had a party to celebrate the birth of our contact – with the birthday cake of course! Some members from the UK antennas came as well, so it was a great chance to bring some AEGEE-spirit to Sheffield! Other than that, the next step is to get upgraded to Contact-Antenna at Agora Enschede and we are working hard on it!
We wish them all the best of luck!
You can find them on Facebook here!
Written by Raluca Radu, AEGEE-Cluj-Napoca