Here you have one of the candidates for the Comité Directeur: Adonis Meggos, from AEGEE-Peiraias. He is the project manager for the Drinkwise project, the financial manager for Your Vision for EUrope, moderator of the Migration Interest Group and active member of the Language Interest Group, and now he would like to put forward some ideas about statutory events. He is ready to spend one year in the AEGEE House by filling any position in the CD. Read the article for his candidature. 
THE AEGEEan: Who is Adonis Meggos in everyday life?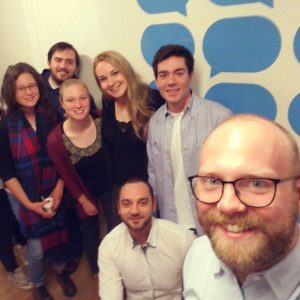 Adonis Meggos, AEGEE-Peiraias: Adonis Meggos is a multicultural being that seeks a busy living. A passionate, motivated, dreamer he claims to be. And it is on his AEGEE profile, where he spends 55% of his time. That person is me and I am partly a nerd (gamer~Nintendo fanatic, comics & series addict~DC supporter, ex-drummer~3 LIVEs). I want to improve my already healthy lifestyle (cycling, following a diet, attending the gym). And I, that extroverted and hard-working person, can always find a way to relax.
Why did you choose to apply for this European position?
I've gathered enough experience and knowledge through these four years and I think it is time to take the final, most challenging step. Being a member of the Comité Directeur is not an easy task for sure. Dedicating a year to volunteering is not a problem. I love AEGEE, but living inside the house is a problem indeed. A house with mold on the wall, crazy showers, zero soundproofing and (as we know) not the best internet connection. That "living with your colleagues and working with your friends" situation seems to be the hardest level of social interaction. But I know what I am applying for and I say … Bring it on!
What would you like to do as a member of the CD?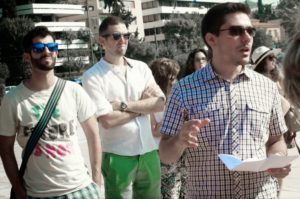 I am open to any position and that means, wherever/whenever I notice something that can be improved I will focus on it. On the other hand, during the task division I will be in charge of several responsibilities. However, I have always been a team player in my local board and inside European bodies. I was also leading the Drinkwise team and I had to overcome many obstacles in order to build up from nothing a fully functioning and well known AEGEE project. I have a creative and bold personality. I will try to solve issues related to the organisational tasks which are directly connected to some AEGEE upgrades I am planning to work on.
How do you envision the future of AEGEE and what can you contribute to it as a CD member?
I want to see AEGEE growing again in numbers. All those global changes made many people lose their faith in the European idea and it is up to the younger generation to reformulate it. To bridge the gap between Eastern and Western Europe. To develop a prosperous feeling for a sustainable and united future. AEGEE is the right place to start if you are seeking self development. You can dream big and have an impact, presenting your worthy ideas for our common future. Because the followers will approach and support you voluntarily. AEGEE also has to raise critical thinking and support constructive debates within its members. Otherwise, we may end up victims of manipulation and populism. Fight against drama and replace it with fruitful discussions. Allow anyone to raise his/her voice and speak up for personal beliefs. Because our association is just a mixture of individuals that share a common vision. And the only way to contribute to this purpose is by equal participation and equal responsibilities.
How did you learn some basic French and Russian?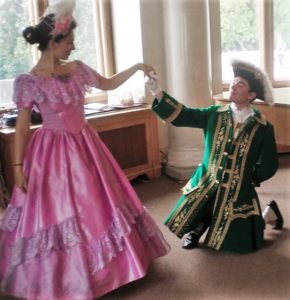 I have studied French at school for three years but I haven't been practicing it regularly. During my first SU in Sankt-Petersburg, I developed an interest in the Russian culture and language. After the SU, I attended a conference at my university about EU-Russia relations and BRICS association. A year passed learning the Russian language, which I tried to speak during the NWM Moskva and the LTC Sankt-Petersburg but Русский язык очень трудный!
Do you have any plans for the 30th anniversary of the SU Project?
The SUpporters Interest Group has already started the working preparations for the upcoming celebration. I will secure its success by supporting it on behalf of the Comité Directeur. I will also search for previous active members of SUCT and other relevant Alumni. The Editor in Chief of the 25th anniversary, Hara Kogkou, was still active in AEGEE-Peiraias when I joined and she explained to me everything about that project.
Can you tell us something about "EU Debt & Refugee Crisis" event?
T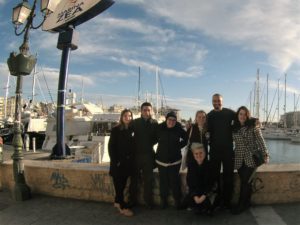 he "EU Debt & Refugee Crisis" was just a part of our local's campaign. We are an antenna that has been very sensitive to the refugee crisis because of our city's location, which is the first city/port in EU territory. At the time of the conference I had huge amounts of work for my job and that's why I only helped with the preparation. I attended the evenings (where I was asking the participants to cover me on the content and to send me feedback). Unfortunately I missed the speech of the former President of the Greek Parliament, Zoe Konstantopoulou, about her experience of the "Truth Committee on Public Debt" but we recorded it. No wonder why I joined the Your Vision for EUrope team a couple of months later.
What do you suggest to make more AEGEE members able to approach a European body?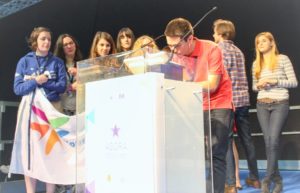 <<To make more AEGEE members able to approach an European body>> requires more AEGEE members in general. I think the answer is: Better Internal Communication and rebuilding our Recruiting Policy. About the Internal Communication I will introduce a new system during my presentation. AEGEE suffers from shrinking. Locals' human resources affect highly the human resources of European Bodies. And the European Bodies lack in human dynamic and funds. If we manage to strengthen each European body then there is no doubt that the locals will approach them for content-filled events.
Can you tell us what CIRC is for newbies?
They say that organisational bodies of AEGEE are the unseen heroes. Corporate & Institutional Relations Committee is probably the most underestimated European Body because only there are you able to provide materialistic fuel for our organisation. CIRC supports the work of AEGEE-Europe by ensuring its financial sustainability and providing help on fundraising strategy. They support locals and other European Bodies on fundraising issues. It is the Bruce Wayne of AEGEE.
How quickly do you answer e-mails?
This interview took me two days to fill, it is an exception. Lia Touska showed me some guidelines for organising my gmail account. I use the filters correctly and whenever I hear the notification in my phone I check it immediately. If it requires a fast response I reply immediately. Otherwise, I reply as soon as I have access to a computer.
Questions from the Network
What is your experience in writing grants?
For corporate grants I never faced an occasion where there was not a prototype paper available. I just had to change a paragraph or two. For institutional grants my experience is limited to financial parts, preparation of the budget with an explanation for the estimated expenses. I am far from being an expert on fundraising. I feel that one person is not enough for all the fundraising and financial tasks. I have some knowledge of finance and I will support the work of the Financial Director whenever it is needed.
You are mentioning Agora Reform. Can you state what is your experience within Agora Reform since you were not part of the Task Force?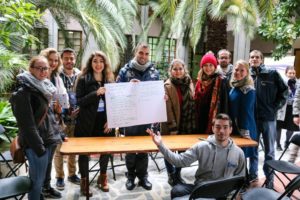 I have heard about the task force but I got to know it accidentally, when I messed up with the rooms during Agora Bergamo. Even though I was a delegate, I was totally absorbed by Maarten's progress meeting and so I went late to my prytania. I attended both Share meetings from the last two Agorae, where Agora reform was always on the table. But most importantly, when Pablo's article with the title "We Are Making AEGEE Great. Or Are We ?" created the crosstalk in the Facebook group, we asked Maarten to open up the meetings of the task force so anyone interested could have the chance to understand the work of the task force. I attended that open meeting and while I was job shadowing Lia Touska, I had the chance to participate in another one.
In general what is your experience within the Agora?
I attended Agora Patra as an organiser in the social team. I had only night tasks so during the day I was entering different slots, which I found interesting. In Agora Bergamo I was a delegate and I had no time to relax at all. In Agora Chișinău I attended both as envoy and helper. I managed to have a double role because I informed the organisers which slots I wanted to attend in advance. In Agora Enschede I will be a delegate again. It may be exhausting but the responsibility towards my local is a task I gladly take. In conclusion I have attended only three Agorae, but I've had the chance to experience all the different roles.
What are your ideas for our statutory events?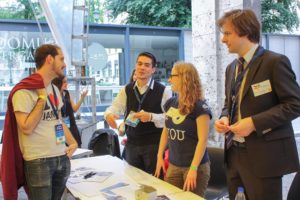 There is nothing more beautiful than the view of "hugging session" during the first day of a statutory event. The statutory events are the best opportunity for massive reunions. But statutory events have another role. For the Agorae I believe that delegates are overloaded with the obligation to attend prytanias where visitors go for sightseeing or attending progress meetings and workshops (probably more interesting than prytanias). For the European Planning Meeting we are spending one and a half days on a well prepared conference and one and a half days on a drafting procedure for the Action Agenda. Afterwards the proposed A.A. will be edited many times through online inputs and then ratified at the Spring Agora. Something is wrong with the whole current structure. I believe the European Board Meetings could be reintroduced as completely reformed statutory events adapted to the current needs of AEGEE. We have to think outside the box.
We know that the final task distribution will be done only during the CD Knowledge Transfer, but what is the position you would like to cover?
I had six different roles in my local board during the past three years. Each time I participated in an Agora in a different kind of role and I have four different roles in the European Bodies in which I am active. I am open to any position. I am very flexible on the task division. We have to analyse the skills and abilities of each individual member of Comité Directeur. While I was job shadowing, I checked the task distribution list. The tasks are categorised as Administrative, Organisational, Thematic, External, etc. I want to contribute more on the organisational tasks where you can identify them as "anything but externals". This question used to exist in the candidature's list but it has been correctly removed. That's because the titles don't exactly represent the position of each member of Comité Directeur.
You can read his full candidature
here
.
Written by Matteo Lai, AEGEE-Cagliari