Evrim Emiroğlu from AEGEE-Eskisehir is candidating for the Network Commission. She has given an interview to us sharing her programme, which focuses mainly on increasing the communication between locals and their collaboration with the European bodies through "an information transfer platform/channel", as well as it underlines the importance of thematic events. She is also discussing with us the current political situation in Turkey and the effect that it has on the life of the locals that exist in this area. Read about all these and much more about her candidature below.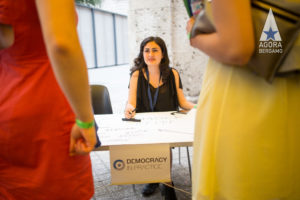 The AEGEEan: Can you present yourself in a few sentences?
Evrim: My name is Evrim Emiroğlu. I am 23 years old and I will finish my bachelor in economics in June. For next year, I am planning to do an MA programme but nothing certain yet. I am also considering to have a year without a job so I can look out for my interests and dream for the future of my life. My hometown is Ankara and I am from AEGEE-Eskişehir. I have been an AEGEE member since spring 2012. Since then, I am addicted to AEGEE and have always been active, especially at the local level. I am a person who loves new experiences, to push my limits and never afraid to step out of my comfort zone. More precisely, I live out of my comfort zone, I always find myself in a busy life without noticing and query myself how have I come to that point again and again. In the simplest terms, this is the story of my life.
How did you decide to candidate for the NetCom?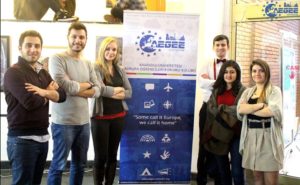 To be honest, I considered to apply for this position long time before the deadline. Because considering the fact that I am graduating and don't know what will I do or where will I be during the next year is one of biggest doubts that I face. However, like I mentioned above, for the past five years AEGEE wasn't just my hobby but it became my life and whenever I have doubts whether to continue I find myself with other responsibilities within AEGEE. That's why I trust myself whatever I will do or wherever I will be, I am not able to sever my ties with this organisation yet. On the other hand, I believe AEGEE is a unique organisation because it has a big Network and it draws its strength from that. During my board years, these feelings got stronger and I noticed that no matter what you implement in your local, if you are not united with your Network the impact will be inefficient. My experience in AEGEE has shown me the importance of unity and communication within AEGEE. After 5 years of AEGEE life, I feel that this is the only thing that keeps me motivated to stay and contribute to the organisation with my knowledge gained over the years in and outside of AEGEE.
Can you already share some of your policy ideas with us?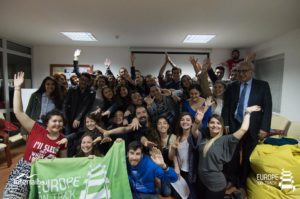 For me there are five crucial points as I mentioned in my programme. First of all,  I observed that many locals are working without getting informed from each other. Before everything, I do believe we should improve the collaboration and communication inter locals as well as between locals and European Bodies. Secondly, I believe the thematic part of AEGEE to be the most important aspect of our organisation. Locals need to collaborate in order to use the diversity of AEGEE, become more visible and enhance the impact area together with neighbour locals, if possible with locals in different areas. I would like to encourage and empower locals to organise thematic projects/events in collaboration with other antennae. After that, new locals are our babies. They need most of the help to become part of this organisation and start to contribute as immediately as possible. Moreover, nowadays the number of people who is afraid of getting involved into European Bodies is increasing. There are different reasons behind it, such as language barrier, lack of internal education, lack of knowledge about the tasks. I would like to focus on increasing the number and quality of people working in the European Bodies. Last but not least, if I work with this area, I do believe some people have bias due to the ambiguousness of the country.  This area needs more support from other areas, understands the situation from the inside and tell this to other people.
How do you want to implement these policies?
Firstly, I will work on creating a space included a digital archive especially for board members for sharing information about the current circumstance of locals, best practices of strong locals and opportunities to provide knowledge transfer for new boards in order to encourage locals for effective actions and integrate new locals into the AEGEE world. Secondly, I do plan to create an information transfer platform/channel between a representative from other European Bodies and NetComs in order to be aware of their work and the useful materials which they created for the locals. Moreover, in order to achieve the plan about thematic activities, I am planning to add a section to NWMs, about introducing local projects and constituting possible partnership opportunities, promote Exchange and Twin Antenna Project and create active channels for improving communication. Besides, I want to help new locals to form their statutory rules and orders for ensuring healthy democracy inside the local. Last but not least, I want to keep the locals motivated  by being the voice of antennae and making sure their success is being heard in the Network. I will do my best to listen to their problems and weaknesses and find ways to turn them into opportunities and strengths.
How do you think the current situation in Turkey affects the life of the locals? What are your plans with this situation to overcome the obstacles?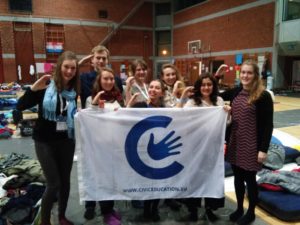 To be honest, Turkey's current situation is not very pleasant. Especially in the last two years, the terrorist attacks, coup attempt and referendum caused a distressing process. On the occasion of being under a state of emergency, NGOs are facing many obstacles and even closing down if they don't act according the government's wishes. All of this is causing NGOs not to be able to act independently and express their opinions. Moreover, due to the foreign policy implemented by Turkey, there are some issues with European countries, these issues causing cooperational problem within the Network and AEGEE members' to not participate in the events taking place. In order to strengthen the antennae in this area, I am planning to canalise the locals to the European level more and encourage all AEGEE Network to cooperate more with locals in this area. Regardless of the consequences, the society is trying to keep the stability; in order to do so, civil society shoulders a great responsibility. As AEGEE locals in this area, we can create a common action by organising discussions about the perception and what we can do. Together with the locals of the distributed Network area, I believe we can be the analyser of the tense situation and relationship between Turkey and EU; initiate the dialogue by using the power of AEGEE.
In your programme you are talking about your vision to improve the communication between European Bodies and locals through "an information transfer platform/channel", as well as enhancing their quality and human resources in order to raise motivation and awareness. Could you please clarify to us they way you plan to pursue these?
During my board term and term as member of European Bodies, I contend miscommunication between locals and European Bodies. Even though there are a lot of materials, toolkits and guidelines composed by European Bodies, a few locals actually are aware of these materials and a few of them have motivation to use it. Although there are some information platform, is it clear that this is not really working and not enough to motivate people to involve in it. I believe the NetComs are supposed to be a bridge between locals and European Bodies. Therefore, as a first step we should empower the link between NetComs and other bodies. After that, we can encourage locals to integrate to AEGEE-Europe. So then, I would like to work for creating a platform which can be a drive, mailing list, fb group etc. and involve one representative of each European Body together with all NetComs in order to ensure that European Bodies have enough knowledge of locals' needs and can create materials accordingly, and the NetComs are aware of materials which they can transfer to the locals.
Question from the Network: What is the area of the Network you would like to work with?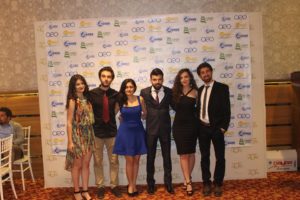 I would like work with all areas but considering my experience and knowledge, I can be more beneficial with Turkish speaking antennae, including AEGEE-Mağusa and locals in Azerbaijan. As the NetCom candidates local distribution has been changing, the distribution of our locals has also kept changing for two years. The situation of this area, as being really wide and very multilingual, creates some negative consequences. Even though there was a great effort from the NetCom side, for the past two years the area faced problems like not sending enough or none participants to NWMs and other events. Therefore, locals in the area lost the communication and cooperation. What I want is to unite the locals which have similar backgrounds and build friendship and communication between them like old times.
You can read her full candidature here.
Written by Vasiliki Andrioti, AEGEE-Ioannina