Network Commissioner for the Nedertop and former member of the Action Agenda Coordination Committee, Loes Rutten from AEGEE-Utrecht is now candidating as President of AEGEE-Europe. We reached out to her for this interview and also asked her the questions we received from the Network.
The AEGEEan: The issue of active participation of members has been on the table for quite some time now. How do you think we can achieve that?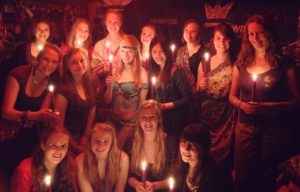 Loes: It is crucial that everybody who joins AEGEE understands that our organisation is completely built on the work of volunteers, and it is the role of current members to encourage new members to contribute. In order for a new member to become active, the newbie has to understand well what tasks the board is working on, and how he/she can contribute. At the same time the board has to recognise what skills new members bring to the team, what they are passionate about and what they still have to learn in order to grow. Each local needs a human resource strategy that incorporates this. NetCom, HRC, AEGEE-Academy are the supportive bodies which should jump in when locals have trouble developing such a strategy or lack the knowledge to implement it.
How do you think the balance between time-efficient actions and a horizontal structure can be kept?
Good question. I believe that within the CD, a horizontal structure leads to time-efficient actions because all CD members will feel ownership of our work. However, there is a clear trade-off between time efficiency and maintaining a horizontal structure in our Network. My answer is effective consultation through careful planning. If we plan the topics of discussion within the CD ahead, we can create enough time to gather opinions from relevant actors in the Network through consultations, before making a decision. It is the responsibility of the CD to not only communicate the last month's CD decisions, but also to share upcoming agenda topics, and to clearly communicate how members can give input. I imagine having a regular (e.g. monthly) Hangout with interested AEGEE members to discuss topics that are on the agenda. This plan can only succeed if we are able to communicate clearly and provide sufficient information in due time for members to give feedback.
In the rapid shift of generations of members, very useful knowledge might get lost. How would you plan to keep the knowledge transfer effective?
We already have a treasure of materials and toolkits on the members portal, but somehow we tend to forget this! The key of 'knowledge transfer' is not 'knowledge', but 'transfer'. We should invest in a stronger backbone of knowledge transfer in AEGEE. Some ideas: to have a 'patron' for each newly starting project or team, who can help to get the new team started. At the end of a cycle of any team it should be a habit to write down the main outcomes and recommendations in a document for the next team. We should encourage locals to have advisory boards, and provide mentors from outside the locals if there are no more experienced members to support the board. We shouldn't fall into the trap of bureaucratising knowledge transfer. Rather than that, it is important to maintain human contact with experienced members when they leave AEGEE, so we can ask their help whenever we need their advice.
You mention the introduction of best practices picked up in other associations. Could you give us an example of where you see room for improvement in AEGEE and what would you keep instead?
I think we can make it more clear to new members that we are a volunteer organisation. After coming back from a year of volunteering in India and Bolivia, my non-profit sending organisation (SIW – Internationale vrijwilligersprojecten) clearly communicated that they would appreciate my help to promote the NGO and to share my experience with other people. In many of our locals, we don't manage to keep track of people that went on Summer University even though their extra pairs of hands are so valuable to us.
One thing that is typical for AEGEE is to always complain about internal things. 'We should reform the Agora, we should change our thematic structure, the CD is so disconnected'. Although we should be proud that we create such critical thinking members, in other associations that I was part of, members spend a larger fraction of time on doing things, rather than just thinking on how to do them.
One thing that doesn't require direct improvement, but that we should always be aware of, is the way that we put Europe in context with the rest of the world. Having lived periods of several months in India, Bolivia and Iran, I sometimes find it striking that we still believe that Europe is the only and the best continent in the world. The vision of AEGEE is interconnected with western European values. We should avoid preaching our values to people from other cultures without practicing true efforts to understand their culture and history. This would be a form of European patriarchy that is contrary to our mission to foster mutual understanding. Rather, I would encourage more people from outside Europe to join our events and, if possible, send groups of AEGEEans outside of Europe. This year's Europe on Track project and the conference "Education for the Present, Democracy for the Future" that took place in Budapest had participants from outside Europe. I really think that this diversity is an added value and I would like to see more of that in the future.
You put the emphasis on finding common ground with your fellow CD members and taking a personal approach to the job. Why do you think this is important and how do you plan to do it?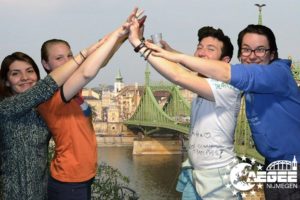 It is important that all of the CD members believe in what we are doing during the upcoming year. We may have different expectations and somewhat different visions, but we all want to give everything we have to work for AEGEE and to improve the organisation in small steps every day. Whenever there is a disagreement and people have opposite views, we have to come back to our common ground of good intentions for AEGEE and continue in a direction that everybody is motivated to work for.
It is well-known that the work-life balance of CD members tends to be crazy. Which concrete steps would you take to ensure that a healthy balance is maintained?
I believe that people perform best when they are in good mental and physical health. As CD we are going to build up enormous amounts of stress that needs to be released regularly. If we don't allow ourselves space to breath, this stress will become chronic and this will impede our ability to work on the long run. I would like to encourage my team to find a fun activity in Brussels that can take their mind off work every now and then. What this activity is, depends on each person. I would like to go swimming regularly, maybe someone else wants to do yoga, dance, sing in a choir or beat the hell out of a boxing ball. I have been through periods of overloading myself with work and I learnt that making time for human breaks is the best way to continue to work hard, even if it sounds contradictory. I think it is the role of the president to keep track of the health of the team members and to understand when to encourage people to work harder, and when to drag them out of the office for a break.
Another basic human need is privacy, which the house obviously lacks. I would like to explore the possibilities to arrange the house in such a way that we create more private space. By the start of the term, the roof of the attic should be fixed, which means we can take the guest room back into use and we will have the attic as an additional space. As a team, we have to get to know each other well, so we understand when and how we can give each other the personal space we need.
"Human resources and internal education are two closely connected weaknesses of AEGEE, but there is hope". Could you elaborate more?
The ideal human resource cycle can be memorised as: new member joins, learns about AEGEE, becomes active and learns new skills, joins the board, transfers the knowledge and eventually retires. Two key points are that the boards should know how to encourage new members to be active and that the new members should have the opportunity to learn. This requires an educated board, so that the board is able to educate their members. The fact that more and more people point out HR and internal education as weaknesses of our organisation shows not only that there is a challenge here, but also that people see the need to fix it. The Human Resources Committee redefined itself this year after a period of less activity. Together with the CD, NetCom and the AEGEE Academy they are working on aligning our internal education strategy with the current needs of the Network. If the HRC continues to grow, the committee can take back responsibilities from the overloaded CD and Network Commission, so that the topic of HR receives the full attention it needs in order to improve the current situation for the locals.
Questions from the Network
How do you understand the vision of AEGEE? Do you have a political vision for Europe and what is it? What are the three biggest European challenges and how can AEGEE respond to them?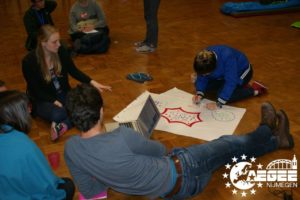 a) AEGEE envisions a European continent whose citizens feel connected and integrated. We provide a platform for young people to explore Europe's diversity through human contact. By encouraging our members to participate actively in our association, we also shape their minds and provide them the space to grow competences that allow them to take part in a democratic society in the rest of their lives.
b) I hope to see Europe grow into an even more peaceful continent, where despite its turbulent past, and in some cases, present, we are able to tolerate each other. Our democratic societies should have strong civil movements. I see a certain standardisation of civic education is a prerequisite for this. The European institutions should facilitate bottom-up initiatives, rather than enforce policies top-down.
c) Polarisation is one of the biggest challenges in our societies today. If you look at voting statistics from the Brexit referendum, the EU-Ukraine referendum in the Netherlands and the presidential election in France, there is a clear gap between cities and countryside and between young and old generations. This polarisation causes us to live in different realities. As a youth organisation, AEGEE could try harder to involve more young people from outside university environments. Youngsters living in a village are less likely to find themselves in an international environment, and may be more hesitant to join international exchanges like the ones we organise in AEGEE. Still if we manage to let them join our events, they will be contaminated with our enthusiasm and feel what really means to be European.
One of the main challenges related specifically to EU-countries is the democratic deficit in the EU. The reason that many citizens have lost trust in the institutions is that they feel that they don't have any influence over decision making. This causes a backlash of support for nationalistic parties. In order to restore trust in the institutions, we should not only inform people about the benefits of the EU, but also listen to their concerns. We should think critically how we can make the voices of citizens heard inside the EU institutions, even if this involves changes in the current structure of the EU institutions themselves. As AEGEE we can challenge ourselves by starting a dialogue with movements that are less supportive of the EU and inform ourselves why they see things differently. Also, it would be interesting to have an event where we redraw the European project from scratch. In this field we can also strengthen our cooperation with the Association des Amis de Franck Biancheri (AAFB).
A third challenge is the spread of biased news on social media. Forming an informed opinion takes more effort nowadays, because we are most likely to read news articles expressing opinions that we already believe in. Our opinion is based on the information we have, and therefore our opinions are bound to differ depending on the social group we are in, as well as from country to country. As AEGEEans, the key answer to this problem lies in the geographical size of our network and in our ability to speak different languages. Imagine forming a team of AEGEEans from different countries monitoring the way that news are presented in different media, and translating key articles from their own language to English. This will allow us to understand what information different parts of Europe receive, and why therefore our opinions differ. Maybe some members of The AEGEEan and the Language Interest Group would be interested in contributing to this?
What's your leadership style? How would you describe yourself as a leader?
My leadership style is that of a democratic leader. If we want the whole CD, and the whole Network, to feel ownership of plans, our common opinion should matter more than my personal one. I am not saying this because it makes me sound like a nice person. I am saying this because together we know more and therefore we can take better decisions together. I can identify strengths in each person and put trust in them, which motivates people. During discussions I stay calm and rational, and focus on finding solutions. I am the opposite of a bulldog, although that doesn't mean that I let people walk all over me. I think that this is the type of leadership that a volunteer organisation as AEGEE-Europe needs.
What is your experience in writing grants?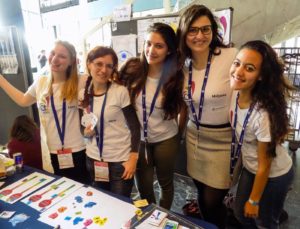 None. I will have to learn this during the knowledge transfer period. This worries me as much as it may worry you, but I am eager to find out more about it. Fortunately, I have had quite some practice in academic writing in English which will definitely help. I think that generally the knowledge of AEGEE members on writing grants is lacking, so this is also a competence that needs investment this year.
Are you a team player? Do you think your NetCom team sees you as a team player?
I think so! As a Network Commissioner you always have to balance your time over work with the locals, work with the NetCom team, studies and personal life. The first few months of being a Network Commissioner, I invested most of my time in getting to know my locals. I visited 13 boards from Groningen to Lyon and I was the initiator of the 'Think before you Vink' information campaign preceding the Dutch EU-Ukraine referendum. During this period I had difficulties to fully contribute to the team, but afterwards I became much more involved. In the second part of the term I joined the speaker team and we had a good atmosphere in the team. In Agora Chișinău I decided to candidate for another term because I wanted to provide continuity for the team. Within the team we have a good common understanding of balancing our NetCom tasks with studies and personal life. We all miss a weekly meeting from time to time, but we still manage to get big amounts of work done all together.
Running for the presidency is a very important and tough decision. Why did you wait until the very last minute to upload your candidature? Do you think the Network should consider your candidature valid?
'Running for presidency is a very important and tough decision.' – I completely agree. Although I uploaded my candidature in the last moment, the process of making the decision did start earlier. I took the time to consult current and former CD members and weighed the pros and cons of quitting my studies despite my family opposing that decision. I wanted to be really sure of myself before making my candidature public. Imagine candidating, and having people candidate with me because they would like to work with me, and then withdrawing my candidature later on because I didn't properly think it through, causing other people to rethink their candidatures as well. This scenario would have been worse in my opinion. Also, I thought that the candidatures could not be edited later on. I was changing capital letters in the last minutes, unaware of the fact that I could simply edit my candidature (or even start writing it) after submitting it. It is up to the network to accept my candidature, but I wouldn't say that I candidated impulsively.
Let's pretend for a minute that you didn't decide last minute to run, therefore you had time to write and upload your candidature. In terms of fair play, do you think it's fair to accept your candidature even if it was late?
Tricky question. Deadlines are there for a reason and I do think it is a good sign that my late candidature started a discussion on the general culture of missing deadlines in AEGEE. It was not professional, as a president ought to be. However, it is also important in a democratic organisation to be able to choose between multiple candidates for such an important position as president. If there is only one candidate, how will you know whether this person is elected because people really support the candidature, or whether there was simply no one else to vote for? I would be happy to have an opponent because this forces you to really think through your vision, your programme, your strengths, and your opponent candidate will of course also focus on your weaknesses. Therefore, I think my 14 seconds late candidature should be accepted, but that is ultimately up to the Agora.
Your position towards the Strategic Plan is the opposite of your opponent. You were in the NetCom for a year and a half. Can you state in all honesty that the Strategic Plan and Action Agenda are a shared objective of our Network?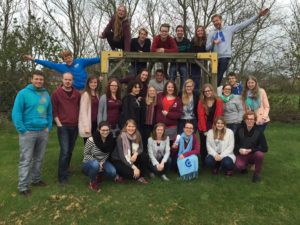 I wouldn't say that my position is completely opposite, but it is more moderate. We are trying to find the balance between freedom for locals to organise whatever inspires them, and a more focused structure that allows us to have a more effective impact on a smaller number of areas. We always have to keep asking ourselves if the structure we have fits with the reality of how our organisation functions. I believe that the organisational part of the Strategic Plan is a good reflection of the current challenges of our association and is a useful backbone for the CD to implement long-term changes that were proposed by the Network. I think that locals are in favour of having thematic focus areas, however changing the yearly objectives by means of the Action Agenda seems to work better for Working Groups than for locals.
What matters now, is that thanks to the input of many members, the new Focus Areas are already chosen, the Action Agenda is drafted, we have strong candidates for Working Group Coordinators and members that are showing interest to join their teams. We should not overthrow a system that many people are already motivated to work with. However, if many members believe that our thematic structure is one that requires rethinking, we can use next year to let a 'thematic reform task force' tackle this. I predict that if you start from scratch and design a system with some 'focus' and some 'freedom', you end up again with a construction with two levels of thematic groups whose topics are redefined in certain time intervals. For now, let us give a fair chance for the current system with Working Groups and an Action Agenda. We should also recognise that this will be only the third year that Working Groups exist and we are still learning how to optimise the current system.
Our Network is losing locals and we have at our disposal an increasingly smaller pool of active people. What do you think are the reasons and what can be solutions to it?
Some people say that the problem is that currently students have less resources to travel. I think it is the opposite, people don't need AEGEE to go on a cheap trip, so it no longer works to sell it that way. We are no longer the only association that provides cultural and learning experiences. We should focus on what makes us special. We are interdisciplinary. We have no national level. We welcome everyone. Name an interest and we are working on it. And maybe most importantly, we have a vision and a mission that after 32 years are still very relevant to the Europe we live in. We have to believe in what makes us special, in order to transmit the message that our association is unique!

How are you preparing for the role? Did you contact current and former presidents of AEGEE-Europe?
I am mostly in contact with Ola and Paul, and some of the current CD members. They are available for all my questions, which I really appreciate. I am also on good terms with Réka, and we already discussed a possible scenario for knowledge transfer but are giving each other space during the election period.
Although I believe that I have enough experience to be a president, there is still a lot of know-how to be transferred before the 1st of August. Knowledge transfer and team building could already start online from June, and I would move to the house in July. Once I know if I am elected, I would also like to gather input for our activity plan from the Network and European Bodies.
Education in AEGEE is important, yet trainings fail to attract enough people. What do you think is the reason? And how would you solve the problem?
I think this lack of applications is always a combination of factors. Students nowadays have less time to travel to the other side of our continent for a week long training. At the same time, shortening the length of trainings would be a too simple solution, because it will also reduce their depth. However, we live in a modern age, so we could experiment with having online preparation meetings and before the event and online debriefing sessions and follow-up after the event. This way training itself could be shorter despite reaching the same depth. I also think that trainings, like any other event, need a clear PR strategy. If the content, date and location of an event are known in time, locals can promote the event to their members or even use them as a tool to recruit new members. I also support the statement by AEGEE-Academy to revise the European calendar. Besides statutory events, we have Network Meetings, Regional Training Courses, European Schools, Summer University Project Schools and more. It's amazing that we can pull it off to organise so many training events, but we are ultimately fishing from the same pool of members. With a more efficient planning, we can make sure that there are regular trainings with both trainers and participants.
You can read her full candidature here.
Written by Federica Soro, AEGEE-Cagliari