One year as Projects and Communication Director at the AEGEE House in Brussels, and Joanna Pankowska from AEGEE-Warszawa has no intention to pause. During busy preparations for Spring Agora Enschede we talked to a very energetic and inspiring candidate for Civic Education Working Group Coordinator.
The AEGEEan: Joanna, after being in the Comité Directeur, members often take some time for themselves, but this is not your case. What keeps you motivated to lead a working group?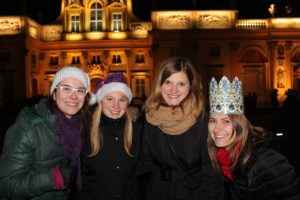 Joanna: Being a member of the Comité Directeur is a very different experience than working in European Bodies for one simple reason – next to the tasks that you are passioned about there is also plenty of tasks that are not necessarily the things you came to AEGEE for. Don't get me wrong: I am thankful for the experience and I definitely learnt a lot while being in Brussels, but my true passion was and still is civic education, and that is why it feels natural to continue the work I started while being member of the Working Group in 2015/16 and continued as CD appointed responsible towards the education portfolio.
Why do you think civic education has a fundamental impact on society?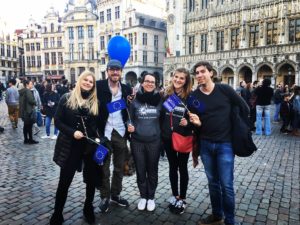 Quoting the words of Barack Obama: "The most important office in a democracy is the office of citizen". Every office requires preparation and civic education is supposed to prepare us for the role of citizens. Currently, we are witnessing insufficient and incoherent teaching throughout Europe of essential civic competences, i.e. the knowledge, skills and attitudes that are needed to act as a responsible, active and democratic citizen. I believe that we need to address this issue first before we can move forward with any other social issue.
CEWG has two big aims: non-formal and formal civic education. What projects have you been working on in these fields?
My interest in the topic precedes my membership in AEGEE. As a scout and a volunteer in numerous Polish NGOs, I have always focused on the topic of inclusiveness and civic education. I took part in a Youth in Action study session, learning about the Swedish education system, and I coordinated a working group under The Polish Student Parliament on the proposals of changing the Polish educational system and many other similar initiatives. When joining AEGEE, I focused similarly on civic education, firstly by joining the Working Group on Civic Education in 2015/16 and being a driving force behind the European Citizens' Initiative "More than Education". Being part of the Comité Directeur, I continue contributing to our internal and external affairs on the topic of civic education, and education more generally. Throughout the whole year I have been working closely with the Lifelong Learning Platform, which is one of the most important education oriented organisations in Brussels. Lately, I have also been selected as a member of the expert group on education within the European Youth Forum.
What are the usual task of the CEWG? Describe a typical busy day of CEWG or a live meeting.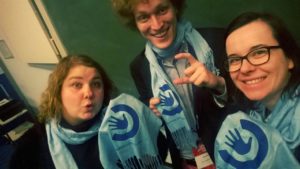 It depends on the new team and how we divide the roles. Two years ago, we have been a relatively small team, so the collaboration was smooth, but also the workload was quite extensive. This year, I observe that the whole team of the CEWG (9 people) worked very hard and they also managed to create a very flat and cooperative structure for the team that allows people to work in smaller subteams, which means that for every member the work looks a bit different. Live meetings are there to set up long terms plans and responsibilities. Depending on the capacity of the team, the minimum plan is to fulfill the objectives of the Action Agenda and if the team wants to do more – the sky is the limit. If Agora approves the current objectives proposals, it seems we will be focusing on differences between political systems, visits to high schools, critical thinking and ECI follow-up.
You were among the promoters of the European Citizens' Initiative "More than Education". What do you think is its biggest strenght and its biggest weakness?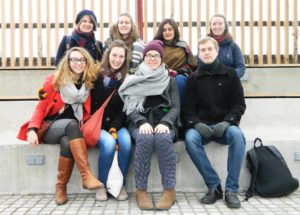 The weakness is quite obvious – we did not do a classic campaign for it because we never found proper human and financial resources to run a campaign. None of the people in the team was interested in doing so and also several open calls and Erasmus+ openings did not attract people to run it. I myself few times regret that due to my Comité Directeur responsibilities, I could not take a more active role in it. This reflects in the numbers of signatures. Nevertheless, I believe the ECI does bring a lot of value to AEGEE. It is the theme of Europe on Track, which is proving to be a very successful edition, it has been reflected in the Budapest conference, the hitchhiking competition "Thumbs Up for Civic Education" preparation is going very well. It was the main topic of our activities at YO!Fest, University on Youth and Development in Mollina and European Ideas Lab – Greens. We established many contacts that are valuable not only for the ECI itself but also for future collaborations on the topic of civic education (Animafac, European Civic Forum, European Humanist Federation, Association for Teacher Education in Europe, Network European Citizenship Education, Vote&Vous, Bosch Foundation and many more). María Ballesteros Melero (AEGEE-Madrid) was a speaker on behalf of the ECI at the "1st European Conference on Education and Democracy" organised by Fundación Cives in Spain. Thanks to the ECI we have established very close relations with the European Economic and Social Committee. I was invited to speak at the ECI ad hoc group meeting as well as at the ECI day. We are also collaborating with EESC on the upcoming roundtable event: 'Mind the gap – how to strengthen civic education for all throughout Europe'. Are we reaching one million signatures? No. Do we put civic education on political agenda? I think so.
Can you tell us something more about your cooperation with the Lifelong Learning Platform?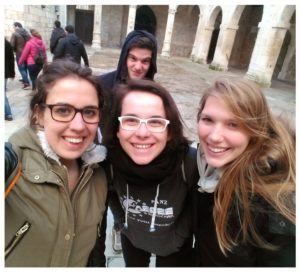 I have been a link between the Platform and AEGEE. I have attended numerous meetings and events but also I have been in touch directly with the Director of LLLP, discussing the possibility of the creation of a new working group within the LLLP on the topic of civic education, which will be led by AEGEE. This conversation has not been finalised yet, but right after Agora I will be attending the General Assembly of LLLP, where it should happen. We are also discussing the possibility of co-organising an event at the European Parliament together with Lifelong Learning Platform and other partners in autumn. LLLP is one of the important partners for AEGEE, not only because it is the most relevant stakeholder in European civil society when it comes to education, but also because AEGEE has been one of its founding organisations and it is important to maintain our active role within the platform. Contribution to the processes and consultations within the Platform allows us to be part of bigger European discussion at the tables that we might not be invited on our own. Taking into consideration all the knowledge and experience I have gained this year, I hope I can continue to be the link between AEGEE and LLLP as a Working Group Coordinator.
How would you pursue cooperation with other Working Groups? Do you already have ideas in mind?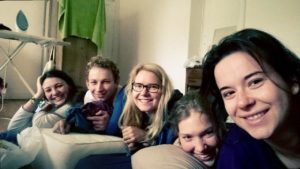 I have numerous ideas but those have to be of course agreed with all of the Working Groups. The general though is to coordinate actions when it comes to AEGEE calendar, so to have months dedicated to each of the focus areas (the idea was born during the drafting part of EPM and does not belong to me). Another idea would be to collaborate on communication towards the Network – for example sending open calls for members of WGs in a coordinated matter or putting together all of the publications and materials from WG that locals can use and have common promotion of them. Last but not least – active communication between groups, sharing best practices, co-creating events and much more – depending on the capacity of all of the groups. I imagine all of the working group coordinators to meet before the summer to discuss a collaboration strategy for the whole year.
You can read her full candidature here.
Written by Aliona Sytnyk, AEGEE-Berlin