During EPM Zagreb, the Civic Education Working Group organised a debate competition, which prize was an Interrail Pass. Domen Brus from AEGEE-Osnabrück was the winner, and he wrote this report of his interesting journey for The AEGEEan.

I started my journey in Ljubljana where I boarded the train headed for Frankfurt, final destination of the day being Konstanz. On the platform, I ran into an old friend of mine who was taking the same train so I was in for a fun drive. However, at that point I had no idea about the "real Deutsche Bahn experience" that was about to follow.
First, we stopped somewhere just across the German border as there was some accident on the tracks. Waiting time: two and a half hours. Luckily such accidents really connect people, so I got to know many nice people and actually had a great time waiting. Fast forward to a couple of hours later, the train stops at Augsburg train station. The board next to the train reads: Delay of 170 min. As I thought things couldn't get worse the sign changed to: The train is cancelled. So, I boarded a new train and continued my way towards Konstanz. I miraculously caught a connection on the wrong side of Lake Constance and I thought I would actually make it there. As soon as this thought went through my mind the lights flashed and went dark, the train stopped in the middle of a field with a creaking noise and the emergency lights came on. At that moment, it also started to rain. It was already midnight. I knew that if we wouldn't start moving in exactly eight minutes, then I would miss my last connection and be stranded in a village in the middle of nowhere. Two hours later we were still there. Due to some regulation, they couldn't let us off the train but sadly they had no actual updates regarding our trip. Finally, a new train arrived and took us to the next station, where a friend of mine awaited me and the first day of travelling thankfully finished.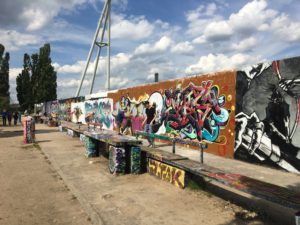 I spent the next four days in Konstanz. We planned to enjoy the lake, do some kayaking etc. I somehow forgot it's Germany that I'm talking about so naturally it was more or less raining for four days. Nevertheless, we had a great time. We explored the city and its surroundings and also made some cycling trips to Switzerland. On Monday morning I took the train to Berlin. Due to the experience of the first day I was really paranoid but the trip was actually very enjoyable. I stayed in Berlin until Friday. I was visiting a friend who also lent me her bicycle. I think I made about 150 km in those three days. I was really lucky with the weather so I was able to explore the streets and parks of Berlin thoroughly. I found awesome beach bars, rooftop parties, open air cinemas, dusty record shops, cheap awesome food, cool graffiti and intriguing small galleries. Those few days really reminded me why I fell in love with the city many years ago. I was actually really sad to leave on Friday morning but new adventures awaited me!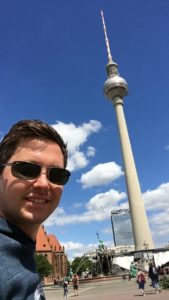 It was then that my first class Interrail ticket came in most handy. I took the train to Osnabrück that continued to Amsterdam. When I arrived on the platform there were about 600 young people waiting for the train and for a second I thought I'd have a problem. Well, there were almost no people in the first class and you also get Haribos! I made it to Osnabrück, the best city in the world, just in time to join the local antenna for the canoeing trip. It was really great to see the familiar faces of my old antenna. The canoeing was also just as I remembered it – very rainy but still awesome! Someone mentioned that Osnabrück was the rainiest city in Germany – definitely not something that I knew when choosing my Erasmus destination! After the canoeing, we enjoyed a nice barbecue in front of the city castle and then toured the city till late hours. Next day I first went to the non-existent city of Bielefeld to meet a friend and then finished the day in Verden, a small town close to Bremen where I stayed with a fellow AEGEE friend for a couple of days. Of course, there were again delays and cancellations so yet again I spent many, many hours waiting aimlessly. I used that time mostly for relaxation and to plan my next trip. My original plan was to spend that weekend in Hamburg which turned out to be a horrible idea due to all the craziness that surrounded the G20 meeting. After a few days, I decided to go to Sweden, to Uppsala. When I checked the connection, I saw that I had to change five times and that it would take 14 hours to get there if it all went according to the plan. Since I'm not a smart man I decided to take my chances.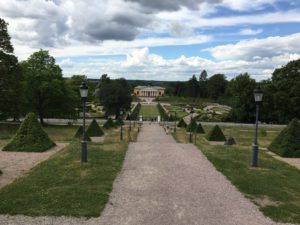 All went surprisingly smooth up until the very end, I was even pleasantly surprised by our whole train taking a ferry. I was asleep at the time so I was quite confused when I woke up inside a ship. I was almost in Stockholm, when there was another "incident" on the tracks so yet again we had to wait for an unknown amount of time. I somehow made to Uppsala by 1:30am, when the night was almost ending since it's so far up north. The train drive across Sweden was absolutely breath-taking. There are hundreds of little lakes, vast forests and beautiful solitary farms on the grassy fields. The next days I spent too much on bad coffee and overpriced beer. Jokes aside, it was a really nice experience to see a small Swedish student city and the friend whom I was visiting proved to be quite a good city guide.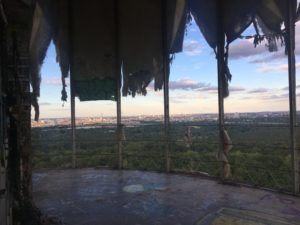 Only after two days I had to leave again. I travelled to Hamburg to see what the riots did to my beloved Schanzenviertel. To my surprise and amazement there were almost no more traces of the chaos that went on just a few days before. I had a great dinner and too many beers with an Italian friend that I was visiting so I took the morning train almost directly. Not a good idea, I really do not recommend this. I was supposed to be home in 12 hours but by that time I should've known better. After many hours of confusion and chaos I made it to München where I took the bus to Ljubljana, since there were no more trains for the day. It was 2pm. After getting home I slept for about two days to recover a bit and set my head straight.
Despite being really unlucky with the trains I really had an amazing time. I saw many people that I hadn't seen for a really long time, explored many new places, met great new people and generally gained a lot of valuable experience. The only thing I regret is not making my trip longer and seeing even more things.
Written by Domen Brus, AEGEE-Osnabrück