On the 15th of June, the ECI Task Force had an open Skype meeting, where all interested AEGEE members could ask their questions about this initiative to the members working on it. To recap: the ECI was launched on the 6th of October 2016 to call upon the European Commission to support EU member states in their responsibility to provide for civic education in school curricula, as an important tool for a democratic society. One million signatures are needed before the Commission takes our call into account.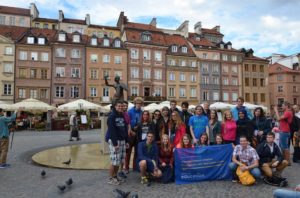 Why does the ECI not even have as many signatures as AEGEE members?
First of all, not every AEGEE member is able to sign the ECI, only EU citizens can sign. In order to enable non-EU citizens to express their support with the ECI, there is a petition created, however these signatures don't count in the necessary one million.
A second reason is that it is impossible to communicate with all AEGEE members. We tried all channels that exist (Facebook, mailing lists, The AEGEEan, Europe on Track and other projects, conferences, statutory events, NWM, soon SUs), however, even with the help of NetCom, we faced difficulties in convincing boards to inform their members about the ECI. Of course we also cannot force members to sign.
Lastly, it is important to note that the signature registration system is very little user-friendly and requires extensive private data from the signatories, which may dissuade people to sign. This can be an additional reason.
Still, we believe that we had an impact on the Network: many people (at least those active on the European level) learnt about the ECI and acquired more understanding and awareness about civic education.
How is it possible that other ECI manage to collect one million signatures within a few months and we are not able to?
In contrast to AEGEE, the NGOs behind those ECIs have much more financial resources and they do huge PR campaigns. It is estimated that one signature equals one euro…this is a lot of money which AEGEE cannot afford. This is also why, for the team, reaching the one million signatures is not a goal in itself, but we use the ECI as a framework to do other, more fun activities about ECI, like the hitchhiking competition.
Another reason might be that successful ECIs often have a more comprehensive and actual claim, such as drinking water for everyone or saving the environment. We figured out that "Improve Civic Education in Europe" is not something that many people perceive as an urgent topic, to begin with because many people don't know what the notion of 'civic education' actually means. If you have to explain why your topic is important, it is much more difficult to convince people to sign.
Isn't the fact that we have just a few signatures collected damaging the image of AEGEE externally?
First of all, AEGEE is supporting the ECI and it is managed by AEGEE members as part of the Action Agenda. But officially it's not AEGEE's ECI because legally it can only be seven citizens (not an association) running it.
To come to the question, we noticed that in Brussels our ECI is not perceived in a negative way by other NGOs. Instead we get a lot of positive feedback from big stakeholders who acknowledge the fact that we run this ECI only with volunteer power.
Because of the ECI we contacted and cooperated with various external partners, not only about the ECI but about civic education in general. Our members were invited to be present or even to speak at different events. These contacts are also valuable for future projects.
Aside from our ECI about civic education, there is also the experience with the tool of ECI itself. External partners are aware of the flaws that ECI has as a tool in general. That's why it's not a shame to not reach one million signatures. And because we have this personal experience with a ECI, we are contacted often regarding the improvement of ECI as a tool. The European Commission just started a consultation process about ECI revision, so this topic is high on the agenda in Brussels and our opinion about it will definitely be heard.
Having all these points summarised, we don't believe that the ECI damages AEGEE's image, rather that it's a great opportunity to have a long-term impact on direct democracy in Europe by helping to improve the tool.
Why did we start an ECI without having someone with campaigning expertise?
For about one year (between Oct 2015 and Oct 2016) we could not focus on campaigning because we had to figure out all the legal and technical issues that come with ECI registration. After having the ECI registered, we were looking for someone experienced in campaigning to become part of our team. But not even with offering an Erasmus + internship opportunity we managed to find such a person.
In the end, AEGEE is an association of volunteers. Therefore we can never be sure that we will find the appropriate human resources.
Besides, campaigning is not our main focus. We focus more on promoting awareness about the importance of civic education in Europe. Again, reaching one million signatures was never a goal in itself for us. However we admit that we could have better communicated this to the Network, who might have the impression that a ECI that doesn't reach the necessary signatures is not a successful one. For us, the ECI has provided great opportunities and that's why we already perceive it as a success.
What will happen until and after the ECI ends in October 2017?
Several activities are planned. Different SU's will have a session about our ECI. There are also the travelling tablets, with two tablets striving to visit as many European cities as possible and collecting signatures along the way.
After the end of the ECI, on October 6th, we will still be involved in the ECI revision process. There is a consultation going on and they will organise different conferences regarding this where we are invited as relevant stakeholders, especially a conference in the European Parliament.
Written by European Citizens' Initiative "More than Education" Task Force