She started her adventure with AEGEE in 2013 through Summer Universities, then actively participating in her antenna, AEGEE-Budapest. She was in her local board for two times, attended almost every local event and currently she is a member of the Mediation Commission. Recently, she was also main organiser of the conference "Education for the Present, Democracy for the Future". She is Petra Buruzs, and she is our Member of the Month of April, with her work before and during her last – at least this is what she said – Agora being recognised with this nomination.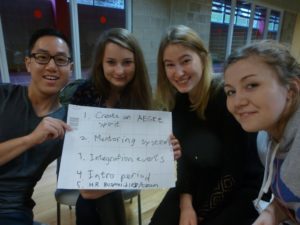 The AEGEEan: Can you tell us a few things about yourself?
Petra: I am Petra, from Budapest, and I do love my city but lately you can find me there, if Budapest is hosting an event. I love to organise, or coordinate or help and discover Budapest with participants but I am also addicted to travelling and I am aware of it. Nowadays I am still writing my thesis about AEGEE, and organising Erasmus+ projects.
When did you join AEGEE? Which projects do you work for?
Considering the fact that I kind of grew up in the voluntary and youth work field, it was just a matter of the time when I would be an AEGEE member. The magic moment came in 2013, when I met with Agnes Deme who was organising the SU in Budapest and after it I just went with the flow. My path in AEGEE was step by step: I started with active participation, later on HR mid-leader, then Vice-President of Internal Relations and Secretary as a board member, so basically I was there at almost all the local events and projects. Later on I started to open up more towards the European level as Sub-Com, and lived with the CD54 as CD assistant. Currently I am still a member of the Mediation Commission.
What kind of activities do you usually do in the Mediation Commission?
You cannot specify it, but there are several activities, according to the local's need. For sure you have to be there and give suggestions, advice, NDAs and sometimes concrete decisions. In my term I would love to create a template which clarifies to members the difference between the advisory and the official cases.
What is your feedback as Main Organiser of the conference "Education for the Present- Democracy for the Future"?
That it was an honour to organise it; the Franck Biancheri award gave the huge opportunity to our local and the Network to organise, cooperate and participate to the conference. To experience that incredible amount of trust from the Association des Amis de Franck Biancheri was already a huge excitement and to find out the learning points of the co-operation was also a nice experience. So I can just suggest to locals to apply for next year!
Can you tell us something about the content of the "AEGEE Alumni event- Back to Budapest"? Which was the aim of this event?
The aim was to gather three generations of AEGEEans and provide a safe space for sharing experiences, memories, points of view and to realise again and again that we can still learn from the past and implement it in future, in terms of structure, motivations, multicultural environment, and creative  co-operational ways as well. Also the General Assembly of the Les Anciens took place and celebrated the years of success that we already left behind us.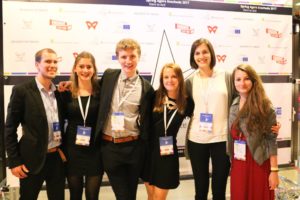 Tell me the thing you like the most in AEGEE and why. 
Unconditional trust. – In the way that you have that playground under your feet, you can find several AEGEEans for support if it is needed but at the same time you can realise your crazy ideas and feel the seriousness, even if you are open up for sponsors and externals. In the way that if you would like to visit a city and you are searching for a host, we are able to trust blindly and give our house key to a person, of whom I only know he or she is also an AEGEE member. In the way that after twenty years you could hear a story with perfect details, like it just happened yesterday, and our connections (or babies) keep us together, in touch, in friendship or relationships. In the way that personal conflict might happen, but you still say that you are or you were an AEGEE member and it is a lifelong learning experience. In the way that you know if there is an AEGEE sticker, that place will be cool even if it is on another continent.
Which skills did you develop in AEGEE?
Let me list up with some example: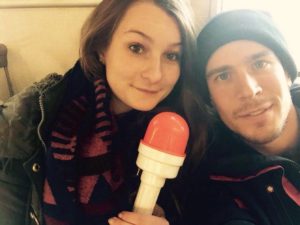 – Creativity – To create a song together with AEGEE-Budapest for Heidelberg who just stole our flag (during EPM 2017) or drawing flip-charts with closed eyes according to some instruction (during TNT Cluj 2016) or explain to a very strickt russian train conductor that you have a ticket, but you just cannot prove it, because your friend Balint Caesar, who is still not there two minutes before the departure time, has it (during NWM-Moscow 2016);
– Problem solving skills – The police came for a one-by-one check up, since during the European Night we were too loud (during Barcelona-Utrecht-Budapest Exchange 2015) or the canoe flipped over in the middle of the Velence lake and also the police came to rescue our participants (during Funtastic4 Summer University 2016);
– General IT skills – design trainings in Budapest, use of several communication channels (like Slack and Telegram) and during my secretary work with Intranet, supporting the members of my antenna from the background;
– Selective listening – During every event when you are an organiser;
– Communication – Internal and external as well, even if you are little and your voice is really quiet.
And I believe that there are many other skills I have not even realised yet.
Written by Matteo Lai, AEGEE-Cagliari