"The fireplace is burning bright, shining along me
I see the presents underneath the good old Christmas tree
And I wait all night 'til Santa comes to wake me from my dreams
Oh, why? 'Cause that's Christmas to me" ~ Pentatonix
With the holidays right around the corner, The AEGEEan decided to have a glimpse into the holiday traditions in different parts of Europe. Surely, Europe, a land of diverse colourful cultures has some interesting holiday traditions and stories. So buckle up and as Frank Sinatra said, "Come fly with me, we'll fly, we'll fly away". Next stop; France!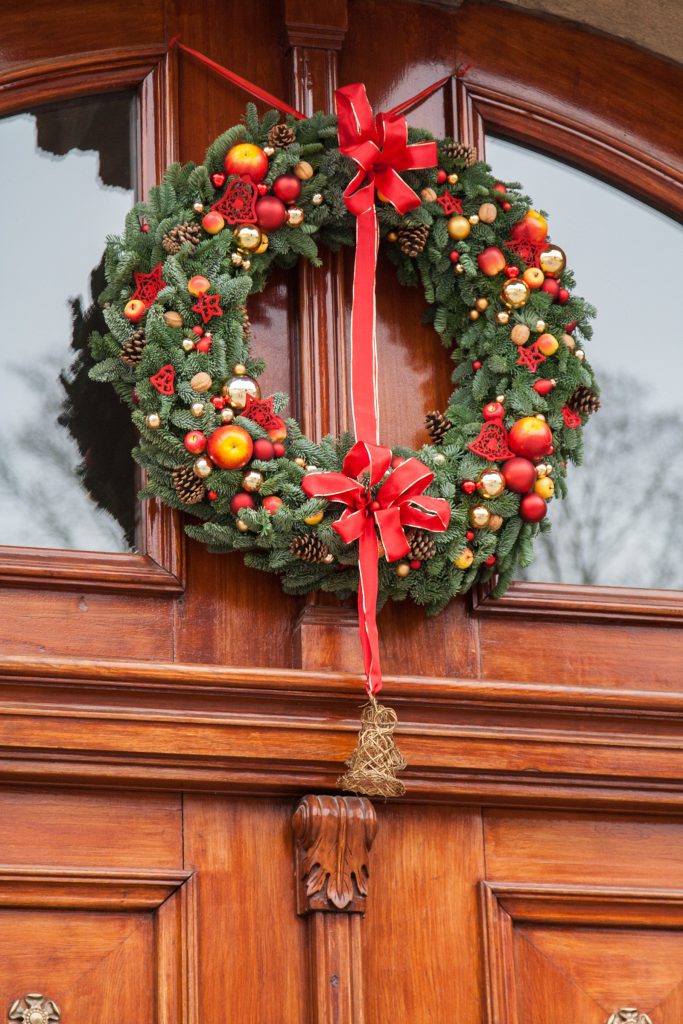 End of year celebrations is mostly spent with the family in France. We get the opportunity to gather our family together and celebrate Christmas (usually many times, with the different parts of your big family). Of course, traditions vary depending on which region you are from, but I will tell you about my version here (a regular one I guess).
The typical Christmas season starts on December 1st when you start eating a piece of chocolate from your Christmas calendar. One day, one chocolate. But you need to wait until the end of December before the real holidays start.

Before the holidays, at some point in December, one afternoon (or morning), is dedicated to decorating the house. The main element is, of course, the Christmas tree. It can be a plastic one or a natural one. The plastic one will be kept and reused every year when the natural one (that you bought at a supermarket or a street market) will either be thrown away in January or planted in your garden to be reused. You will decorate it with garlands (those with lights and normal ones), bauble, figurines and of course a star at the top. You will also hang some decorations in other places around your house (garlands and bauble, images on the windows, figurines on the tables…).
You may also decorate the outside of your house with lights decorations, and put a fake Santa Claus trying to enter through the chimney or a window. Some places even organise contests of the most decorated house. Another tradition is the crown on the door. You will create one with the ornaments you didn't use yet and hang it on the door.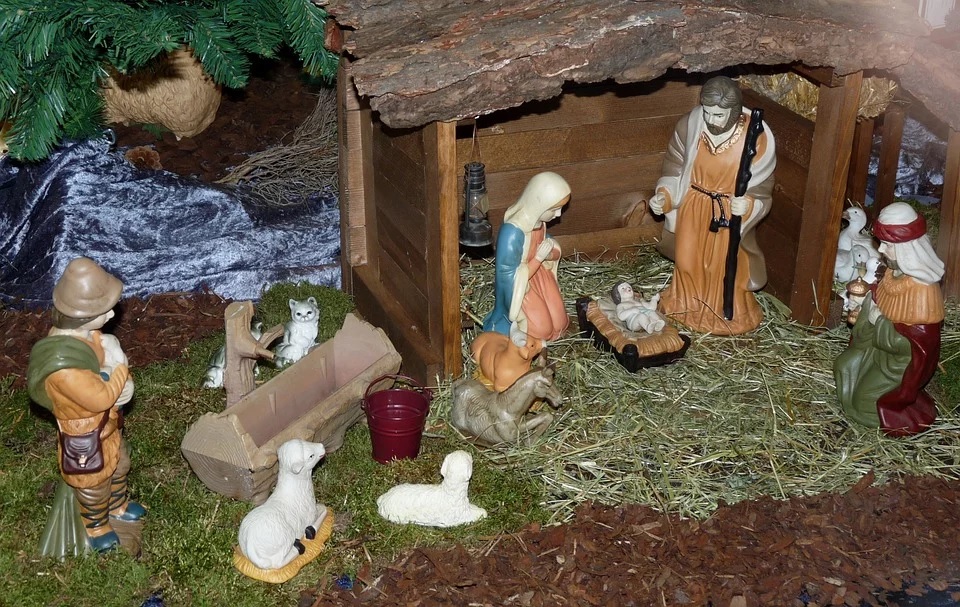 Finally, most of the families also make a Christmas crib. You need to find a small and cosy place in your home (in general in the living room), and build a miniature barn (actually, you will just add some straw to pretend it is one). You will then spread the traditional little figurines called "santon", that represent the different characters of a village (fisherman, miller, baker, …) and the compulsory ones (Jesus, Mary, Joseph, the donkey and the bullock, the shepherds, an angel and the Three Wise Men). Don't forget to wait for Christmas to add Jesus in the scene, and put the Three Wise Men far away (they are still on their way to meet Jesus, you will put them close to him on the second Sunday after Christmas for the Epiphany).

At this time of the year, there are two official public holidays: 25th of December, and 1st of January, but most people take two weeks holidays. First, you will go back to your parents' home (usually by train if you are a student). There, you have a little time to buy your last presents before Christmas. You can also visit your hometown to see all the Christmas lights put by the municipality. If you are in Paris, you may also go to "les grands magasins" (Printemps, Galeries Lafayette,…) and enjoy the window display.
Be sure to be in a good shape, because you are about to gain some weight… you will not only eat a celebration meal on Christmas Eve, but also on Christmas day, and you will probably repeat this with your grandparents. On the 24th, you prepare the food for that evening with your family. When its 5:00 pm, everything is ready, including food and the table is decorated, then you can relax and enjoy time with your family. Many families go to a Christmas mass (or midnight mass), so when it's time you dress up and walk or drive to your Church. For many people, it's the only time they will go to a church this year. When you are back from the Church, you are now hungry and ready to start the Christmas Eve dinner.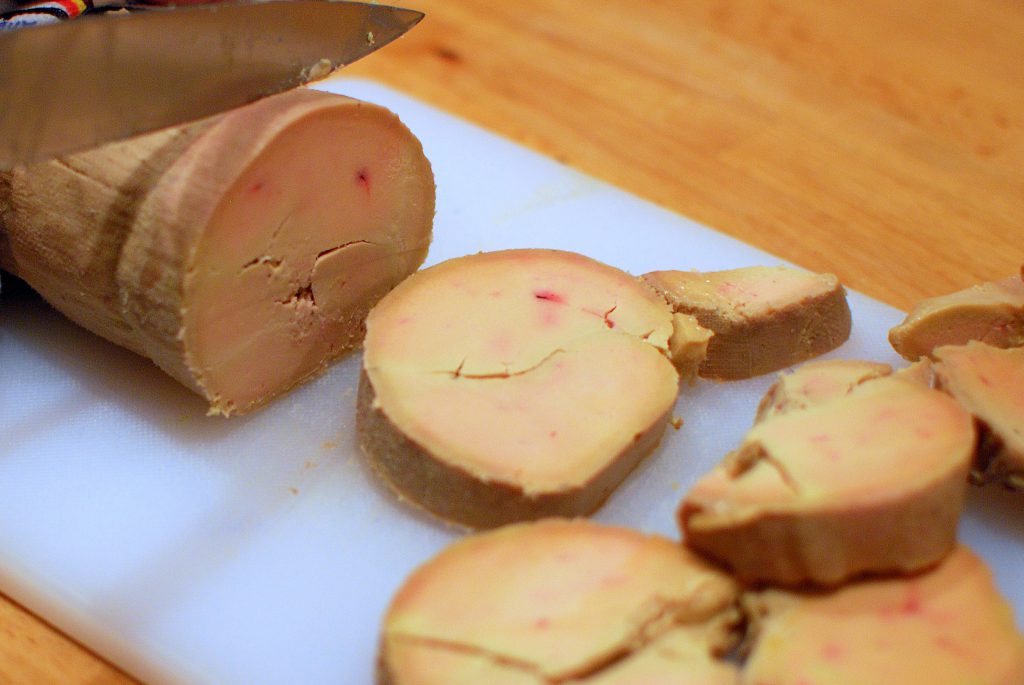 A traditional Christmas meal contains appetizers (amuse bouche and salty biscuits), entrance (cold meal, usually a salad and the famous "foie gras"), main dishes (usually divided in two, with a mix of vegetables and meat), cheese (you are usually offered 5 to 7 different pieces of cheese, you eat as much as you want), dessert (usually a cake called "bûche", or the ice cream version), and a coffee. Each part of the meal has its own wine, and bread is available all the time (a person will go from time to time to the kitchen to refill the bread basket). This meal can be very long, so children are usually allowed to leave the table and go to play between the meals.

After dinner, you will stay together with your family to talk or play board games. Now is the time to give each other the presents, but two traditions are in competition. The most common one is the opening on the morning of the 25th, the other one is the opening at midnight between the 24th and the 25th. In both cases, you will put one of your shoes at the bottom of the Christmas tree, this will determine your territory for your presents. Usually, when children are asleep, adults spread the presents in a pile close to the correct shoe.
On the 25th of December, when all of the Christmas presents are opened, you will have plenty of time to start enjoying your new presents but remember that another celebration meal is coming! Between the 25th and the 31st, you will probably travel with your family to visit your relatives (and eat!). It's also a great opportunity to celebrate all the birthdays of people born in December or January (more food…). You will, however, spend most of your time relaxing with your parents, siblings, cousins…

While Christmas time is mostly a family holiday, if you are a student, New Year's Eve is the time to spend with friends. You already know for weeks where you will celebrate that night, everything is decided in advance. It can be in one of your friend's house, in a place you rented or in a club. You will spend the night drinking and partying. You can also have a celebration meal if you and your friends decide to cook. Another possibility is to spend it with your loved one. You will then probably travel to a nice place and spend a romantic night. On January 1st, you may also go back to your family, and have a… guess what? Celebration meal… Hopefully, this will be probably the last one. You will soon leave your family and go back to your city with many presents and a few kilos. But get ready for January traditions: during this time, you will receive and offer many epiphany cakes (or "galettes") to share with your friends, family and colleagues. Every "galette" contains a charm (a small hidden figurine), so be careful when you eat it! If you are the one who gets the charm, it means you are supposed to bring the next epiphany cake. Finally, don't be surprised if people you haven't seen wish you a happy new year in January, in France you have till February to wish your relative a nice healthy year.