"The fireplace is burning bright, shining along me
I see the presents underneath the good old Christmas tree
And I wait all night 'til Santa comes to wake me from my dreams
Oh, why? 'Cause that's Christmas to me" ~ Pentatonix
With the holidays right around the corner, The AEGEEan decided to have a glimpse into the holiday traditions in different parts of Europe. Surely, Europe, a land of diverse colourful cultures has some interesting holiday traditions and stories. So buckle up and as Frank Sinatra said, "Come fly with me, we'll fly, we'll fly away". Next stop; Georgia!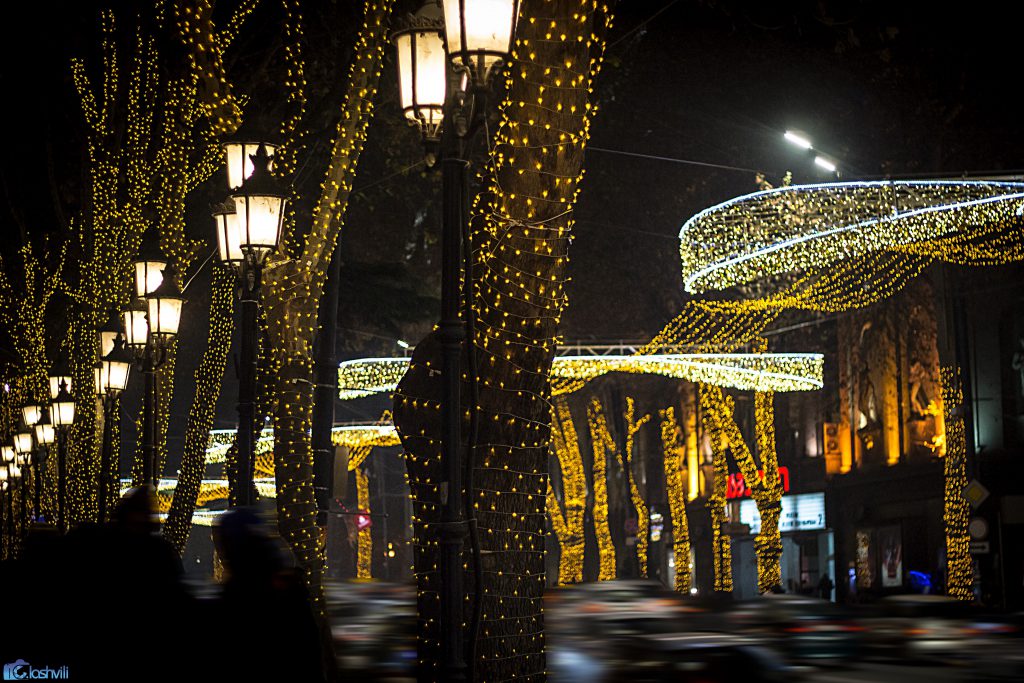 Georgia is a country where the people love holidays and festive times. As most of the population in the world, Georgian people also look forward to New Year's Eve and Christmas. It is typically celebrated with families or friends. We love festivals so much that we even celebrate New Year twice a year. Am I joking? Not at all and let me tell you the story behind this tradition.
Georgian people celebrate New Year's Eve more than Christmas. Apart from Catholic traditions Georgian people do not celebrate Christmas on the 25th of December but on the 7th of January. In Georgia Christmas has more religious meaning than traditional celebration of some holiday. As for New Year's Eve, it is celebrated on the 31st of December. But Georgian people also celebrate the Old New Year that is after Orthodox Christmas. It is celebrated on 14th of January. It's not as festival as 1st of January but people still prepare Supra. 2nd of January is called "Bedoba" Day by Georgians. According to the tradition, how you spend a day on the 2nd of January influences the whole year. That's why people try to have joy with their beloved ones and bring a little luck in their life.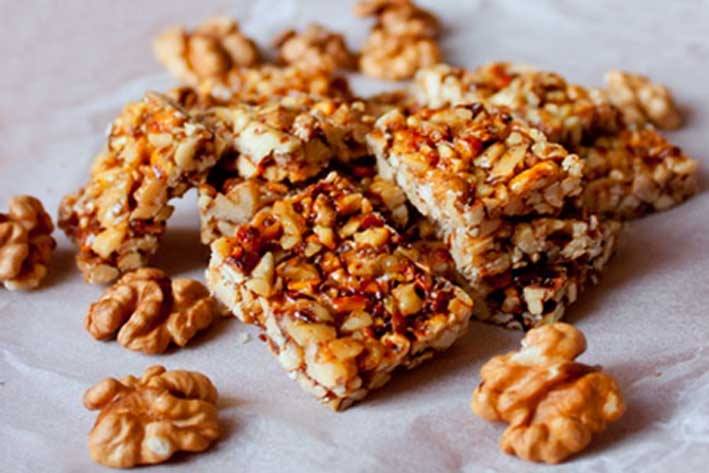 As we mentioned above Georgian people love holidays and especially New Year's Eve. Every family takes care of New Year's Supra (Supra is a general name of Georgian feast) that is significant and traditional part of holiday. There are some essential dishes that should be on the table like Gozinaki, Churchkhela, Satsivi and Khachapuri. New Year's special and traditional sweet is Gozinaki that is made with honey and nuts. Churchkhela is also sweet and made with nuts/walnuts and grapes juice. Satsivi is cooked with turkey and some walnuts sauce.
Georgian people believe it is super important who steps into the house for the first time at New Year. This person is called "Mekvle". "Mekvle" should be a significant guest for the Georgian traditional family and he is the one who brings luck, happiness and joy to the family for the whole year. "Mekvle" brings some sweeties and presents for the family and then they together celebrate New Year's Eve.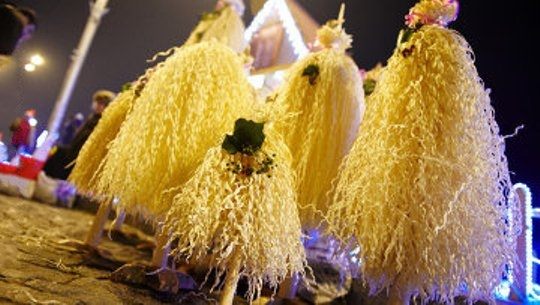 One of the traditional things for New Year there is a special New Year tree in Georgia. It is called Chichilaki and is an ancient traditional tree made from hazelnut branches. As it is said, the origin of Chichilaki is pre-Christian and it is believed that the Chichilakis represent the tree of life. Georgian people buy Chichilakis and usually have them with traditional New Year's tree. After Christmas the Chichilakis are burned before the Orthodox Epiphany on January 19. The burning tree symbolize the passing of the previous year's troubles.
There is another tradition for Christmas in Georgia that is often compared to a trick-and-treat tradition. Georgian people call it Alilo. Alilo is a special traditional Georgian Christmas song that is performed on Christmas Day on 7th of January. During Alilo people process in the streets wearing religious costumes. They collect food, sweets, and gifts, singing traditional Georgian Christmas songs. The presents are gathered in a church for homeless and poor people. Additionally, there are various traditions in different parts of Georgia (for example Kalandoba that takes place in Guria) but they are not as common as the ones described above.
გილოცავთ შობა-ახალ წელს!
Gilotsavt Shoba-Akhal Tsels!
Merry Christmas and Happy New Year!