Life of AEGEE members does not end after finishing their active membership. For those who still want to contribute to making the dream of a borderless Europe real, an excellent opportunity is to become one of Les Anciens d'AEGEE. Created in 1990 by former members, it maintains links across generations of AEGEEans and with AEGEE itself. The AEGEEan Magazine invites Les Anciens members to share their experiences and to inspire readers. In this first chapter the newly elected Coordination team has their say.
Hi and thank you for your time. To start off, could you please tell us a bit about yourselves?
Almut Brunckhorst: I was an AEGEE member in the mid-1900s in Hamburg. Already in my studies, I focused on Eastern Europe, and I work on EU external cooperation today, with stations in Russia, Kazakhstan and Afghanistan.
Sygrit Andringa: I joined Les Anciens a few years ago as I was curious what it had to offer to the 'younger' generation. As a member of the coordination team, I want to help LA become more attractive for newer generations.
Jan Vlamynck: I joined Les Anciens in 1995 and the network was very helpful in keeping contacts and having the AEGEE spirit transferred into the time of professional live. After travelling a lot with Les Anciens in 2018 and 2019, I decided to become part of the board of Les Anciens.
Nicole Joesch: Being the event coordinator of the current LA board, I joined Les Anciens in 2009 and became a Secretary General in 2011 for two terms. During this time, I organised two lovely summer events in Copenhagen and Southern Sweden and New Year's events together with our local members.
Marcus 'with a C' Khoury: I joined Les Anciens around 2000. I have been living in Abu Dhabi, in the United Arab Emirates since 2008 and miss the time I lived in Brussels. I am passionate about reliving experiences with great old friends and people I may have seen or known only by name.
Anne Turunen: I joined Les Anciens a few years ago and became active after the LA GA meeting in Tirana in June 2019. We also organised the LA New Year event in Tuusula last December. I want to contribute to the future training offers and to take part in meetings all around Europe.
Giuseppe 'Beppe' di Palmo: I feel just as excited to be on board as in my first SU in 2003 when I joined AEGEE. Since then, I have embraced the AEGEE spirit. I became active both at local and European level, local SU organiser, events participant and Agora and EBM delegate.
Michael Stuber: I joined the LA Board as I wanted to be a European activist again. As a diversity expert and former NGO manager, I see huge untapped potential in the network of AEGEE Alumni – professionally, politically, personally and as a support for AEGEE.
When a typical AEGEEan thinks about a member of Les Anciens, one often thinks of something far off into one's future. What's your take on this perception?
Michael: Talking to AEGEEans and Alumni, we realised that as an AEGEE member you are often not aware of the great impact your AEGEE engagement and experience has on your personality and skill set. With the INSPIRE AEGEE initiative and other new formats we want to create more future orientation and a powerful network of European professionals and friends.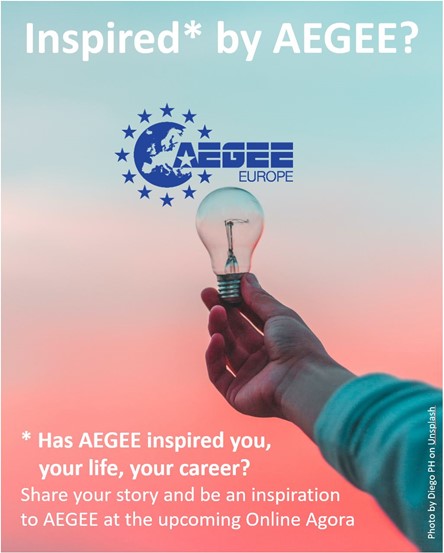 Anne: As the responsible for our trainings and online events I want to encourage AEGEEans to gain knowledge from our experienced Alumni. This can show that also your post AEGEE life can be European, exiting and fun.
Marcus: The AEGEE spirit, the hunger for travels throughout Europe and beyond, meeting up with great people in exceptional situations from outside of your regular comfort zone, your own native language, fulfilling your ideals of cross-border cooperation, gaining experiences and making connections for your professional life – all of that can continue within Les Anciens.
Beppe: No one should see AEGEE only as one element of his or her student era but as an experience that is always present.
AEGEE has evolved over the years since its foundation in 1985. What are some key differences you see compared to when you were an active AEGEEan?
Almut: Until the late 1990s, Europe was an innovative project with a lot of dynamics and AEGEE was supporting this with some crazy ideas – at the time. Today, challenges are different and Europe needs different kind of engagement – which we see reflected in the content, campaigning and networking work AEGEE does today and LES Anciens are happy to both support and profit from.
Jan: Our technical means were so limited in the early nineties…
Sygrit: We see the same in Les Anciens: Many of our members want to keep that special AEGEE spirit and relive it at times – in a way that fits their work, family and personal situations. By offering more formats, also virtual, we will be able to attract a wider audience due to better accessibility, in terms of time and other resources.
Les Anciens has been undergoing changes lately, do you have plans to make it more attractive for younger people?
Sygrit: Les Anciens started as a young organisation and was always inviting the young generation of AEGEE Alumni. However, AEGEEans no longer need Les Anciens to stay in touch, so we are creating new ways to contribute to Europe and benefit in their careers at the same time.
Almut: Another priority for us is to reach out to the many former AEGEEans who live or work in Eastern Europe and other countries outside the borders of the EU. The pan-European nature of AEGEE and our work for Europe is key and we want to strengthen this aspect also inside Les Anciens.
Beppe: We also realise that the impression we made in the past was quite focused on a few activities. As a community of Europeans, we have so much more to offer and we want to show this with a new online presence but also with the online events and campaigns we do in addition.Anne: We are about to start to offer online trainings in which AEGEEans and LA members participate, mentoring is also on our agenda to make attractive offers.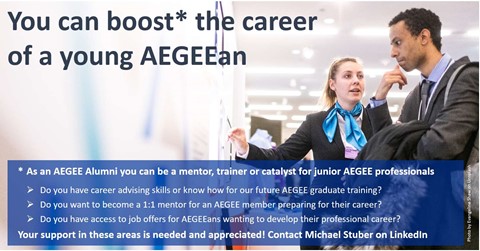 What are some of the new things you have started or that you are planning?
Michael: We build upon existing strengths in fostering Personal Relationship across AEGEE generations, like with the INSPIRE formats at the Agora, NWMs and here in the AEGEEan. Another key passion of our members is PRO-EUROPEAN engagement that we will encourage through thematic work with AEGEE and partnerships. New elements will focus PROFESSIONAL networking and development, including for AEGEEans.Sygrit: It is important to note that only since a few years, Les Anciens was officially made the Alumni network for all of AEGEE – so we have a big paradigm shift there that we still need to translate into action and new memberships.
What Les Anciens offer to AEGEEans
INSPIRATION what the future can bring
TRAINING how to Europeanise your career and make the most of AEGEE on your CV
MENTORING to develop your skills and personality
NETWORK with local (Alumni) contacts
Nicole: We also want to grow our network and presence by encouraging our members to meet locally and regionally all across Europe.
Almut: As a natural gravity, there are quite a few AEGEE Alumni working in European institutions and we have both a formal and an informal network there.
Jan: And of course, we introduce more online formats, Europe is facing a digital transition that could not have been predicted in the nineties. We have to adopt this fully in order to be accessible.
To conclude, could you share some words of wisdom?
We feel we are not old nor remote enough for wisdom J. However, we realise that the wealth of perspectives and experiences of Les Anciens can inspire, support and sometimes accelerate the further development of AEGEE and of AEGEEans. So, take it as an offer and an invitation to be in touch, talk and collaborate – always in the special AEGEE spirit
What Les Anciens offer to AEGEE Antennae
TESTIMONIALS what AEGEEans can become
ATTRACTIVENESS beyond the current offer of a student organisation
CONTACTS if you are looking for speakers or information on project funding
TOOLS to keep in touch with your local Alumni
SUPPORT to restart antennae or projects