These are challenging months, in which the AEGEE-spirit is challenged on a daily basis – and it's hard thinking about being the best. And because of that, our Local of the Month could not have arrived at a better moment! AEGEE-Plzeň beat all adversities and kept moving forward – an alive antenna is coming from a dead one if that is not impressive enough… They might be small but they are motivated, with a down-to-earth attitude that will surely take them places.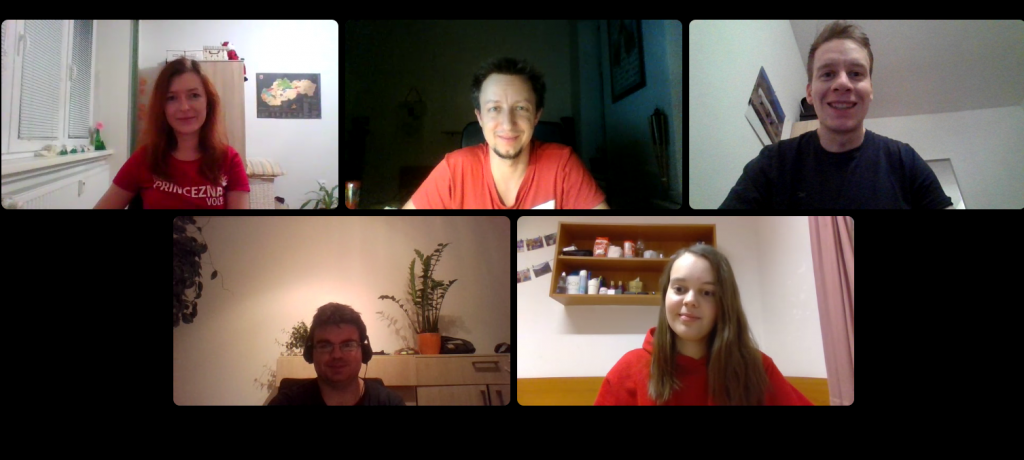 Congratulations on being awarded the Local of the Month! We'd like to hear more about you!
Hello everyone, thank you for awarding us with this amazing price. We have 5 active members, who are all on the board this term. In total, we have approx. 10 members. So 50% active and 50% non-active members. Since we have had 2 experienced newcomers join our team, we have become more active compared to the past few years because everyone is passionate to do things and to make AEGEE-Plzeň great again. So within the 2 last months, we have organised an online activity every week; Among us night, travelling and information meetings, pub quiz and so on. The proudest moment was when we recreated our web page www.aegee-plzen.cz and our new Instagram profile @AEGEE-Plzen.
What are some of the most memorable moments you've had in your local?
The most memorable moments are always when you organise an event and it is nearing its end, and you see the happy faces of your participants, then you know you did a great job. So we have high standards in AEGEE-Plzeň to make sure everyone who participates in one of our events (SU, Ski-week etc.), will always leave with amazing memories and new friends.
What has been the key to your success. Which areas have you found challenging and how did you overcome them?
The key to our success lies in communication and the links between board members. We are not only board members, but we have also been friends for many years. We have already organised a lot of events together and spent time together, so we know what we can expect from each other. So the most challenging thing is to make an almost dead antenna an alive antenna (laughing).
Some words of wisdom to other locals?
It is important:
● to realise that in AEGEE, all members are volunteers and they do the job in their free time
● that if you promise someone, that you will do a task, then you should communicate with others that you will not be in time to complete it or you do not know how to finish it
● to keep in mind that it is necessary to step out from your comfort zone and do things that you love on AEGEE, it is not only about administrative stuff
● to find members, who are active and willing to sacrifice their soul to AEGEE-Spirit (evil laugh).
Any closing remarks?
Thank you for choosing us for the Antenna of the month, we will do our best to keep this high standard during our term. Everyone can be the best, AEGEE-Plzeň is living proof of it.