"Mental Health Focus area aims to act against mental health stigmatisation and support mental well-being. While tackling the topic of mental well-being, promote awareness and offer support networks and tools. More attention to mental well-being and a safer space inside AEGEE" (aegee.org)
These people have only been working together for six months, but there is no denying the fact that they have delivered! Despite tackling a very personal and touchy matter, one is aware of the care they have put into it so far, and keep doing so. It is now more than ever, we need to support mental well-being. Read this article to meet the members of this working group, the challenges pandemic posed to them, their goals and plans for 2021 and their beautiful words of wisdom!
First things first! Let's meet the members of the Working Group!
Laura Miranda Gómez (AEGEE-Valencia) – "I want to set the foundation for more youth work on mental health."
Eva Kalliakouda (AEGEE-Ioannina) – "Learn, share and motivate people on mental health issues."
Nelleke Stibbe (AEGEE-Amsterdam) – "Increase knowledge about mental health among as many people as possible, and show them that it is okay if you don't feel well. It's human, talk about it. When you try to empathize with someone else, this can save you from a lot of stress and miscommunication."
Dacil Danioko Padilla (AEGEE-Tenerife/AEGEE-Groningen) – "I want to make everyone more tolerant and understanding about people suffering from mental health issues"
Idil Kövenç (AEGEE-Hatay) – "I want to break the taboos about mental health issues."
Elisabeth te Hennepe (AEGEE-Nijmegen) – "For every young person to feel comfortable to talk freely and openly about mental health."
Mateja Lukačević (AEGEE-Zagreb) – "I want to make the information about mental health more accessible to young people and encourage normalizing and destigmatizing this topic. Mental health problems should be dealt with the same as physical problems – if you need help, you should be able to ask for it and know where to find it."
It is gonna be a year soon since you guys started working together. How has the experience been so far?
Our term started in August 2020, so we have been working together for 6 months now. The experience so far has been pretty amazing. The level of responsibility is really high, but we have become a tight group and we support each other in everything we do. We are all grateful that, in addition to being team members, we have become friends, despite not being able to meet in person. This reflects on our work, as well, given that we motivate one another and keep aiming higher all the time.
How has your work been affected by the pandemic and perhaps become more relevant?
Mental health was always an extremely important topic that wasn't getting enough attention. Due to the pandemic, more and more people are realizing its significance because either it is them personally who are having difficulties dealing with the situation, or someone close to them. That's why our role became even more relevant, because we got a chance to reach a lot of young people, offering scientific psychological background of what's happening, normalizing their emotions and reactions, and offering tools on how they can help themselves. We are really happy that AEGEE finally raised this topic, and even more during these hard times.
We are trying to reach people with different channels of information, and the highest number of people possible. This includes social media, workshops with locals, chapters of our manual… We have been working on opening our own webpage, linked to the AEGEE one, to have everything in one place, and we're also working on our conference: Youth Mental Health on the Spot, that will take place from the 6th until the 9th of April 2021.
Which areas have you found challenging and how did you overcome it?
Maybe the most challenging part is educating people on such a sensitive subject. Things can always get out of hand, because people can find it too personal and feel overwhelmed. We always have to be aware that we are not psychotherapists (although we have some psychologists on the team) and be careful that our training doesn't turn into group therapy. However, our knowledge and experience can help us prevent those situations from happening, and direct people towards professional help, if necessary. Another challenge is to overcome personal experiences and stay unaffected when it comes to publishing information on rather "hard" topics. But we guess this is the way to break the stigma on the topics we are working on, and raise our voice.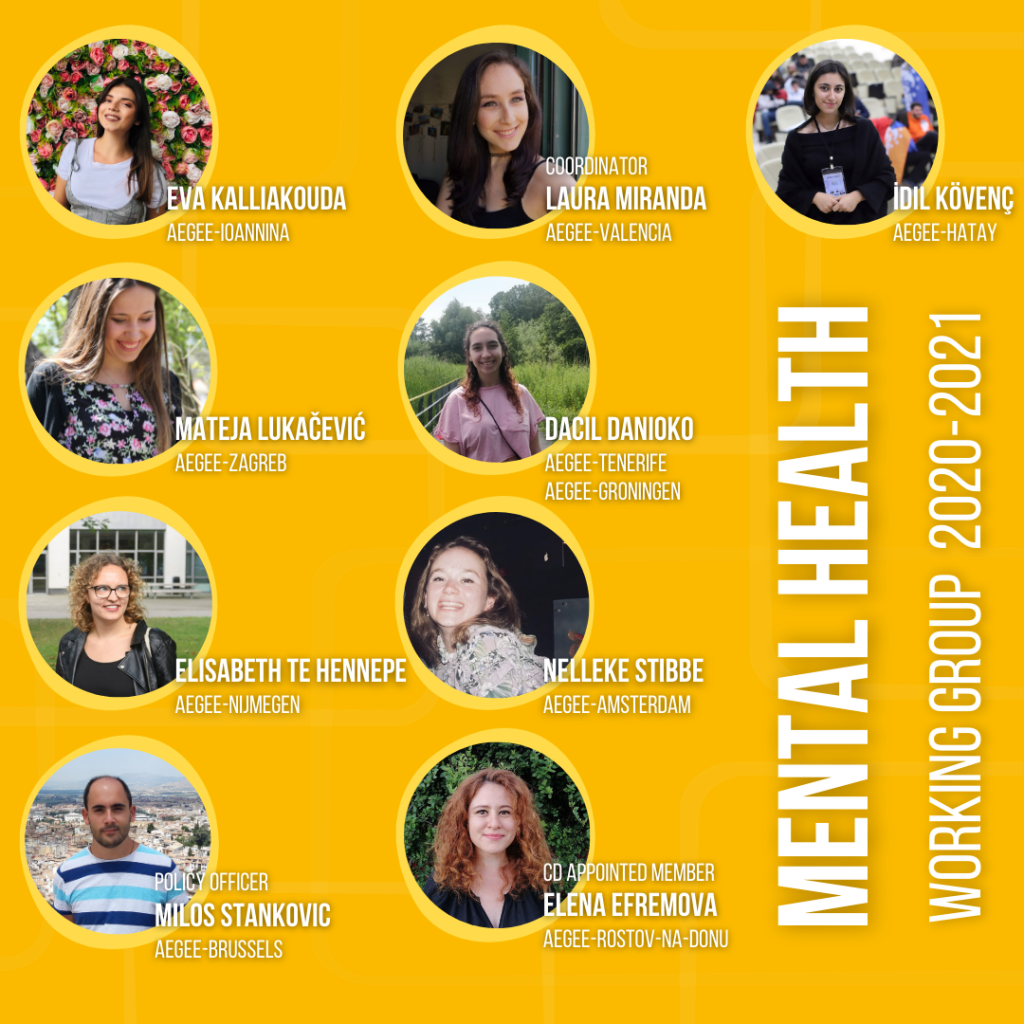 Is the working group meeting the expectations/goals/actions you envisioned for it at the beginning?
As our coordinator is always encouraging us to dream big, we've set big goals from the beginning. Now, six months later, we are still sticking to our "Dream big" plan, and even upgrading it with new ideas and approaches. We've combined individual projects into bigger ones and now we are successfully heading towards their realization. We would like to think that, by the end of our term, we will have exceeded our initial expectations and felt satisfied with what we've accomplished. In any case, feedback is always welcome and we are more than eager to work on it, as there's always room for improvement!
What are your plans for 2021?
We plan to continue developing our goals and working on our projects. We started an MH Instagram account, dedicating every month to a different disorder or mental health topic. The posts are all informative and try to reach a wider population from a different perspective. One can find scientific background of mental disorders, myths about them, personal experience from people living with them, movies dealing with those topics, celebrities that are living with mental disorders, etc. In April we are organizing an online conference of 4 days, with international mental health professionals as speakers, with each day dedicated to a different topic related to mental health.
We are doing workshops with AEGEE locals on different topics, e.g. Adapting to the online world in a pandemic, Time-management, Stress management, Dealing with uncertainty, etc. We are writing a manual covering a wide range of intriguing topics such as Basics of mental health, The use of words in mental health, Resilience, The role of psychologist etc. We are also trying to create a webpage for MHFA, that will contain all our external materials and, hopefully, help us reach a wider group of people, inside and outside of AEGEE. Every person will face some kind of issue regarding mental health at least at one point in their life and, for most of us, the first reaction is to search for the answer online. We would like to provide content that offers scientifically proven and high quality information.
What are your words of wisdom to your fellow AEGEEans? A little thing for them to get to know the Working Group better :)
It's easy to get lost in everyday tasks and things we "have to do". That's why it's really important to purposely make time every day for stuff that makes us happy. It's true that we are now facing global challenges and that our lives have completely changed, but that doesn't mean that you have to wait for it to pass to take care of yourself. Small things like dedicating 1h to do something you like, 10 min of mindfulness exercise, getting 8 hours of sleep, preparing a nice meal or Skype call with a friend can make a huge difference. It's just as important to recognize when you're feeling overwhelmed and learn how to ask for help. "Make your mental health a priority and take care of it like you do with your physical health".
It's true that being a WG member requires a lot of time and dedication on an everyday basis, but we always keep in mind that the most important thing is to take care of ourselves and of each other, and filling in when other members are overwhelmed and need time to recover. That's our little tip for everything in life.
Is there anything else you would like to add?
We are more than happy to receive your ideas and perspectives on the topics that we are raising, to deliver a WS for your antenna or provide your members with useful information. Sometimes we might be busy and we would like to also ask you to be patient and understanding if there are things that we can't manage to do, as we have limits, like every human being.
For everyone interested, we are going to hold an Info Session about MHFA on Wednesday 10th of February at 18:00 CET, which aims to give a little bit of background information to members interested in drafting the Action Agenda in the upcoming EPM and shape the future of the entire Focus Area. You are all welcome to join and, of course, contribute to it during the EPM.
Last but not least, we will hold a session on the EMP Conference on Circular Economy about Consumption Habits with a focus on Food and Fast Fashion. It will be very interesting, and will allow us to reflect on how we can contribute to our mental health and the environment through our consumption habits.
For anyone that is interested in our Focus Area, feel free to reach us through our Social Media:
Facebook: Mental Health of AEGEE-Europe
Instagram: mh.aegee
or via email at: mental.health@aegee.eu.