Small, quiet, and with the sexiest penguin alive as its mascot, here comes AEGEE-Heidelberg. It is always incredibly inspiring to come across antennas that may be small but have as big a spirit as any! Heidelberg faces its challenges with creativity, enthusiasm, and great poetic skill – check the end of the article if you want proof. It believes in communication and that the COVID19 situation is not an excuse for not still delivering the AEGEE spirit! We are happy to announce the Local of the Month, February 2021, AEGEE Heidelberg!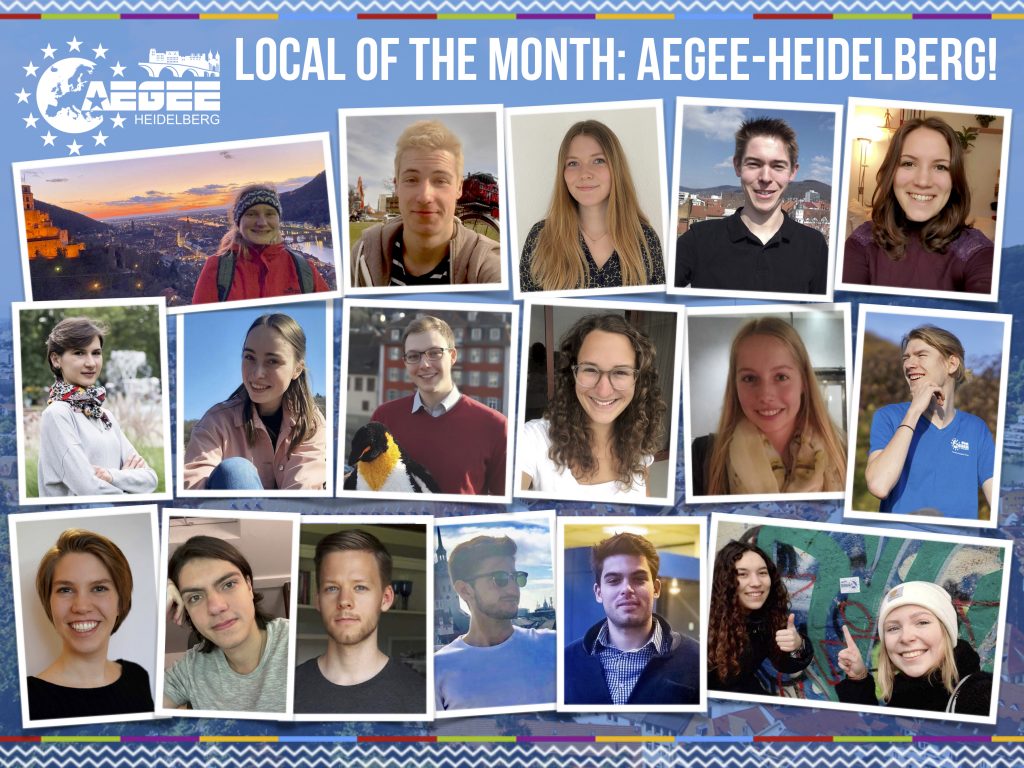 Congratulations on being awarded the Local of the Month! We'd like to hear more about you!
Hello. We currently have 43 members, around 15 of whom are active. Our key activities are 'The Language Café', our 'Online Board Game Night' and our constantly changing internal and Erasmus events.
We try to motivate our members to take part actively in the planning and organisation of our events, and to have a good balance between thematic and fun events. We are a small and quiet antenna, but regardless of that we have many events. Another way to motivate our new members is our mentor-mentee-system, so that new people who join the antenna have a contact person to talk with and learn about AEGEE.
What are some of the most memorable moments you've had in your local?
Some of the most memorable moments in recent times were our 'Secret Santa' at Christmas and the month-long celebration of 'AEGEE-Heidelberg's 35th birthday' in January. We had an online birthday party and many more awesome events. A lot of alumni participated and shared their experiences from their time with AEGEE. It was a gathering of many AEGEE generations which made us feel unique and united.
What has been the key to your success? Which areas have you found challenging and how did you overcome them?
Covid-19 is a challenge that affects every local, of course, and it makes it quite hard to retain those people who have just joined the local. For this reason, we try to be creative and organise various online events and challenges, e.g. 'City Rallye'. We used the time of the online sessions to build up a network among members as well as between our local and others, to organize events together and to combine our strength. In recent times, we have had an online event with other locals almost every week. We also encourage our members to get active at European level.
Some words of wisdom for other locals?
Connect your local with others and use the opportunities that online communication gives you.
Any closing remarks?
One day there was a fairy,
She said, "Join AEGEE, and you'll be merry,
And if the times are hard,
Everything appears to fall apart,
Don't hide away in your little shed,
But always think of this instead:
An AEGEE event every other day
Will keep my worries far away."
And with this wisdom and advice
The fairy left and life got nice.