Can you believe it? AEGEE-Praha has already turned 30! What a number! And to celebrate that special occasion they planned an amazing birthday event. 40 participants from all over Europe joined, and out of my own experience -I was one of them- I can tell you it was a blast. We got to see Praha's best sights by  foot and by boat, eat delicious Czech food, explore the nightlife and of course celebrate AEGEE-Praha's birthday with a huge party. The birthday weekend was a full success for sure and the amazing organizers did their best to make it unforgettable. But now, let's ask Filip Brunclík, the president of AEGEE-Prague, how he and his antenna perceived the celebration.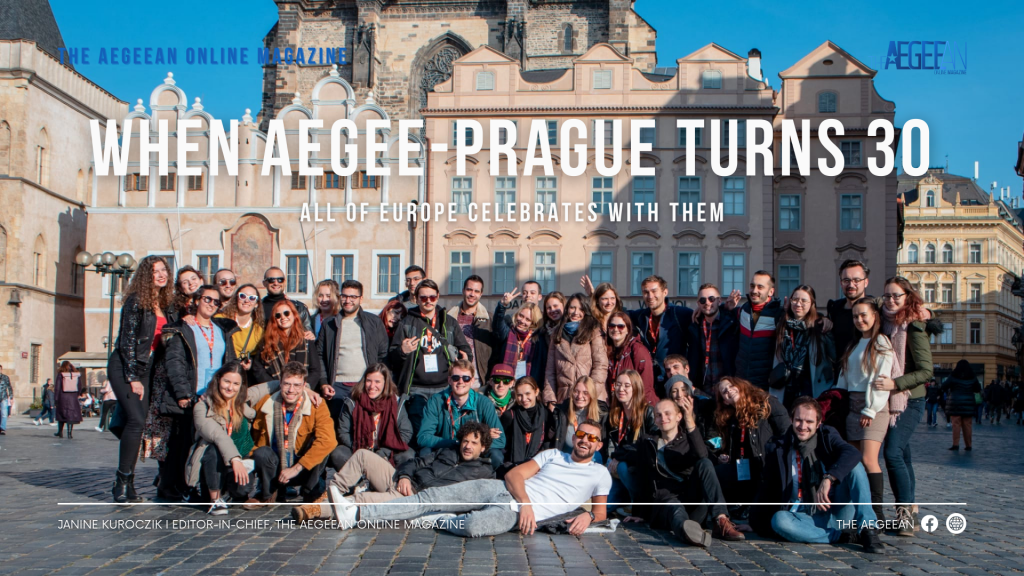 Happy Birthday AEGEE-Praha! How does it feel like to be 30 and what did you guys plan to celebrate this special occasion?
It feels like an eternity… 30 years is a big deal, and we are really grateful for everyone who ever contributed in making AEGEE-Praha great. During those 30 years many people helped, either as board members or just as helpers to spread the AEGEE spirit. Without every single one of them, we would not be where we are today. To celebrate this occasion, we planned a 4 days long event filled with funny activities, and enjoyed it with 40 participants from all over Europe.
It feels like half of Europe did come to Praha to celebrate this birthday. How much work was it to plan everything?
That's true… We were really surprised by how many people applied for our event. The planning process was not easy… it was like organizing a short Summer University, but for 40 people, which is a lot to manage. We didn't even plan to have 40 participants, but after receiving so many applications, we had no other choice but to increase the capacity, and we are happy we did so. Thanks to that we had more fun and met more new AEGEE friends.
So all the hard work was worth it in the end.
It was. After the event, many other locals reached us, and wanted to cooperate. Either just having an exchange, or organizing events together. This event was basically the first international event after a long time which didn't take place during summer, and we were so happy to organize something big after such a long time. It gave us a lot of new motivation and opportunities to cooperate. Too bad you only turn 30 once…
How did the pandemic affect you as an organization and this special event in particular?
We were lucky about this event, since there were no serious restrictions. Only those which didn't really affect the event, such as vaccination required in restaurantsAnd since everyone was vaccinated, participants probably didn't even notice there was such a rule.
How much did AEGEE-Praha change in the last three decades? Do you still have an active community full of AEGEE spirit?
Three decades are too much to remember, and even more than most of our members actually are old. But yes, we have an active community full of AEGEE spirit. The pandemic actually showed us how strong of a community we have. When Covid hit us, our members started to organize online game nights almost every day. It was amazing to see that in hard times, they still want to spend time together, and that they will always find a way no matter the circumstances.
What are your plans for the next 30 years? Can you already tell us something about any upcoming events?
We plan to organize Summer University and probably create a new international project… So stay tuned to find out more.