To chat with Luis is like drinking sangria on the beach – nice, pleasant and you almost do not feel how the time is passing. He is talking so much that when he announced that he would run for president of AEGEE-Europe and we decided to do this interview…I was sure we will be repeating many things we have told. Thus, I had made him complete a task that later occurred to be harder than we taught – 10 things you don't know about Luis Alvarado Martínez. The whole CD house was bothering and thinking it over…And here it is. Well, they are just 7, but let's not be greedy. Here they are: 7 lessons AEGEE and the European Youth NGO world taught Luis! 7 things that have changed him and probably 7 secrets you didn't know about him before. And one thing that for sure you have already heard – Luis Alvarado Martínez is one of the three candidates for president of AEGEE-Europe. So just read below and get to know him even better!
1) European Youth Capital 2015 International Relations Director: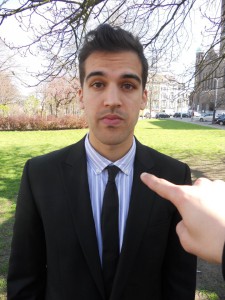 "You are your Maker". Sounds really inspiring and I am happy that as International Relations Director I was involved in a project  really empowering young people in the Canary Islands to be active and do what they want to do. The project was covering different topics such as youth unemployment, empowerment of women, cultural exchange, sustainability, entrepreneurship, etc. and my role as International Relations Director gave me a chance to keep in touch with United Nations Youth Department, International Youth NGOs, Youth Councils, African Youth Diaspora in Europe, etc. and also with the Spanish Youth Council. Among the initiatives we hosted in the Canary Islands were board meeting of the European Youth Forum and National Education Forum of the Spanish Youth Council. This events were visited not only by volunteers but also by many officials from the National Education Ministry. As part of the project we discussed the educational policies, later, we worked with high schools and managed to empower them be more active and even organise their own initiatives like youth music festivals. In order to to get young people out of the streets and develop their talents we also organised events with graffiti groups and street basketball teams.  And all this was actually run only by 4 people that proved they can really move mountains. We dared to think out of the box and to be nonconformists. We were heard by local, regional and national governments, and today I can very proudly say we have a very very strong candidature to bring the European Youth Capital for the year 2015 to the Canary Islands.
This project will be now and then in the history of my region. A living example of how young people can really make a change in the society. We were able to bring the Canary Islands closer to Europe and tell everybody that we also have talent and potential among our young people.
This is what we must do in AEGEE. Think big, dare to go higher and make the most out of every single one of our members. Both an internal and external impact is needed for AEGEE. We need to wake up and be aware of the real power we have as organisation.
Lesson learnt: With passion for what you do, one is unstoppable. Never lose the passion for what you do.
2) The NetCom Adventure :
Today, and especially after my last NWM as NetCommie (Amazing NWM Burgos), I can say that the Network Commission has been the best experience of my AEGEE life. For many reasons: From creating new locals and solving conflicts between already existing ones, to helping them out and feeling part of a family.
As you might have already read, in my area we have what we call the Tripulación NetCom (NetCom Crew). This concept was introduced few years ago by a group of dreamers (Virginia Paneda, Juan Hernandez and Txema De la Varga), who believed in the cooperation among locals of the same area. They believed in one common feeling and one common direction. 4 editions of this cooperation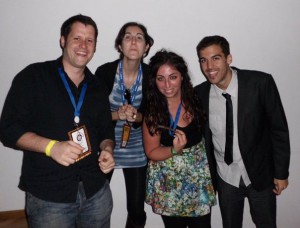 later, I was elected to lead Tripulacion 4.0 (after Sara Vierna, Oscar Ronda and their respective teams).
The funny thing about our area is that at every NWM before Spring Agora, our locals have to ratify the upcoming Tripulacion and accept the new team which will lead them for a year.
This simple and small act brings the decision power directly where it should always be, the locals themselves. Locals should always have the right to decide who their NetCommie is, and this is not always the case.
During my term I have learnt so much about functioning of different parts of our Network, about passion and motivation which our members really have, and how much we could really achieve.
Allow me to say that working with 9 subcommies was an amazing experience. Not only you work faster, more efficiently and just more, but you can also focus on other things which normally you would not have time for. Youth Councils, National Grants, developing new locals.
So when people were asking us what was our secret I always had the same answer: I had 9 secrets. They were called Miguel, Juanola, Coral, Fernando, Alberto, Yolanda, Sara, Joao and Lucille.
5 new locals in one term? One of the strongest areas in AEGEE? Present in national, regional and local youth councils? Great number of trainings and european events? Many members at European Level? Unifying 3 countries, making them forget about differences between them and helping them find their similarities?
It's no surprise for us. We always made sure to have the right people in the right place. But of course none of it would have been possible without the previous "Tripulaciones".
Thank all of you who made my Network Commissioner term unforgettable. 

Such a body should be much more involved in organisation issues. NetCom is in direct contact with the network. Lets use this fact, and use the potential of this body, strengthen it, train it and make the most out of it.

Lesson learnt: Linking the past and the present to ensure a future. Ensuring continuity of our work is as important and the work itself.
3) Project Manager of Transatlantic Youth Leadership Project:
The Transatlantic Youth Leadership Project, commonly known as the "Transatlantic Project"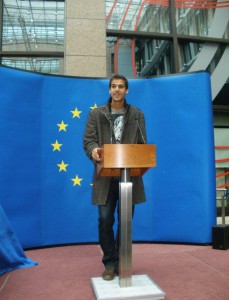 or "Peru project" opened my door to the European Level. After a very intense European School 2 organised by super AEGEE Poznan, I was given the opportunity to contribute to this idea.
Very basically, the project intended to have an exchange between young Europeans and young Latin Americans, to get to know each other realities and to experience and close the gap between us. Once both groups were gathered, we planned to organise a model EU-LAC (European Union-Latin American and Caribbean) Youth Summit, imitating the EU-LAC Summit, which would take place in Chile in 2012, where we could draft a youth opinion document and youth agenda to present them at the real summit.
Unfortunately, the project never succeeded. After several months working with the team composed of both Europeans and Latin Americans we decided to drop the idea. Many were the reasons of this: demotivation of team members because of lac of results, strong conflicts with the CD at that time, naiveness of many of us in the team and some others.
I will never forget how hard it was to drop out of the project. Although the project didn't succeed I learned so much about myself, about my team members and efficiency in projects. How important it is to keep every single person of your team motivated and hard working.
Now I understand why we had to fail at that point, to learn from our mistakes and improve. Transatlantic was a very challenging and enriching experience. Thus I will never regret being involved in the project, because it was more what I gained that what I lost.
Let's have many more working spaces, more trainings, more thinking spots, where we can brainstorm, develop, construct new projects. Let's build the thematic part of AEGEE, starting with Thematic Policy Officers and start having opinions on different matter as organisation.

Lesson learnt: One learns to walk after having fallen over and over again.
4) Policy making can be easy :
As AEGEE member you always have these scepticism for national youth structures. It was only when I joined an event for the first time, that I realised how many possibilities it actually offered and how much AEGEE could benefit from it.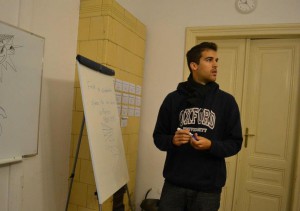 Through the Spanish Council I have attended several events by the European Youth Forum, the North South Centre and the Council of Europe. As being in contact with the National Council was vital for the European Youth Capital project, I joined the International Relations Committee, which deals with topics such as United Nations, UNESCO, EU, Sahara, Iberoamerican Youth Space etc. I was also selected to join the Youth in Action Expert Group, in order to develop the strategy for Spanish youth organisations regarding the new proposal from the European Commission "Erasmus for All." At the EU Youth Conference organised by the Polish Presidency I even managed to represent the European Youth in front of officials such as Androulla Vassiliou. And I was there not only representative of Spanish Youth Council but as an AEGEE member as well.
These experiences have given me a first hand experience how the European Youth world works and the role AEGEE is currently playing and could play in the future. We, young people, tend to think that our voices are never heard, and we cannot reach politicians and policy makers and tell them what we want.
Thanks to these youth participation platforms like councils, AEGEE's voice can be magnified and, if persistent and loud enough, can change things.
Let's not forget that there is an external world outside of AEGEE, where we should have the same or even a bigger impact than inside the association.
 Lesson learnt: Persistence, ambition and willingness to achieve your goal without betraying yourself are the key to success.
5)  When Personal Development comes into game:
My first training experience was the European School 1 in Riga. From this moment, my concept of AEGEE radically changed, and I became much more involved. I went deeper into the organisation, and visited other trainings like European School 2 in Poznan. In these events the curiosity box of your mind is opened, wanting to attend the next training.
You feel how you grow and develop in just one week. How many things you discover about yourself, the abilities and skills you acquire, new inspiration and motivation come etc.
For me trainings are the place where we can see AEGEE at it most pure essence. Young people developing themselves and the getting necessary tools to go out and change reality.
It is in these events, where AEGEE's Non Formal Education is visible the most since our members are given the competences which will later on help them in their lives. Public speaking, conflict resolution, feedback, working in international teams, motivation, project management, FR, HR, PR.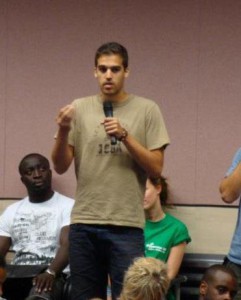 Trainings create activists. That's why trainings are a vital part of my programme and I  want to strengthen the Academy to ensure better quality trainings which also happen more times per year.
Wonderful as it is, the training world offers you two sides of the coin. Being trained or training others. Thank to the Academy, I have learned how to be a trainer and inspire others, help them find their role, show them their strong points and boost them to carry out projects.
We cannot forget that without our members being inspired, motivated, trained and  having the necessary knowledge, we cannot move AEGEE in the direction we want.
Lesson learnt: One can never stop learning during all his life. My task will be to never stop learning during my President term and help the rest of CD members and Network to carry on learning.
6) Basketball
I will tell you a story about a 13-year-old boy from Lanzarote who started playing in a local team, but soon improved and got the hang of it very quick mainly because of his persistence. Year later, he was selected to represent his Region in the National Championships and later got an offer to go and play in Las Palmas GC, where the main team in the Canary Islands was. It was me, of course, and this period of my life showed me that the team is always the main thing, and individualism is usually what makes teams lose its matches.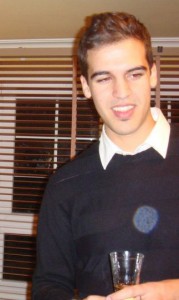 Moving from a local team, to an elite and very competitive one was a big change for me. But this let me gain a very valuable experience. As individuals, we were the best, this made us dislike each other, as we would see others as competition. We were not friends, we were all rivals fighting for minutes in the court. And, of course, it did not work in the beginning. Each of us wanted to be in the spotlight and shine. The frustration was increasing, because results were not good. We reached the point when we understood that our biggest problem was that we all wanted to be the best individuals and obtain the best individual results. Because it is always important to leave aside your ego and the wish to be recognised. Only then we started winning matches and even got to National Vice Champions.
Why am I telling you this story?

There is a need for strong CD members, a strong CD team which will understand this concept, a CD team which will leave personal interests and egos aside. A strong CD which will give up their "portion of spotlight" for the team member sitting next to him.
This means having a team of passionate and very dedicated people who will not only accept the challenge, but who will also solve the challenge without breaking down or demotivating themselves or getting lost on the way.
And this you only do with team preparation. Lots of it :)

Lesson Learnt: Coming together is a beginning. Keeping together is progress. Working together is a success.
7) Preparation, coordination and people's skills:
During my experience in the Youth NGO world, sport experience, studies and life in general I have discovered the importance of preparation and coordination of one's work. Teams should always have clear aims, and clear objectives of how to achieve such an aim.
An intense previous preparation should be done until the working process starts. That is where the bonds between the team members start to develop, and when different parts of the machine get along with each other. Each person finds her or his role in the team and learns the others' preferences. This "contact" phase is one of the most important ones. First conflicts of interest will arise, and the team will have to deal with them as a team if they want to go on to the next step successfully.
Once this working process starts, it is very important to have a full coordination of everything around you. How each of the team members feels in the team, if they feel integrated or not, if they are challenged enough or if they are bored. All of them should be motivated to push their limits.
A CD team which feels challenged and will be capable of overcoming those challenges, will start to coordinate, lead and innovate in AEGEE.
In AEGEE we lack coordination between all bodies of the European Level. Each commission, committee and even the CD have their own direction.
I would like to organise a meeting at the beginning of the term with all the representatives of the European Level of AEGEE. This way, CD together with all the representatives, speakers and leaders of commissions, working groups, committees, officers and other bodies first will actually MEET and can sit together to draft ONE common direction and aim for AEGEE.
If all bodies move in the same direction, we will move on as organisation. Getting to know each other, agreeing on common goals and working as one whole AEGEE body should be our method to get our job done efficiently.
Lesson learnt: Success always comes when preparation meets opportunity.
Let's not be good, let's be brilliant!
Written by Liliya Buyukliyska, AEGEE-Sofia