At Agora Enschede we saw how many ladies were selected. You may wonder who these ladies are and this article will give you a deeper insight Anna Gots who is moving to Brussels in August to take over the position as Financial Director. 
The lady who is going to make dealing with numbers FUN
Anna Gots is the new Financial Director, and she is most definitely not new to AEGEE, and points out that her best moments in AEGEE so far have been the Fall Agora Kyiv 2009, her Summer University "How Creative UA" 2010, and being in the Audit Commission Skopje-Enschede. However, despite being used to "dealing with a crowd", having spoken in front of many people numerous times in the past, she still got nervous at Agora Enschede. Describing how it was to stand in front of the Agora she says: "It was very terrifying! It is actually quite strange since I got used to the stage in general. Moreover, I even did a report to the Agora the day before, thus experienced the audience already. Therefore, I blame the overall stress accumulated and realization of the huge importance of that exact moment for making me too nervous then. Thankfully, the audience happened to be very tolerant with me and supported me a lot! So, I do promise that my next presentation to the Agora will be more confident and calm!"
Anna was the only candidate for Financial Director, and she does agree that having no contenders made her feel a bit more secure than the other candidates, but on the other hand, it made her try even harder to prove that she should be elected for this position not because she was the only one running for it, but because she is worthy of it.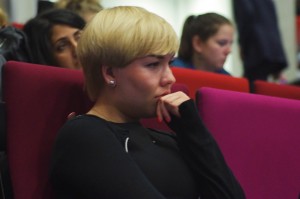 Preparing for Brussels
She describes the first minutes after the result announcement as a euphoria of delight and relief, but she also remembers it as becoming aware of the fact that in that instance her life had been changed dramatically and the biggest challenge has just been accepted. She started preparing her move to Brussels already, which can seem a bit too soon for some, but there sure are a lot of things to be done:
1. Announcing it to the boss, check!
2. Applying for the Certificate of Good Conduct from the Ministry of Internal Affairs of Ukraine, one of the most time-consuming in terms of preparation of documents for visa application, check!
(Among all other requirements she also has to prove that she is a decent, law-abiding citizen)
3. As well as all the other newly-elected CD members, engaging herself in a series of important and interesting discussions about the upcoming term, check!
Getting ready to walk down the aisle
Besides preparing for Brussels, Anna is preparing for a wedding as well. The wedding of one of her best friends who is getting married this summer. She is absolutely in love with the preparation, loving to be able to see her beloved ones happy, and of course glad to share that happiness with them! "Moreover, it is certainly great that both of us are facing some serious changes in life at the same time, it keeps us together even more and makes us even more excited about the nearest future," Anna says with a smile.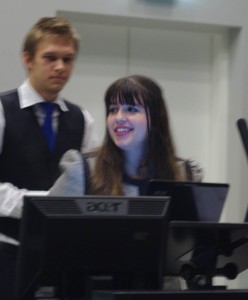 Working with the Audit Commission
Having a past in the Audit Commission should make Anna's life as Financial Director easier. Furthermore, Anna is already very good friends with the President of Audit Commission (AC), Esperanza Rodriguez Medina, who had nothing but kind words to share about Anna. "We barely knew each other when we were elected together in Skopje. It was a great coincidence that we were flying back on the same plane and shared some hours of scale in Prague. We started talking and I knew right there that we would have a great AC term.
I think we really have a connection. We are very similar in many ways, we share a lot of thoughts. We just understand each other perfectly! We never had a disagreement because any time one of us had a different opinion, she made the other see her point of view very easily. Furthermore, we also complemented each other very well in terms of task division. I just cannot explain it, but everything was going so smoothly! I never thought two people that were born so far away (hot Las Palmas vs. cold Kyiv) could understand each other so perfectly. And after this time, now we share one of those friendships that you want to keep forever. Even if this opinion is really subjective, I can be objective too. She is a really hard worker, very organised and perfectionist. She really cares about her job and is committed to AEGEE, so she has been preparing herself for the FD position even before she was sure about running for it. And another very good quality of hers is that she is not afraid of asking when she does not know something, and she learns very fast. I can assure you that AEGEE money will be in very good hands in the next CD term!"
AEGEE is a bit feministic isn't it?
The large number of elected ladies made The AEGEEan wonder what is going on, and what the elected ladies think about it. For Anna it comes as no surprise. "For me AEGEE has been associated more with the female community from the very beginning, since it is not a secret that in our area the number of the female AEGEE members has been dominant for years, among the board members as well.
And as the northeast part of our Network is becoming more and more active on European level, it might also trigger some tendencies typical of it."
Anna acknowledges that there are a lot of great women out there, and she respects them for their achievements and their attitude towards life. However, when asked if she has any female idols, the answer was no, but she does add that "Right off the bat I can name Coco Chanel for being different, and most importantly not being afraid of being different; but also influencing and encouraging the other women not to be afraid either."
Stay tuned to The AEGEEan for more information about the ladies of AEGEE!
Written by Patricia Anthony, AEGEE-København